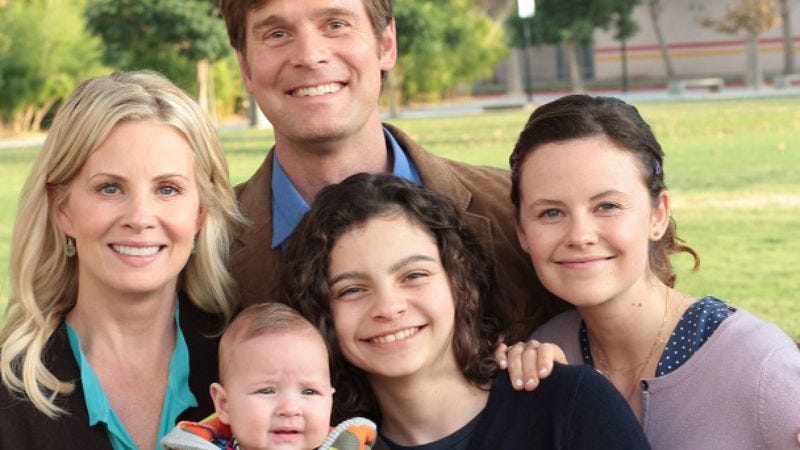 Here's what's up in the world of TV for Tuesday, November 22. All times are Eastern.
TOP PICK
Parenthood (NBC, 10 p.m.): If you're an American, you're probably going to be spending a couple of days later this week with your actual family, so our recommendation for the evening is to spend an hour with a fictional family, even if they're constantly in crisis mode. While last year's Thanksgiving episode was a lot of fun—and a true Thanksgiving episode—the show appears to be ignoring the holiday entirely this season, in favor of its usual "15 storylines and none of them featuring Bonnie Bedalia, who will just stand off to the side and coolly disparage her children's life choices" mode. Todd VanDerWerff can't wait.
---
REGULAR COVERAGE
The X Factor (Fox, 8 p.m.): We get it, Fox. You're willing to move Heaven and Earth to make this sucker the hit you believe it deserves to be. And we kind of enjoy the weird, over-produced bullshit it's turned into in recent weeks. And, okay, Emily Yoshida thanks you for not fucking with Thanksgiving.
Frontline (PBS, 9 p.m.): Meredith Blake checks out an episode about American citizen David Coleman Headley, who played a role in the 2008 Mumbai bombing. Headley's also been a drug dealer and informant for the U.S. government, and it makes for a fascinating hour.
Covert Affairs (USA, 10 p.m.): This week, the show heads to Russia, by which it means, "Some studio backlot somewhere." We get that the show can't film on location for budgetary reasons, but Simon Abrams is willing to replace the action sequences with recreations performed by Legos to cut costs.
Sons Of Anarchy (FX, 10 p.m.): SAMCRO is forced to negotiate with the Irish Kings, which doesn't sound good, and the whole season continues to build up an impressive head of steam. This has been a comeback year for the show, and if you're not reading Zack Handlen's reviews, you should be.
---
TV CLUB CLASSIC
Avatar: The Last Airbender (11 a.m.): Hayden Childs checks out one of the show's most off-format episodes, as the characters relate stories of what happened to them in the city of Ba Sing Se. We're hoping to eventually just turn all of our reviews into series of vignettes.
The Muppet Show (1 p.m.): Erik Adams watches Jim Nabors and Florence Henderson join the Muppets for singing and general hijinks. If he doesn't make at least one "Begin the thawing of Jim Nabors!" reference, his A.V. Club card will be revoked and he'll be forced to work at the Cleveland Plain Dealer.
---
WHAT ELSE IS ON
The Biggest Loser (NBC, 8 p.m.): It's Thanksgiving, so naturally, NBC is going to make a bunch of overweight people on crash diets suffer through a Thanksgiving meal that's made up entirely of foods that remind them of how much they miss actual foods. When will the suffering end, NBC?
Jeff Dunham: Birth Of A Dummy (Biography, 8 p.m.): We know how much you guys love Jeff Dunham here, so we wanted to let you know about this brand new documentary about the guy's life and times. Set your TiVos and get out your limited edition Peanut figurines.
Dancing With The Stars (ABC, 9 p.m.): Again, if you're going to pretend you watch and like this show, tonight's the night. And we're kind of serious about this: If you've never seen a DWTS finale, you're missing out. Because it's awful, but in that way you just can't look away from.
Storage Wars (A&E, 10 p.m.): Here at the AVC, we love the shit out of some Storage Wars, which is why we're so happy that it's returned that we've decided to make an open thread for you to discuss the weird things you're keeping in your storage lockers.
Shattered Glass (MoMax, 7:15 p.m.): Peter Sarsgaard is terrific in this great journalism movie about renowned fabricator Stephen Glass' time at the New Republic. Hayden Christensen plays Glass, but we swear that doesn't make the movie unbearable. Really!
Red River (TCM, 9:45 p.m.): Get your Howard Hawks on tonight with this terrific Western, starring John Wayne as a man leading a cattle drive. Cattle drives in movies are always so sweeping and cinematic. Why can't someone come along and make our grunt work look sweeping and cinematic?
Classic Boxing: 1986: Berbick-Tyson (ESPN Classic, 9:30 p.m.): Those of you missing Raising Hope this week can watch another half-hour program filled with wacky slapstick, as the Mike Tyson of the past steps into the ring to attempt to win the heavyweight title. You can probably guess how it goes.
---
IN CASE YOU MISSED IT
Enlightened (Monday): This quiet, progressively more involving show has just gotten better and better over the course of its last several episodes, and it had its best episode yet last night. Erik Adams implores all of you to watch the show, because even HBO might cancel it with the numbers it has.