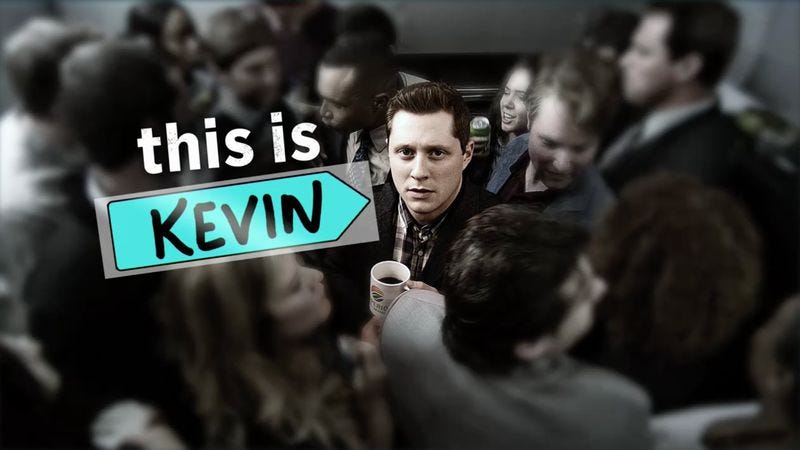 Here's what's up in the world of TV for Wednesday, August 12. All times are Eastern.
Top pick
Kevin From Work (ABC Family, 8 p.m.): You know a show is worth at least a look when McG is directing it. That's just a fact of life. Unless now it means that McG is on the downswing… What are we talking about? McG could never be on the downswing. He's McG. So the Kevin From Work pilot is, as a result, also now on the upswing. Kevin From Work actually marks ABC Family's return to single camera comedies (after all Melissa & Joey did for the network), with its '80s movie sensibilities and its office romance conundrums. "Kevin finally decides to make his feelings known to co-worker Audrey, thinking he's about to move to Europe, only to stay in town." Don't you just hate when that happens? Kevin does, and he's going to show you why in the first two episodes.
Regular coverage
Key & Peele (Comedy Central, 10 p.m.)
Mr. Robot (USA, 10 p.m.)
Elsewhere in TV Club
Do you like analyzing comedy to pieces? Of course you do—you read The A.V. Club. Then you're going to love part one of our Inventory on every in-joke and reference in Wet Hot American Summer: First Day Of Camp.
And if you like questions, Marah Eakin just so happens to have asked Felicia Day 11 of them for an 11 Questions (funny how that works out) piece. We wonder if Felicia Day has ever pulled any pranks on set…
What else is on?
America's Next Top Model (The CW, 8 p.m.): In "The Girl Who Walks Away," some girl just walks away. Right? That has to be the plot synopsis: "Jonathan and Drew Scott (Property Brothers) surprise the models by designing the cast house." We stand corrected. (Fine, there is a plot about one of the models deciding to leave the competition, but that's not what the synopsis decided to focus on, now is it? Also, what are Property Brothers?)
MasterChef (Fox, 8 p.m): This week's episode is titled "Getting A-Head In The Competition." This episode is about cannibalism, and no amount of "real episode description" is going to change that.
America's Got Talent (NBC, 8 p.m.): In "Live Results 1" (great episode title, right?), we finally leave behind the clip shows to find out if America really has talent.
Thrill Factor (Travel Channel, 8 p.m.): "Fear Of Falling 355 Feet." Nope.
Extant (CBS, 9 p.m.): "Molly tries to save her hybrid son after a devastating global security commission raid on their compound." Extant's episode descriptions really make it sound like the most exciting show in the world! Extant!
Wahlburgers (A&E, 9:30 p.m.): "Drama Meets Drama." Nope. Also, is Vince doing the movie?

Last Comic Standing (NBC, 10 p.m.): "The Invitationals: Last Chance To Advance." But when do the comics start standing?!?

Twinning (VH1, 10 p.m.): Have you been watching VH1's Twinning? Follow-up question: What's wrong with you? For those who have not seen Twinning (or have only seen clips from the show on The Soup), it's a competition that reminds the world that twins are not to be trusted. This week's episode title is "Twinsanity," last week's was "Twinstigate," and so far, no episode has been called "Twintuition." This is a failure on every front.
Lachey's Bar (A&E, 10:30 p.m.): Realizing that it worked for the much more famous Wahlbergs Nick and Drew Lachey (of 98° "fame") now have their own show, Lachey's Bar. The most interesting part of this whole situation is the episode titles' obsession with on alliteration (usually with "b" words), despite no evidence proving the Lacheys know what alliteration is. This week is "The Big Bourbon Battle." The week before was "From Boy Bands To Bar Backs." "Tailgate Taste Test." "Brothers In Beer." "A Bar Is Born." This is literally the most fascinating part of Lachey's Bar. Sorry, Lachey brother "deep-seated sibling rivalry."
The Exes (TV Land, 11 p.m.): The Exes is also on tonight.
The Devil's Advocate (Sundance, 9 p.m.): "Al Pacino has a field day playing Lucifer." Thanks, TV Guide Dude! There's also some stuff with Keanu Reeves and Charlize Theron (pre-Sweet November!), but we'll save that for the relevant How Did This Get Made? episode.
Sports, sports, all type of sports
Women's Golf: U.S. Women's Amateur (FS1, 4 p.m.)
MLB Baseball: Red Sox at Marlins (FSN, 4 p.m.)
Little League Baseball: Southwest Regional semifinal (ESPN2, 7 p.m.)
MLB Baseball: Braves at Rays (Sun Sports, 7 p.m.)
MLB Baseball: Pirates at Cardinals (ESPN, 8 p.m.)
WWE NXT (WWE Network, 8 p.m.)
Impact Wrestling (Destination America, 9 p.m.)
Ring Of Honor (Destination America, 11 p.m.)
In case you missed it
Playing House: Is going to the theatre!