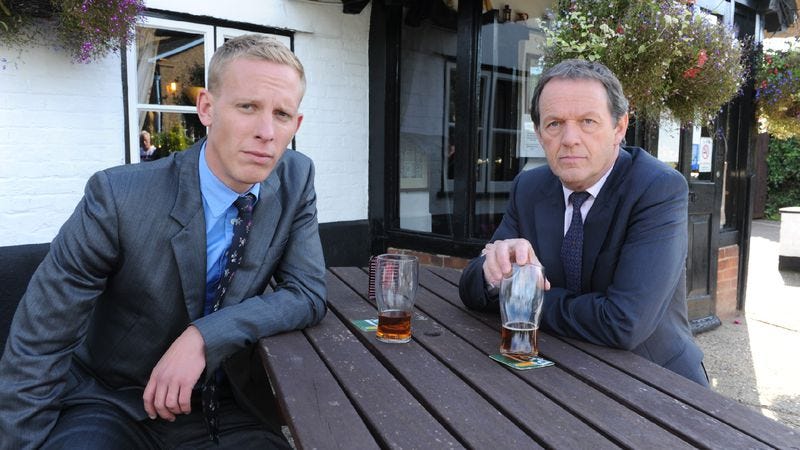 Here's what's up in the world of TV for Sunday, July 29. All times are Eastern.
TOP PICK
Inspector Lewis (PBS, 9 p.m.): The capital of the United Kingdom is hogging all the attention the next few weeks, but what do the 2012 Summer Olympics have that the conclusion of the fifth series of Inspector Lewis mysteries doesn't? Eschew the competition between the world's greatest athletes to follow the latest case of Oxford's second-greatest (he's never going to escape the shadow of Inspector Morse) detective, as Lewis—with the help of Detective Sergeant Alasdair Wilkins—investigates "The Indelible Stain."
---
REGULAR COVERAGE
Ultimate Spider-Man (Disney XD, 11 a.m.): In the overlap in the Venn diagram of Marvel fans and entomology buffs lies this week's Ultimate Spider-Man throwdown: Spidey versus the Beetle. David Sims breaks out his TV-critic microscope.
Rev. (Hulu, 5:30 p.m.): All you need to know about the latest Rev. is summed up in three words: "Ecstasy eating squirrels." Todd VanDerWerff for a long, sweaty night with the rodents of the U.K.
2012 Summer Olympics (NBC, 7 p.m.): Marcus Gilmer takes on a night of Olympics coverage with a degree of difficulty of "4," with two, count 'em two types of volleyball, women's cycling, and the women's team gymnastics competition. Check back to see if he sticks the landing.
True Blood (HBO, 9 p.m.): Looks like someone in the True Blood writers' room caught a bad case of Gotye fever—either that, or whoever wrote tonight's script really likes the jaunty-yet-melancholy Elliott Smith strummer "Somebody That I Used To Know." Either way, Carrie Raisler prepares for a good cry.
Breaking Bad (AMC, 10 p.m.): Walt's coming clean to Marie about something, though it's probably not his involvement in the meth trade that got his brother-in-law/Marie's brother shot. It's probably about some unpaid parking tickets or something. Donna Bowman is absolutely riveted.
The Newsroom (HBO, 10 p.m.): News Night catches up to the Fukushima nuclear disaster, probably by watching that great Frontline documentary on the incident. But that documentary lacked Aaron Sorkin's perspective on the proceedings, which Scott Tobias thinks is crucial to understanding nuclear regulations in foreign countries.
Weeds (Showtime, 10 p.m.): How quickly has Alexander Gould grown up over the course of Weed's eight seasons? Shane's going on a double date with a married couple tonight, which implies that the actor playing the character has aged, uh, a good 25 years. Myles McNutt feels like Weeds has taken a similarly large number of years from him.
Political Animals (USA, 10 p.m.): "The Woman Problem"? Shouldn't that be the title of a Newsroom episode? [Rim shot.] Thank you, thank you—and please stick around so Molly Eichel can say something of substance about Political Animals.
Episodes (Showtime, 10:30 p.m.): This series is going to end with Matt LeBlanc being murdered by a stalker, isn't it? That's what we're building to here? A sudden, beyond-The King Of Comedy turn that'll leave David Sims reeling? Or maybe the character is just a source for some solid Friends zingers.
---
TV CLUB CLASSIC
South Park (Classic) (1 p.m.): So, um, drugs are bad, mmm'kay? They might enhance your enjoyment of South Park from time to time, but they're bad, mmm'kay? So don't do drugs. This has been a public service announcement brought to you by Mr. Mackey and Phil Dyess-Nugent. 
The Simpsons (Classic) (3 p.m.): In lieu of writing a review this week, Nathan Rabin is psychically transmitting his thoughts on "Brother From The Same Planet" through Milhouse. Pick a bar? What the hell is pick a bar?
---
WHAT ELSE IS ON?
Hillbilly Handfishin' (Animal Planet, 8 p.m.): "Come and listen to a story about Skipper and Trent / Crazy Okie fishers, but they still can pay the rent / Then one day they were sifting through the sand / And each came up with a fish on their hand / Catfish that is / polliwogs, chuckleheads."
Jerseylicious (Style, 8 p.m.): Salons compete full ultimate, teased-hair glory in the fourth-season finale. The winner will then get to spread their gospel of Jerseylicious-ness from sea to shining sea, inspiring such spinoffs as Ohiolicious, Wyominglicious, and Idaholicious.
Bar Rescue (Spike, 10 p.m.): Jon Taffer returns to action, tasked with saving a struggling tropical bar. First suggestion: A no-exceptions Jimmy Buffet ban.
Gator Boys (Animal Planet, 9 p.m.): A bayou version of Avril Lavigne couldn't write it better herself: Here are some gator boys, and now their landlord might be saying "See you later boys." Why'd they have to go and make things so complicated?
Aladdin (ABC Family, 8 p.m.): Beauty And The Beast got the Oscar nomination and The Lion King made the big money, but when it comes to Disney's animated output from the early 1990s, none is funnier, more entertaining, and sing-along-worthy than Aladdin.
Ghost World (Sundance, 8 p.m.): Put in the broadest terms possible, Terry Zwigoff's adaptation of Daniel Clowes' graphic novel is about a young woman whose life is radically transformed by Steve Buscemi. Buscemi just has that effect on people.
MLB Baseball: Red Sox at Yankees (ESPN, 8 p.m.): Contrast a once-in-every-four-years sport event with a happens-all-the-damn-time occurrence: Boston versus New York in primetime on ESPN.
---
IN CASE YOU MISSED IT
Twenty Twelve (Saturday): The 2012 Summer Olympics are going off without a hitch, which means Ian Fletcher and his succeeded in their mission of delivering the games. It was touch-and-go there for a while, but Erik Adams had faith in the Olympic Deliverance Commission the whole time.