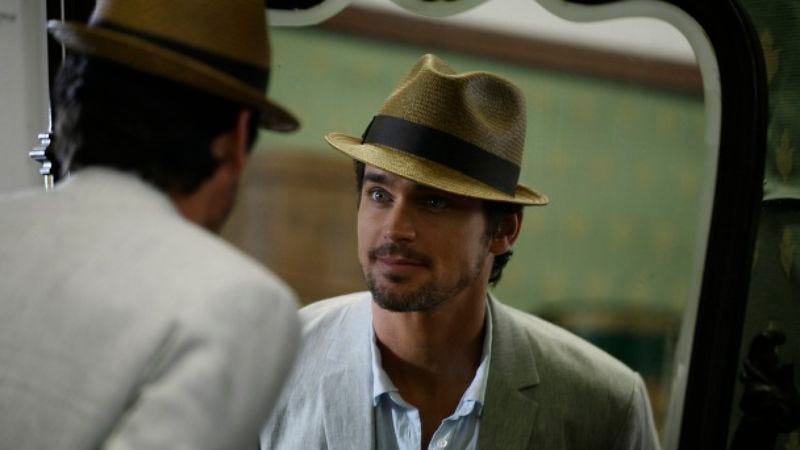 Here's what's up in the world of TV for Tuesday, July 10. All times are Eastern.
TOP PICK
White Collar (USA, 9 p.m.): Did you know this show has been on for four seasons? Why, then, does it feel like it's been running since the Carter administration? It could have something to do with the fact that USA splits its seasons into two stretches, then airs them about six months apart. It could have something to do with how Matt Bomer seems to always be lurking unseen around the edges of pop culture, like a particularly handsome cryptid who guest stars on TV shows. Or it could just be how we once dreamed that episode where Jimmy Carter played the part of Tim DeKay. At any rate, the show's back, and it remains one of TV's breeziest pleasures. Kenny Herzog will be happy to walk you through it for the next several decades.
---
REGULAR COVERAGE
Frontline (PBS, 9 p.m.): Proving that it knows how to have a good time, tonight's Frontline takes a look at the last several decades of the AIDS crisis among the African-American community. It's a story of horror, followed by something like hope, and we're sure it will be a day brightener for all of us.
Workaholics (Comedy Central, 10:30 p.m.): The guys welcome "two members of a strongman group with a religious bent," and while we're not sure what that means, Kevin McFarland certainly hopes it means that the show is finally acknowledging the phone-book-ripping awesomeness of the Power Team.
---
TV CLUB CLASSIC
Dawson's Creek (11 a.m.): Back when this show debuted, Kevin Williamson, its creator, was still best known for writing Scream, rather than creating, er, Dawson's Creek and/or The Vampire Diaries. So the series did a throwaway episode inspired by that film. Brandon Nowalk knows there are three killers.
Six Feet Under (1 p.m.): We always enjoyed when Ruth's sister would show up because she was such a fine character and because we enjoy when Patricia Clarkson wanders onto any nearby screen to sing, dance, and make merry. John Teti once met Patricia Clarkson in a Walgreens, and she changed his life.
Police Squad! (3 p.m.): And so Erik Adams comes to the end of the road with his coverage of Police Squad! We hope that he'll ride off into the sunset, light blaring on his hood, to spend a little time remembering the good old days with special guest star Florence Henderson.
---
WHAT ELSE IS ON
The Real Housewives Of Orange County (Bravo, 8 p.m.): It's a full night for Bravo's signature reality franchise. In the first of two new episodes tonight, the housewives must learn how to use social media, which we assume entails all of them closing their eyes and blindly flailing at keyboards.
Jamie Oliver's Food Revolution (BBC America, 9 p.m.): If you never saw this excellent docu-reality series about the British chef's attempts to improve the eating habits of a small town in West Virginia, BBC America is re-airing both seasons starting tonight. Check it out if you like, uh, encouragement and peas?
Trust Us With Your Life/NY Med (ABC, 9/10 p.m.): ABC is taking the occasion of baseball's all-star game to debut a couple of new shows. First, Ryan McGee will review the antics of the latest improv comedy sketch show. Then, Phil Dyess-Nugent takes a look at a new workplace reality show about a hospital.
Covert Affairs (USA, 10 p.m.): We covered the last season of this show, but only, like, two of you read about it. Still, since a new season debuts tonight, we're going to make sure the two of you who cared know that it's on. Attention! Piper Perabo is back with more spy-ish adventures! Now get back to work.
Stick It (Oxygen, 8 p.m.): Maybe you enjoy the generally enjoyable Missy Peregrym. Maybe you're a sucker for sports movies not about baseball or boxing. Maybe you like the weird chemistry between Peregrym and Jeff Bridges. There is always a good reason to say, "Fuck it! I'm watching Stick It tonight!"
Lost In La Mancha (Sundance, 11 p.m.): Terry Gilliam and Johnny Depp head off into the middle of nowhere to make a movie of Don Quixote, and since you remember how it won 12 Oscars, breaking the record for most Oscars, you know how well it turned out. Here's the story of how the film was made.
MLB All-Star Game (Fox, 7:30 p.m.): It's the All-Star Game! Nobody cared about it a week ago. Nobody will care about it a week from now. It just might screw over some poor, deserving team in the World Series. But, by God, we're all going to give the biggest shit we possibly can about it for just one night.
---
IN CASE YOU MISSED IT
Opening Act (Monday): Plucked from obscurity (or, rather, YouTube) to open for major musical acts, the groups on Opening Act could make for enjoyable reality TV fodder or could make for incredibly boring "feel-good" stories. Molly Eichel watched the first episode to let you know which was the case.