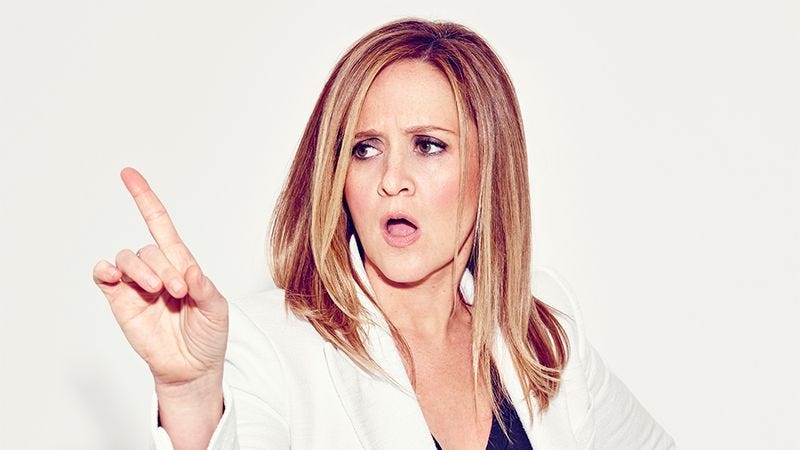 Here's what's up in the world of TV for Monday, February 8. All times are Eastern.
Top pick
Full Frontal With Samantha Bee (TBS, 10:30 p.m.): Tonight, Canadian treasure Samantha Bee begins her journey as a late night talk show host who is also a lady. What's it going to be like? "Samantha tracks the Jeb Bush campaign in the series premiere of this late-night comedy show featuring Samantha Bee." Other than that? No idea. But we're still pretty excited, thus the show's spot in this latest What's On Tonight.
Oh, and since we guess The Daily Show is also on tonight, we'll acknowledge that by letting you watch two classic Samantha Bee pieces:
Also noted
Supergirl (CBS, 8 p.m.): Oh wow, we're really doing the dream reality plot in season one, huh? Supernatural at least waited until season two. You hear a lot about how Supergirl may be too schmaltzy, but maybe we should talk about how it's burning through a lot of plots in its first season. By the way, here's how that goes: "Kara's friends must find a way to save her life when a parasitic alien attaches itself to her and traps her in a dream world where her family is alive and her home planet was never destroyed." That's just a normal Monday night for Caroline Siede.
Gravity Falls (Disney XD, 8 p.m.): Gravity Falls is back. Sort of. It's Gravity Falls: Between The Pines, a behind-the-scenes feature for the show, just before it dies. Try not to cry.
WWE Monday Night RAW (USA, 8 p.m.): OH MY! WHY THAT'S ORIGINAL RAW REVIEWER LATOYA FERGUSON! WE HAVEN'T SEEN HER IN MONTHS! (HAHA, I LOVE IT, MAGGLE!) (Wow.)
Wander Over Yonder (Disney XD, 8:30 p.m.): "Lord Hater orders the Watchdogs to make an action cartoon about him." We want to just order underlings to make action cartoons about us. Why can't we do that, Kevin Johnson?
Jane The Virgin (The CW, 9 p.m.): You know what, Oliver Sava? Jane The Virgin episode synopses really lack a certain pop without the show's narrator being the one to say them. So just imagine that he is dropping all of this hot fire: "Jane's crush on Professor Chavez (guest star Adam Rodriguez) is popping up in her dreams and she needs to evaluate her feelings towards him. Xo and Jane find Liliana's engagement ring and think that Rogelio is going to propose. Rogelio IS planning to propose, but with a different ring, one that gets swallowed accidentally by Mateo! Michael comes to a realization about Rose and Mutter. Justin Baldoni, Yael Grobglas and Ivonne Coll also star." See? So much better with the narrator. Especially the "Justin Baldoni, Yael Grobglas and Ivonne Coll also star" part.
Regular coverage
Crazy Ex-Girlfriend (The CW, 8 p.m.)
The X-Files (Fox, 8 p.m.)
The Magicians (Syfy, 9 p.m.)
Elsewhere in TV Club
It's Love Week, so let's talk about sex, baby. Sorry, not sorry. TV Club is hitting you all with a brand new Inventory, "Coitus interruptus: 15 reasons to knock first," and we apologize in advance for that whole pie thing.
And you know who else has something to say about love? Hannibal Buress, comedian, and love… Honestly, we want to say "love guru," and we're sorry. In his Interview with Marah Eakin, he talks threeways, cougars, and break-ups. You know—love stuff.
What else is on?
The Bachelor / Bachelor Live (ABC, 8 / 10 p.m.): "Surprises continue to change the course of Ben's and the women's search for love as they move toward another rose ceremony, but he still believes his future wife might be in the remaining group of women, on The Bachelor." Again, we say: Wow.
Kids Baking Championship (Food Network, 8 p.m.): It's "Candymonium," everyone! Time to hide from some children.
The Fosters (Freeform, 8 p.m.): This week on The Fosters, Brandon plans a Romeo & Juliet rock musical, officially reaching maximum Brandon level. We're serious: "Brandon and Mat decide to write a Romeo & Juliet rock musical as their senior thesis project, but they disagree over who should play Juliet." Anyway, Jude is doing things, as "Callie is surprised to find that Jude is spending time with Jack, a quirky foster teen they met at a foster youth event."
Superstore (NBC, 8 p.m.): It's a mallpisode! Sort of. "After a long day, the entire staff is waiting for a truck to deliver new Cloud 9 signage that they'll have to hang throughout the store by morning. Everyone has somewhere to be, tensions are running high and it's only made worse when Glenn announces that the truck is delayed and they're in for a long night. With hours to kill in an empty Cloud 9, our gang finds themselves bonding in the most unusual and creative ways…" Mallpisode! Mallpisode! Mallpisode!
Antiques Roadshow (PBS, 8 p.m.): "A Schulz Snoopy sketch, Chinese altar garniture and a Faulkner handmade book. One may draw $100,000!" But one also may not draw $100,000. Eek.
Telenovela (NBC, 8:30 p.m.): Desperate Housewives reunion o'clock: "Mimi's husband, Martin (guest star Ricardo Chavira), returns from prison a seemingly better man - and a much hotter one. Ana tries to keep Mimi from getting back together with him by distracting her with a girls night out." Ladies!

American Dad (TBS, 8:30 p.m.): "A mental issue has Hayley regressing to a 6-year-old; and Steve gets a slow cooker." Amazing. Just… Amazing.
Vanderpump Rules (Bravo, 9 p.m.): "Katie throws a party to celebrate the launch of her Web-site, yet the event is jeopardized by an unexpected appearance and a surprise text. Meanwhile, Jax adapts to his life as an unemployed outlaw, and Lala reacts to an ugly rumor." But when during this episode does SUR become a respectable restaurant?
Scorpion (CBS, 9 p.m.): "Penn Jillette guest stars as Toby and Walter's couples counselor." Of course he does.
Pickle & Peanut (Disney XD, 9 p.m.): Look at all of this Disney XD! Much like Wander Over Yonder, a cartoon character within a cartoon is on the episode agenda, but this time, it's sweeter. "The boys discover that their favorite childhood cartoon-star is down on his luck, so they try to cheer him up."
Lucifer (Fox, 9 p.m.): "When a 22-year-old future superstar quarterback wakes up to find a dead girl floating in his swimming pool, he turns to his friend, Lucifer, for help." Duh, of course he does. Who wouldn't, right? But how exactly does this hit those procedural buttons that really make Lucifer "Devil Detective"? "Lucifer enlists Chloe to investigate the case, which leads to the world of big money sports and people who will literally kill to be number one." We can't wait until Lucifer does Fashion Week. Castle has done that one about five times and it still hasn't gotten old.
Recovery Road (Freeform, 9 p.m.): Oh sorry, Recovery Road. We guess we didn't see you there. But now you're on your third episode, and you're making up for a current lack of Nashville with an Aubrey Peeples guest star appearance. However, isn't it kind of typecasting to put her in an environment with emotionally-distressed youths with addiction problems? Twist! Now we're talking about Jem And The Holograms, or at least the impression we got from the Jem And The Holograms trailer.
War & Peace (Lifetime, 9 p.m.): Part four! Part four! Part four! Part four! War & Peace is kind of long, isn't it?
The Biggest Loser (NBC, 9 / 10 p.m.): "And though they still have to stick to their weight-loss routines, there will be no temptation this week." What? That can't be right. That's definitely not the Biggest Loser that we've grown accustomed to this season.
Angie Tribeca (TBS, 9 p.m.): "A ventriloquist is found dead and the lieutenant is really sick about it. Also: Geils' aspirations to become a ventriloquist emerge." Yes, the lieutenant is, in fact, always "really sick about it." And yes, the episode title gives it all away again. It's great.
Stevie J & Joseline Go Hollywood (VH1, 9 p.m.): "Stevie J's kids arrive in Los Angeles; and Joseline strives to make her stepchildren happy." Step one: Don't let the kids see any television show that feature Stevie J and/or Joseline.
NCIS: Los Angeles (CBS, 9:59 p.m.): NCIS:LA is getting its two-parter on, and part one ("Matryosha") is getting its Russian spy on: "In order to locate Arkady in Russia, the NCIS team goes undercover with his daughter, Anna (Bar Paly), at a gala in Los Angeles to gain access to the Russian Consul General's computer." In the immortal words of Scott Aukerman: "YAS QUEEN."
Castle (ABC, 10 p.m.): Castle is finally back for its winter premiere, and everything's a mess. Oh, you think that we're exaggerating? "When a body is found in the theater of Martha's latest show, Castle and Beckett's investigation leads them into the unexpectedly dangerous world of competitive a capella." And yes—that means exactly what you think it means. "THE CASE GETS ACA-CRAZY." Of course it does. Episode title? "Tone Death." And is there a guest star to bring it all together? "Corbin Bleu Guest Stars." There it is. We told you.
The Graham Norton Show (BBC America, 10 p.m.): Sir Elton John! Ben Stiller! Owen Wilson! Penelope Cruz! Jack Black! Still no Zayn Malik!
Lost Girl (Syfy, 10 p.m.): "Bo risks life and limb to retrieve an elusive Fae painting for a friend. Meanwhile, Lauren makes a stunning revelation." More like a "FAEnting," right? Right? Right. And "reFAElation."
Fameless (TruTV, 10 / 10:30 p.m.): "An alien stakeout; a prankster's joke; and a fashion patrol." A television show.
Hit The Floor (VH1, 10 p.m.): "Lionel plans the biggest opening day in Devil's history; Ahsha tries to resist Derek as German spirals out of control; and Terrence and Jelena enlist a new ally. Later, Kyle's movie takes a sexy turn; and a surprising kiss changes everything." It's weird how VH1 has started writing its show synopses in Greek, isn't it?
Watch What Happens: Live (Bravo, 11 p.m.): In the immortal words (there's a lot of that going on tonight) of Don Pardo: "BOOOOOBBY MOYNIIIHAAAAN!" Also Katie Maloney and Kristen Doute, but Don Pardo never said their names, so…
Almost Royal (BBC America, 11 / 11:30 p.m.): Whatever this show is, its second season finale is tonight.
Ghosts Of Girlfriends Past (Lifetime, 7 / 8 p.m.): Ghosts Of Girlfriends Past. Twice. In a row. Wait a minute. Why is Ghosts Of Girlfriends Past an hour long, Lifetime? Seriously, why? Or is this all TV Guide Dude's doing? We want answers! We demand answers!
Sports, sports, all type of sports

College Basketball: Louisville at Duke (ESPN, 7 p.m.)
Women's Basketball: Connecticut at South Carolina (ESPN2, 7 p.m.)
College Basketball: Oklahoma State at TCU (ESPNU, 7 p.m.)
College Basketball: St. John's at Georgetown (FS1, 7 p.m.)
College Basketball: Colgate at Army (CBS Sports, 7:30 p.m.)
NBA Basketball: Magic at Hawks (FSN, 8 p.m.)
College Basketball: Texas at Oklahoma (ESPN, 9 p.m.)
Women's Basketball: Maryland at Ohio State (ESPN2, 9 p.m.)
College Basketball: Notre Dame at Clemson (ESPNU, 9 p.m.)
In case you missed it
Shameless: You probably saw that commercial for Showtime during Super Bowl 50. Shameless just so happens to be a show on that cable network! Let's hear it for sports!