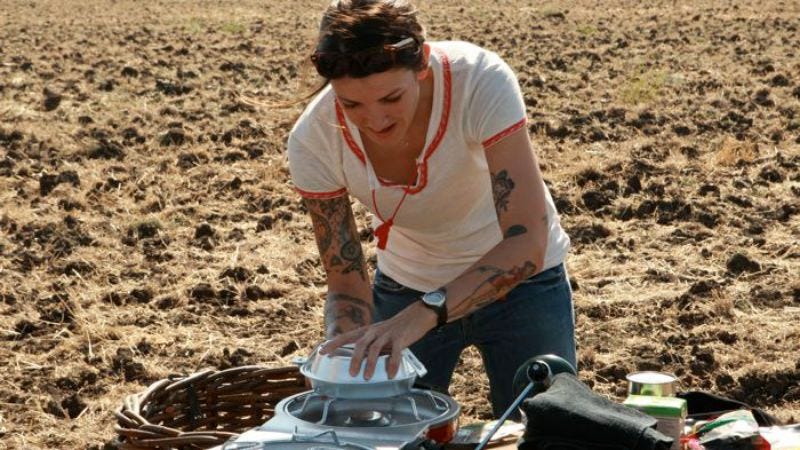 TV Reviews
All of our TV reviews in one convenient place.
Top Chef is back in familiar territory this week with a quickfire challenge that imposes ridiculous restraints on our professional chefs, and an elimination that packs a few picky eaters.
Quickfire challenge
The chefs pack up and head to Dallas. Along the way, we learn more about the chefs: Tylör Boring is gay, Edward found happiness after breaking down and committing to his wife, and Bev thinks Dolly Parton is from Dallas. Soon, they're stopped by a trooper who directs them off the road for the quickfire challenge. The chefs must cook with ingredients found in the survival kits in the trunks of the [brand redacted] cars they're driving. It's a mixed bag of canned meats and vegetables, and a few random items like fruit roll ups, Crystal Light, and soy sauce. As far as Top Chef challenges go, the cook-with-gross-things test is one of my favorites. It takes the chefs so far out of their comfort zones, removing tools, equipment, and fresh ingredients to see how they'd fare during a nuclear holocaust or zombie attack. We know whose restaurant we want to visit after the show airs, but we might as well learn whose bomb shelter is worth raiding, too. Like the producers have done with the quickie-mart challenges in the past, it's fun to see the chefs take ordinary, processed food and turn it into something tasty.
This one I'd argue took things a little too far. With no extra ingredients and not even any real equipment, most of the chefs failed to turn out anything that looked more appetizing than the canned original, if you trust the video footage instead of the studio-style photography of the dishes. Nice lighting and selective focus made those dishes look almost stunning—a far cry from the bubbling slop we saw cooking away during preparations. My guess is that none of these things tasted much good; the praise for the winners from John Besh was fairly lukewarm, and he never mentioned anything about the taste. Edward landed in the top for attention to detail, Lindsay's sandwich with Vienna sausage "sent it over the top," and Chuy' s canned trout made him a believer. Not exactly laudatory, but somewhat expected. In this kind of challenge, though, I always hope for something to make Tom say, "This is incredible! I can't believe this was made from canned tuna!" No dice this season. Lindsay takes the win for her sandwich made from saltine crackers, and we move on.
Elimination round
Finally, in episode five, we get a non-team elimination round competition. This got me excited for the back-end of the hour, simply because we get a better look at what these chefs can do when they're allowed to do anything. Padma divvies the group up into three designated courses (appetizers, entrées, and desserts), and the chefs are delivered to super-fancy (and sometimes gaudy) houses in the Highland Park neighborhood of Dallas for a progressive dinner party. And lest you think this task is too daunting for our chefs, have no fear: Tylör Boring has cooked for Bill Gates and rock stars and movie stars, so everything will be fine.
They're cooking in the hosts' kitchen with their equipment, which, aside from finding a large sifter and Bev hogging the sink, doesn't seem to be much of a problem. What is a problem are the somewhat limited palates and unadventurous spirits of the hosts, who spew a list of restrictions and non-inspiration that are hilariously contradictory. They want a conversation piece that's not adventurous and without strong aromatics. And maybe something that incorporates his love of beef and her vegetarianism. Ooh—or maybe just nestle one of these five-pound gummy bears in a few hundred cake balls and call it a day. The chefs nod politely and laugh placatingly and then go off to do their own things.
For Chris, this means a dish that looks like a burnt cigar. Besh later calls this gimmickry at judge's table, but you have to at least admire that he's operating in a space far away from the other contestants. (His restaurant, Moto, here in Chicago, plays with this kind of thing a lot—serving dishes that resemble things they're not. Peas and carrots that are not peas and carrots. An edible menu. That kind of thing.) But the audience isn't quite right. Gail speaks the truth: A bunch of society ladies in Dallas wearing cocktail dresses don't want to pick up a greasy roll shaped like a cigar and stuff it in their faces. It ain't ladylike, and you can see them cringe even as Chris is presenting the dish. It's almost as bad as the face Besh makes when immunity-Lindsay says she made a beet salad. Besh calls it boring, but the Dallas folks love it. I do feel bad for the hosts in a few of these cuts—unlike our quinceanera princess' analysis of the food, the comments from these couples are spliced with shots of the judges rolling their eyes, or flat-out disagreeing with their palates. One man's best-gourmet-cupcake-in-the-world is another man's thing-so-crappy-he-won't-even-deign-to-comment.
On the top are Sarah, Grayson, Paul, and Dakota, two of whom made desserts. Paul's fried brussel sprouts with grilled proscuitto took the win, with the chefs raving about the texture and balance of the dish. It was also one of the prettiest on the plate. Chuy heads home for his overcooked salmon dish, but managed to edge out Keith in the Last Chance Kitchen for a chance to come back. I'm happy to see him there because he's put out some good dishes up to this point… but mainly because he's a goofball.

Stray observations:
Okay, last jab at the Dallas society people: "It looks like blood!"  "…It's a red wine reduction, I assure you."
Did you guys catch the super stiff Voltaggio bros. in that commercial? Hilarious.
Love Chuy's dad. Built all the furniture in their house, grew all the food in their backyard… and wow, that mustache.
Interesting little thing we've seen in the past couple of eps with the post-judging commentary from the judges. This one felt so stilted.  John Besh: "In sum, this is why we eliminated him." Other three: "Yes. That is true."