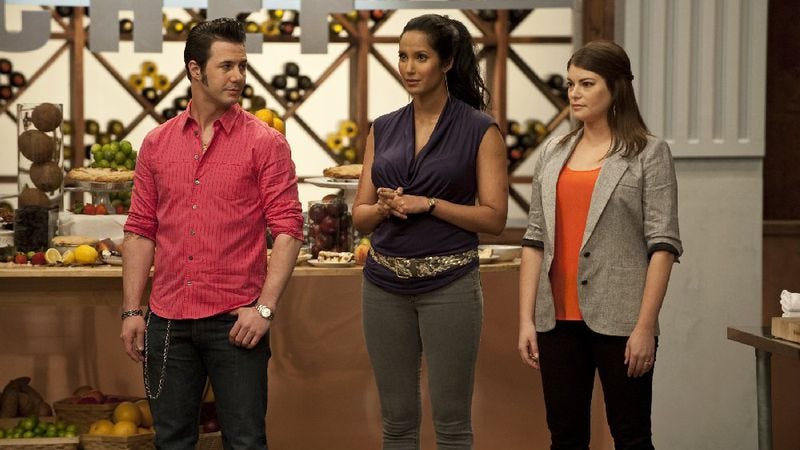 TV Reviews
All of our TV reviews in one convenient place.
Much as I understand the financial benefits of producing spinoffs of hit TV shows, the added revenue streams—sorry for the corporate-speak—also take something away from the source. Though Top Chef Masters has proved a solid, if only intermittently exciting, spinoff show (a treat more for foodies than reality-show junkies), its presence has made me anticipate Top Chef's return a little less. And with Top Chef: Just Desserts on the horizon, nary a week will pass during the year without new episodes of some Top Chef-related cooking competition airing on Bravo. Good for business maybe, but a fast track to reality TV burnout.
Tonight's Quickfire challenge has given me pause, however—not because the prospect of Top Chef shows 24/7 suddenly sounds appealing, but because dessert unquestionably needs it own show. The first two weeks have seen two chefs bounced for fucking up dessert, and based on the truly godawful-looking pies this lot produced for Just Desserts host Johnny Iuzzini, it's clear that pastry chefs have about as much in common with restaurant chefs as jockeys have with basketball players. (And lo, as I write that, here comes Daily Show writer Tim Carvell on his Twitter feed: "Congratulations to all the 'Top Chef' contestants for their work in tonight's 'Make the Most Disgusting Pie Imaginable' Quickfire!") To be fair to the contestants, it's absurd to ask them to make a pie from scratch without them having any clue about the proper measurements. If pastry chefery is more science than art—and if they hadn't memorized beforehand the proper amount of sugar, flour, butter, and other materials that go into a pie—then having them improvise on the spot is setting them up for failure.
On the other hand, most of these pies fail at the concept stage. I'm a pie person—apologies to cake enthusiast Paul F. Tompkins, who's simply on the wrong side of this issue—and banana cream pie has been my single favorite dessert since childhood. But did I ever think it (or any other dish, for that matter) would be enhanced by something called "celery spuma"? No. And how about a nice slice of curried yam pie? Or mango pie with a basil crust? (Mmm… basil.) Or a nice light peach cobbler inexplicably darkened by brown sugar and molasses? And I'm just scratching the surface here. (Did somebody make a pie involving white chocolate, tapioca, and eggs or am I mixing and matching several bad ideas?) I'd guess that Kelly's chocolate pie wouldn't shatter many monocles among the pastry elite, but at least she had the good sense to keep it simple. Ditto the winner, Kenny, who recognized the crust trap early on and committed to a tasty-sounding cobbler. Smart.
Now let us never speak of pies again.
As for the Elimination challenge, yawn. There's an ourdoor grilling challenge or two every season, and this one didn't have much of a twist, other than the minor problem of being forced to use charcoal rather than gas. The less experienced Weber-users either imitated the others furtively or got tips from them directly, and they were off to the races, grilling up an entrée and two side dishes for a bunch of Capitol Hill interns. After the mass catastrophe of the Quickfire, the chefs were back on terra firma for this challenge, and the result were a lot of forgettable dishes and considerably less drama than last week's fireworks. Of the favorites, Angelo again looked in command with a Vietnamese beef dish that guest judge Jonathan Waxman called "magazine cover-ready") and he showed some rare humility by acknowledging that Amanda's dry-rubbed baby back ribs were perhaps even better. But Arnold, who had struck me so far as hapless and overmatched, won by doing something different (lamb meatballs on skewers) that nonetheless took well to the grill.
As for the losers, I'm mystified by how bad Stephen's fish turned out to be, given that I've eaten fish at his Las Vegas restaurant (Seablue) and enjoyed it very much. Seablue's main draw is a wood-fired grill that gives their dishes a rich, smoky flavor, but Stephen's attempt to recreate that kind of taste over a charcoal grill, with bacon-wrapped sea bass, nearly got him kicked off in Week Three. Lucky for him, poor Tracey insulted Tom's heritage with a graceless Italian sausage (er, slider) that was poorly seasoned and looked to Waxman like something his 10-year-old son could put together. Speaking personally, I'd eat about five of Tracey's sliders before taking a single bite out of 75% of those pies.
Stray observations:
• Keep that Dial NutriSkin away from my curried yam pie!
• Arnold used the phrase "thrown under the bus." Therefore, I do not like Arnold.
• Gail has had zingers at the ready this year, hasn't she? To Ed: "How does it compare to your grandma's celery spuma?"
• Kenny, peaking early: "Once I get into a groove, it's over. It's a wrap."
• Line of the night, courtesy of human train-wreck Alex: "I'd want to eat the ass out of this pig all day."
• Tracey was an odd duck, but I liked her. When she enthuses, "Everybody's food is good!" at the cookout, it's simultaneously generous and sad.
• Speaking of, I would love to see more Elimination challenges end with the chefs informally tasting each other's food and offering opinions. It raises the stakes and clarifies their relationships as competitors and human beings.