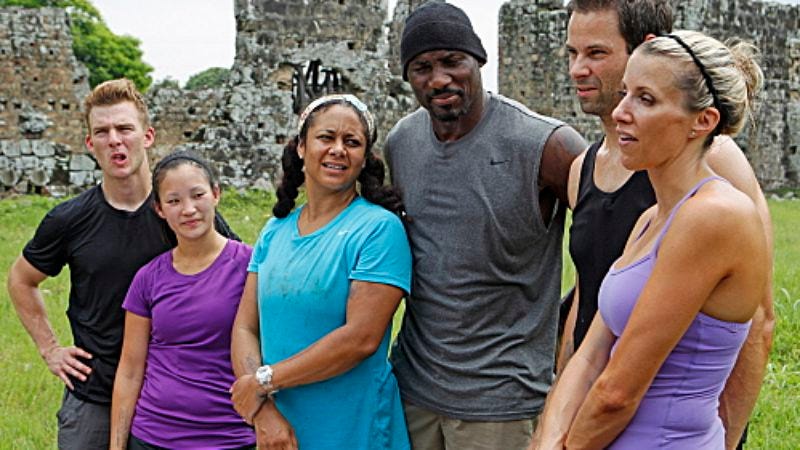 Here's what's up in the world of TV for Sunday, Dec. 11. All times are Eastern.
TOP PICK
The Amazing Race (CBS, 9 p.m.): After a season full of lackluster teams, too-challenging challenges, bad racing, and a giant glut of non-elimination legs, The Amazing Race limps home in its season finale, hoping to salvage an edition that hasn't put the show's best foot forward. Fortunately, the team considered the putative favorite—after winning a huge number of legs—was eliminated last week, which means this really could be anyone's game. Pity we don't give a shit about two of the three teams left standing. Scott Von Doviak stands at the finish line.
---
REGULAR COVERAGE
Once Upon A Time (ABC, 8 p.m.): "Someone in Storybrooke dies," says tonight's episode description. Is it the little kid? God, it's probably not the little kid, but could you imagine if he staggered out of a barn, all dead-like? Oliver Sava would love that.
The Simpsons (Fox, 8 p.m.): It's time for the semi-annual Simpsons Christmas episode, and this time, we're heading to 2041 and meeting Bart and Lisa's kids. Hayden Childs will have a 4,000 word discourse on how this fucks with continuity.
Boardwalk Empire (HBO, 9 p.m.): Season finale time, after another episode that featured some incredibly… um… intimate moments. Noel Murray hopes the whole finale is just George Remus singing period-appropriate show tunes.
Dexter (Showtime, 9 p.m.): Meanwhile, the finale of Dexter draws ever nearer, as we've reached the penultimate episode. Josh Alston—who still probably thinks the show has nowhere to go but up—buckles down for another episode on the pile.
Family Guy (Fox, 9 p.m.): Those of you who've been waiting for a Carter-centric episode are probably really excited for this one. Those of you asking, "Who's Carter?" aren't real Family Guy fans like our own Kevin McFarland is.
The Good Wife (CBS, 9 p.m.): Last week's episode was kind of crazy, sidelining a lot of the legal drama for an unexpected crisis in Alica's personal life. David Sims, who doesn't have a personal life, hopes the show gets back to the courtroom tonight.
Leverage (TNT, 9 p.m.): It's ladies night on Leverage, as the team's women band together to take down a global conspiracy or something or other. Women! Always stumbling across global conspiracies! Phil Nugent knows what we're talking about.
American Dad (Fox, 9:30 p.m.): Did you miss American Dad last week? Well, we sure did, and we're glad it's back. We're even more glad that it's got the awesome voice talents of Mr. Martin Mull, or as Rowan Kaiser refers to him, "Mr. Charisma."
Hell On Wheels (AMC, 10 p.m.): Durant challenges the Cheyenne to a competition. We hope that it's a punt, pass, and kick competition, if only to give the Cheyenne a fair shot. Phil Nugent regularly enters said contests and pretends to be 12.
Homeland (Showtime, 10 p.m.): Looks like it's time for Claire Danes to get herself an Emmy submission tape with this episode, or so says the buzz surrounding this one. She'll probably cry openly four or five times, Todd VanDerWerff style.
Luck (HBO, 10 p.m.): It's time for David Milch's horse racing drama. Directed by Michael Mann and starring Dustin Hoffman, the whole thing seems like a dream come true or a bust waiting to happen. Todd VanDerWerff plays the ponies.
---
TV CLUB CLASSIC
The Critic (3 p.m.): Nathan Rabin watches Jay Sherman suffer through an episode he says has to be "one of the weakest and most dated episodes of The Critic." So, y'know, count that as a huge recommendation to check this episode out.
---
TV CLUB ADVENT CALENDAR
South Park, "Mr. Hankey, The Christmas Poo" (Friday): If you haven't seen this one in a few years, check out Rowan Kaiser's write-up of it to be reminded of just how traditional it actually is. Aside from the whole "talking piece of poop" thing.
Two Saturday Night Live Christmases: 1975 and 1976 (Saturday): Phil Nugent offers up the sweetest appreciation of Candace Bergen you're likely to see on this here website, plus takes us through the early Christmases of this TV institution.
---
WHAT ELSE IS ON?
The Christmas Pageant (Hallmark, 8 p.m.): Looking for a chintzy holiday movie to watch tonight? Hoping to check in on Melissa Gilbert in the process? Well, we just might have all of the solutions to your problems with this one.
White House Christmas (HGTV, 8 p.m.): Everybody knows the Obamas don't celebrate Christmas. They celebrate the secret holiday all secularist/communist/socialist/Muslim left-wingers celebrate, the one with the secret handshake. You know what we're talking about. *wink*
The Cleveland Show (Fox, 8:30 p.m.): So, originally, Fox had the Allen Gregory season finale here, but NOW, apparently, it's just another episode of The Cleveland Show instead. So instead of finding something new to write about, we're going to make you remember The Cleveland Show exists. THANKS, JAY S.
Bag Of Bones (A&E, 9 p.m.): Pierce "James Bond/guy from Remington Steele" Brosnan and Melissa "evil wife from Alias" George get wrapped up in ghostly shenanigans in this Stephen King adaptation. Zack Handlen offers up his thoughts.
2012 (Encore, 8:50 p.m.): If you want to know why we're so terrified of what January 1 will bring, here's the movie that will convince you. It's a documentary, sent from the future, and the events were filmed in real time.
Lilies Of The Field (TCM, 10 p.m.): Sidney Poitier won his Oscar for this film about a handyman who helps a bunch of nuns build a chapel. It's not the greatest movie in the world, but Poitier's performance is great, and it has historical value.
Sunday Night Football: Giants at Cowboys (NBC, 8:15 p.m.): After the Giants very nearly beat the unbeaten Packers last week, we take back all the mean things we said about NBC a few weeks ago: These are some pretty good games you're picking.
---
IN CASE YOU MISSED IT
Chuck (Friday): Chuck wrapped production for all time on Friday, bringing the handful of die-hard Chuck fans to a teary moment of Internet silence after Yvonne Strahovski Tweeted about it. Ryan McGee recommends you check this episode out.