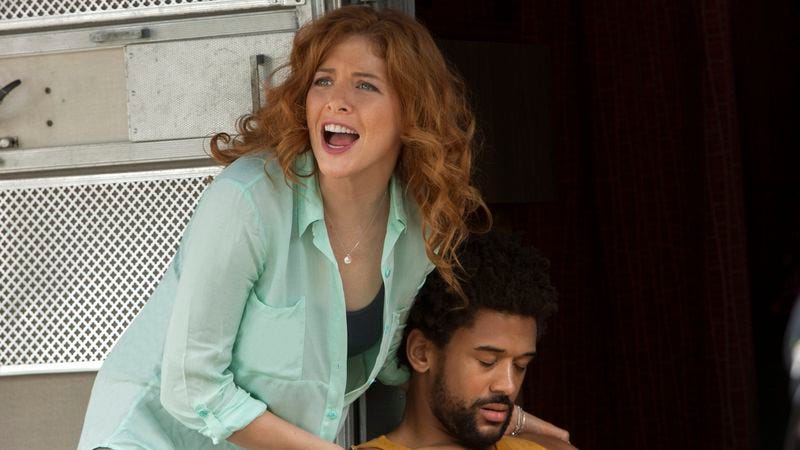 Here's what's up in the world of TV for Monday, July 15. All times are Eastern.
TOP PICK
Under The Dome (CBS, 10 p.m.): An epidemic of meningitis strikes Chester's Mill in an episode entitled "Outbreak." Hopefully this episode will feature an adorable capuchin monkey and Morgan Freeman, just like the 1995 film of the same title. Scott Von Doviak has his VHS tape at the ready for a scene-by-scene comparison.
---
REGULAR COVERAGE
Adventure Time (Cartoon Network, 7:30 p.m.): Finn and Jake trade places! As with all body-switching episodes, there will be no shenanigans and no one will learn important lessons about understanding each other. Coincidentally, for the past week Oliver Sava has switched bodies with one of his A.V. Club colleagues. He'll be filing his review as soon as he figures out how to switch back.
Regular Show (Cartoon Network, 8 p.m.): It's a Benson-themed double feature as the park crew first help him down a mountain and then plan to give him a mug. Bribing his boss with a mug is actually how Alasdair Wilkins got to write these reviews in the first place.
Switched At Birth (ABC Family, 8 p.m.): The Kennishes have a family emergency, Angelo helps Regina with her business, and Bay meets an army medic. Luckily Carrie Raisler triple majored in crisis management, business, and field medicine so she'll have plenty of insights this week.
Teen Wolf (MTV, 10 p.m.): The preview for this week's episode promises a classic tale of romance: boy and girl hide in closet from girl's dad, girl finds boy's erection humor charming, boy and girl make out. Will this finally be the rekindling of Allison and Scott's romance? Phil Dyess-Nugent is also secretly hiding in that closet to report the details.
---
TV CLUB CLASSIC
The IT Crowd (11 a.m.): The IT Crowd begins its third series with an episode in which Moss gets harassed by a group of teenagers. Caroline Framke thinks that premise is so last year, and, like, totally lame and, ugh, whatever.
Justice League (1 p.m.): Supergirl is having nightmares so she teams up with Green Arrow and The Question to figure out what's going on. Oliver Sava recommends everyone enlist at least three DC superheros to track down the source of all their bad dreams.
Scrubs (3 p.m.): Brendan Fraser makes his third and final appearance on Scrubs in an episode that was nominated for an Emmy for Outstanding Writing in a Comedy Series and is often cited as one of the show's best. Myles McNutt examines whether this episode is indeed good enough to make him forget the image of Brendan Fraser in a loincloth.
---
WHAT ELSE IS ON?
Kris Jenner Show (Fox, 11 a.m.): The Kardashian-Jenner "momager"'s new talk show is getting a summer test run in select markets including New York City, Los Angeles, and Dallas, and may or may not feature guests including Ryan Seacrest, P. Diddy, and Nene Leakes. Your What's On Tonight? correspondent mostly just regrets using the word "momager" and would like to apologize for drawing more attention to anything involving the Kardashians.
The Crash Reel (HBO, 9 p.m.):  This HBO documentary profiles snowboarder Kevin Pearce who suffered a traumatic brain injury in 2009 while training for the Vancouver Olympics. The film makes its television debut after premiering to positive reviews at Sundance which praised the film for examining a darker side of the sporting world.
POV: Only The Young (PBS, 10 p.m.): This entry in PBS' Point Of View docuseries follows three Christian teenagers growing up in a small Southern California town hit hard by the recession. The broadcast will also feature a documentary short called xoxosms which claims to be about intimacy and love in the digital age, but is probably just a petition to bring Gossip Girl back to TV.
Buying RVs (Discovery America, 10 p.m.): When it comes to buying RVs, buy high, sell low, and never get your RV-buying-advice from a pop culture website.
O Brother, Where Art Thou? (AMC, 8 p.m.): George Clooney stars as a man of constant sorrow in this Cohen brother's film that retells Homer's Odyssey as a Great Depression-set black comedy. The film helped launch Clooney even further into superstardom and taught the world that he doesn't want Fop, goddamn it! He's a Dapper Dan man!
Kung Fu Panda (FX, 8 p.m.): No one expected a movie starring Jack Black as a CGI panda learning martial arts to be good, but the film's smart riff on kung-fu movies and it's engaging action sequences made it a surprise hit. The film also features Angelina Jolie as a tiger, Jackie Chan as a monkey, and David Cross as a crane, just a few examples of typical Hollywood typecasting.
The Wrong Box (TCM, 9 p.m.): Michael Caine, Dudley Moore, and Peter Cook team up in this 1966 British comedy about two elderly men trying to kill one another in order to reap the rewards of an investment scheme. According to the film's Wikipedia page, "various misunderstandings and antics result." As Peter Sellers would say, "There's not many people know that."
Softball: All-Star Legends And Celebrity Game (ESPN, 10 p.m.): Celebrities Chris Rock, Kevin James, and Miss America Mallory Hagan join forces with sports legends Jennie Finch, Dwight Gooden, and Darryl Strawberry in a Taco Bell-sponsored softball game. That is officially the strangest sentence your What's On Tonight? correspondent has ever written.
---
IN CASE YOU MISSED IT
The Newsroom: Will McAvoy and Co. return to preach about the right way to cover the news: Wait until several years have passed and all the facts have been gathered and then report. Check back two years from now to see what Todd VanDerWerff thought of the second season premiere.