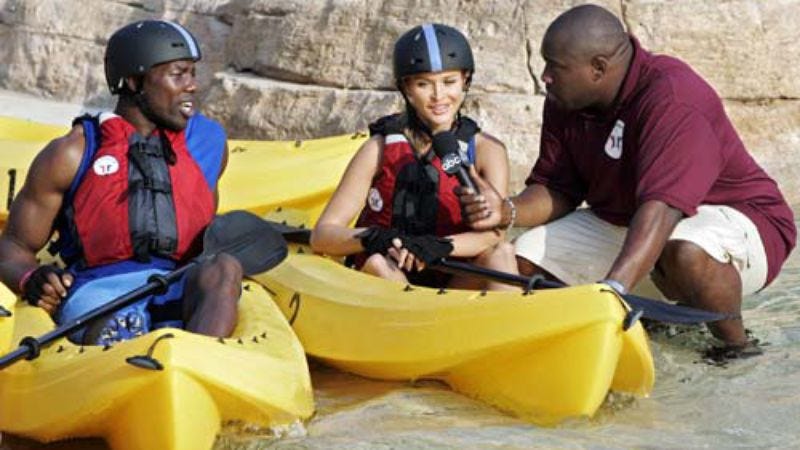 I may be showing my age here, but I grew up watching The Superstars on Sunday afternoons on ABC.  It was appointment television at my house.  Kyle Rote Jr. may have been the ultimate Superstars competitor, but as an Oakland Raiders fan and a lover of entertaining television, I treasured the appearances of massive defensive end Ben Davidson.  I can still see him yanking the oarlock right out of the boat during the rowing competition.
The new version of The Superstars, inevitably, has a celebrity and reality-competition vibe instead of the junk-sports format of the original show.  Athletes like Terrell Owen, Robert Horry and Brandi Chastain are paired up with supermodels, designers from Extreme Makeover: Home Edition, singers, actors, and anybody with a minimal amount of fame who might look good in beachwear.  The setting is the Atlantis hotel and casino in the Caribbean, and this suggests a few twists to the rather high-school-practice-field-bound competition of the seventies.
For instance, instead of pedaling ten-speeds precariously around the unbanked curves of a quarter-mile running track, these teams have to bike over a vicious tall bridge — and split up biking and running duties in such a way to get both members of the team across the finish line first.  ESPN's John Saunders does the hosting duties, and there's no plausibly-live sports attitude to his narration, which instead relies heavily on "oh no! she's passed her bike! his legs look like rubber! this could be disastrous!" Amazing Race-style commentary.
The other main event this week is kayaking, which takes place on an artificial rapids course on the resort grounds.  The format requires both teammates to paddle, with the top finishers in the first round going into the winners' bracket.  And that means maximum opportunity for supermodels to take a spill and wind up in the water.  But the most inept paddlers were Jennifer Capriati (who proves that her spectacular fall from grace in tennis was no fluke), Lisa Leslie (who gets a comedy montage of her dunks — get it, dunks?), and Jeff Kent (who started off the day trying to hold his supermodel partner's biking helmet in his teeth).
The top-scoring teams are proclaimed "safe from elimination," while the bottom teams have to tackle "the dreaded obstacle course."  For one added bit of drama, the two middle teams have to race each other in tandem kayaks, with the loser joining the other teams on the bubble.  Yet another opportunity to see Jeff Kent trying to climb back in the boat.  But ultimately T.O. and his model teammate lose badly — I mean throwing their paddles and helmets, blowing off post-race interviews, and taking potshots at each other.
Once upon a time, the obstacle course was the crowning event of Superstars — but just another event, in the end.  Wall, tires, blocking sled, water obstacle, hurdles, Jim McKay sticking a microphone in your face.  Now the obstacle course looks like Escape from Alcatraz, complete with searchlights in the inky Caribbean night.  Supermodel Joanna makes the dangerous decision to curse at T.O. for dooming their heat by spending most of it tangled in the cargo net, earning my horrified admiration.  (Sweetheart, I would not antagonize him if I were you.)  That cargo net is a holy terror, raising the question of whether watching people tangled in jungle booby traps is good television.  I vote that they replace it with the giant rubber balls from Wipeout!
Final verdict: Too much behind-the-scenes drama, not enough events per episode, and I ain't watching people stuck in a cargo net for half an hour of a ninety minute show.  Instead, let's watch the dudes from Cheap Seats deconstruct an episode of the original.  Three times the fun at one-third the length.
Grade: C+
Stray observations:
- Skier Bode Miller regrets having signed up for the competion after he loses his lunch following the brutal biking portion.  I have a feeling he's getting paid enough to replace that meal.
- When did MTV sports host Dan Cortese decide to pronounce his name Cor-TEH-zee?
- Noel cheered everytime Jeff Kent screwed up, and described the field as a "parade of assholes," although he amended this during the kayak competition to "flotilla of assholes."
- Where is the Superstars theme?  Did Sir Andrew Lloyd Weber retrospectively withdraw permission to use it?  It's just not Superstars unless you can sing along, guys.  "Sooperstars … SOOperstars … IT is the TIME for the SOOperstars!"
- If you're a casual fan of any of the sports represented here, Saunders imparts invaluable information in his commentary.  For instance, did you know that T.O. is now a Buffalo Bill?
- Synergy at its finest: "Those X-Games competitors sure are tough!"
- Warren Sapp is a field correspondent, unfortunately, and not a competitor.  Put him in a boat!  Now that's Superstars!