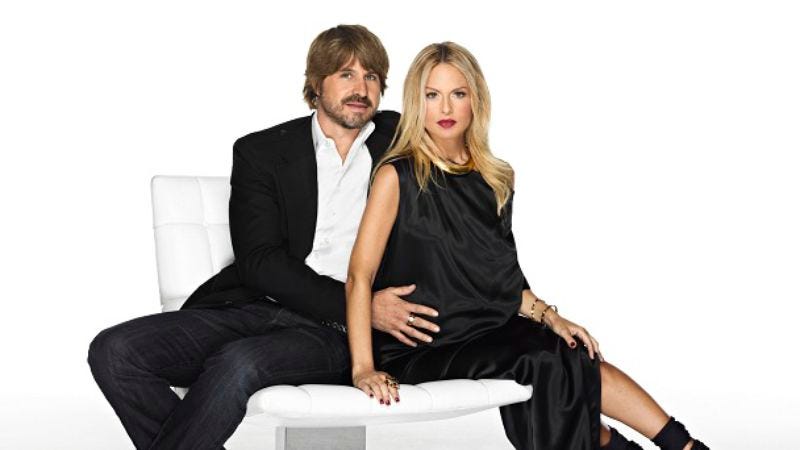 TV Reviews
All of our TV reviews in one convenient place.
In the three years since Rachel Zoe put her life as a celebrity stylist on display via Bravo's The Rachel Zoe Project, business has been good for the twiggy fashion maven. Her primary bread and butter initially came from styling celebrity clients like Jennifer Garner and Demi Moore but has since shifted into a multi-pronged company churning out a own Zoe-branded clothing line, collaborations with brands like The Gap and Samsung, and a New York Times bestselling fashion book. But it's her personal life that has remained compelling enough to viewers to warrant more seasons of reality television, thanks in a big part to last season's story arc of baby hopes coming true just in time for season four to kick off.
Much of the season's premiere had to do with checking in on the growing family and business—and it's very much become a family business since Zoe's scarf-loving, doting husband Rodger joined the ranks to help navigate his wife's growing enterprise. She's six-months pregnant, though barely showing on her miniscule frame, and their collective joy is nothing if not shocking, given their normally somewhat dour expressions. Zoe does admit that she cried for days when she found out her impending bundle of joy is a boy and not a girl, dashing her dreams of a mini-me to bring to Paris fashion shows and dress in flowing black garments. Even still, Rodger has to remind her the baby is "not a doll," when she gets carried away imagining the newborn's closet.
There are some new faces in the company, all of whom look to be under the age of 25 and frighteningly well dressed. There are four offices for Zoe Inc. now, including one for archives and design, product development, and something called "Rachel Zoe Digital." And judging by the jaw dropping, 7,000 square-foot house we also see Rodger look at for a potential move post-baby, the brand is clearly thriving.
Of course, that can't come without some growing pains, and at the top of yet another season, a lead assistant has left the ranks with some bad blood. Fans of the show will remember the beloved Brad Goreski who joined Zoe's team in season one and helped make bowties and preppy short-shorts a look for fashion-obsessed men. Much like the way last season handled the firing of lead styling associate Taylor Jacobson, Zoe and company are unhappy with the way things ended with Goreski after the season wrapped. According to Zoe, he reneged on promises to leave and branch out away from his former boss's territory by quickly trying to poach her star clients, just as Jacobson had. We'll have to wait for Goreski's own upcoming Bravo show to learn more of the details of his side of the story, but it looks like the sour split will be a part of The Rachel Zoe Project's ongoing narratives for this season.
But back to that fashionable fetus! Of course, the timing couldn't be worse for Zoe as her most pregnant months will fall during New York Fashion Week, the Oscars, and a hopeful launch for her own clothing line. To lighten the load, her team has decided to hold something called a "stylized presentation" for editors and buyers instead of traveling to New York to show the line during Fashion Week. This means ramping things up in preparation and bringing more hands on deck… like the eye candy of a newbie Jeremiah. He looks fresh out of Central Casting as Brad's doppelganger, though he's got a long way to go before he can attempt edging in on his predecessor's onscreen likeability. But the lil' fashion nubbin is eager, telegenic, and already cast as the team's fumbling newbie.
By the episode's end, there's a first fashion catastrophe: One of Zoe's starriest (though annoyingly unnamed) clients needs her for a premiere the same night her editor's presentation has been planned… and on different coasts! And these, by the way, are the moments the show hits its cartoonish stride. Thanks to her caricature of a personality (hello catchphrases, like "I die" and "major") and close-knit circle, Zoe's opulent and stylish life is a perfect fit for the Bravo cameras. It also lends itself to a more intimate feel than the network's garish, shout-filled Real Housewives franchises, even though the overlap between the worlds is certainly obvious.
Because of the heightened glamour-drama, you oftentimes forget how much of the show takes place indoors, facing endless racks of clothes or watching Rodg and Rachel bicker in the backseat of a Range Rover. By the end the episode, it sounds like Zoe has decided to take care of herself and her bump by trying to move the date of the editorial presentation, though it certainly won't come without its own share of headaches. So long as that panic is balanced with high-def close-ups of breathtaking gowns and jewels, it should also be a bananas good time for fans of Zoe Inc.