TV Reviews
All of our TV reviews in one convenient place.
I'm still not entirely sold on these hour-long episodes of The Office, but there was a pleasing symmetry to tonight's episode. The first half was very funny in a low-key, observational way. I thought the cold open with Jim and the gang obsessing over the hypnotic pattern of the screensaver of the office DVD player was wonderfully perceptive about the banal preoccupations working stiffs develop to get them through the day.
I'm still loving Ryan's new role as the show's villain, especially the rat-a-tat string of empty buzzwords and business-school catchphrases he fired off to pimp Dunder-Mifflin's new website. I noted a distinct Ari Gold inflection to his boast that "Buying paper just became fun!" He seems like the kind of guy who looks up to the gang on Entourage as some sort of lifestyle ideal.
The show's main plot finds Michael Scott exhilarated about traveling to New York to attend the big corporate launch party for the Dunder-Mifflin website, only to discover that he wasn't really invited at all and has to return home to Scranton in barely-disguised disgrace. In the kind of detail that makes a show like this so resonant, Michael sets out to buy Ryan a copy of Oh The Places You'll Go–the default gift for college graduates and Junior Executives throughout our great land–but instead ended up buying Green Eggs and Ham, a book with considerably less to offer upwardly mobile souls.
G/O Media may get a commission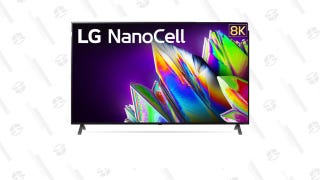 LG 75-Inch 8K TV
Michael's realization that he's not the high-powered up and comer he imagined himself to be signals the show's distinct turn from genial comedy to bracingly dark comic psychodrama, especially once a brooding and angry Michael takes out his frustrations on a hapless pizza delivery boy he and Dwight hold hostage (not surprisingly, Dwight has as little use for the niceties of the Geneva Convention as our beloved President does). Michael has often done stupid and counter-productive things–it's pretty much his modus operandi–but it's rare that he does something so transparently illegal.
Michael and Dwight both seemed locked in a bleak downward spiral tonight, with Dwight sporting serious depression stubble and waging war against the Dunder-Mifflin website to see who could sell the most paper: not since Jeff Bridges went inside the game in Tron has there been such a stirring, poignant battle between man and machine.
This episode was filled with hilarious little subplots, from Phyllis infuriating Angela by responding to her brittle aggression with faux-kindness and wonderfully condescending touchy-feely therapy talk to Andy Bernard's incredibly awkward courtship of Angela. The scene where Andy tries to woo Angela by singing "Take A Chance On Me" was a brilliant stand-alone moment, at once pathetic, brave and ultimately kinda touching, even winning. Tonight it felt like Andy was really coming into his own as both a rival and potential friend to Dwight.
Did the show get too broad or dark, particularly in its second half? Perhaps, but I enjoyed the weird, awkward, often sad second half nearly as much as the chuckle-filled beginning. I wasn't even that bugged by Jim, who was back to his old pranking self tonight. I like that the show generally gives Michael a closing triumph on episodes where he endures a harrowing gauntlet of humiliation and shame (granted he brings much of it upon himself but you still feel for the guy). So it was sweet and unexpectedly satisfying that he ultimately got to go to New York and have his fun with Dwight. Cause otherwise you wonder if he went home and cried himself to sleep. That's the glory of The Office: you laugh at its characters, especially the holy goober trinity of Michael, Dwight and Andy, but you also care about them, maybe more than you should. Grade: A- Stray Observations: -Man, how creepy was Meredith's underwear cast? It was like something out a Todd Solondz movie -"I'm singling you out!" -Kelly had one of my favorite lines tonight: "Did Ryan mention if he's seeing someone?" -"Stanley you're dancing!" -I was seriously annoyed by all those Seinfeld thirty-second infomercials. There's something creepy about advertising that pretends to be entertainment. Honestly what has this Seinfeld guy ever done for NBC? - "I'm not gonna cry about it. That's what I did on the ride home."