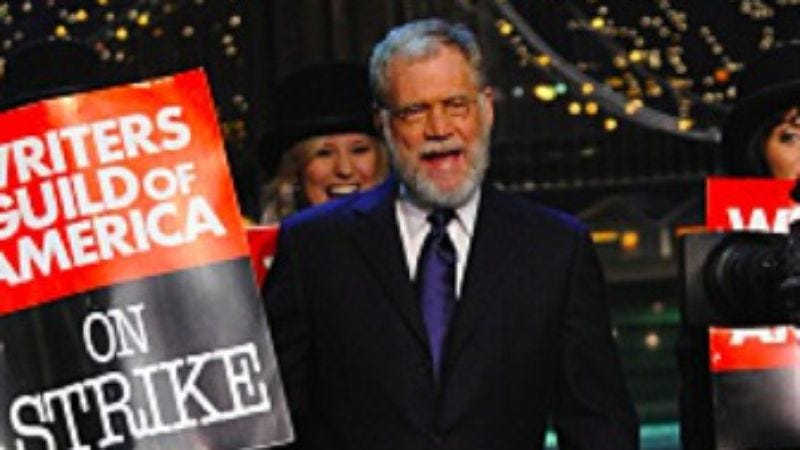 TV Reviews
All of our TV reviews in one convenient place.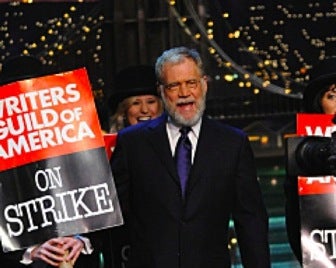 While my compatriot Nathan Rabin handles the NBC late night line-up and its writer-less hosts, I stayed up late to see what the writer-assisted CBS crew would do after a two-month layoff.

First off, I know other TV critics have pointed this out, but though it's a heartwarming story that David Letterman was able to work out an individual deal with The Writer's Guild Of America in his capacity as a producer–and especially comforting for those of us who've always considered Letterman "the good guy" in the late night wars–The Late Show doesn't necessarily need its writing staff to be good. It's not as "bit"-driven as say, The Daily Show or The Colbert Report, both of which are due back next Monday. (But how?). My favorite segment of any given Late Show episode is the five to ten minutes after the monologue, when Dave sits behind his desk and jaws with Paul about nothing much. My least favorite? Just about anything scripted.

Nevertheless, Letterman was back tonight, walking out on stage through a kickline of dancers bearing "On Strike" placards. Letterman was sporting a full grey beard too: a visual anomaly which kind of dominated the evening, distracting from the strike talk. (Maybe that was the idea.) The beard made Dave look older and frailer, which, coupled with the natural nervousness of returning after a two month layoff, made tonight a little shaky at times. On the other hand, the beard also drew a couple of great lines, both from the host himself–"Dave looks like a cattle drive cook," he confessed at the outset–and from the first guest Robin Williams, who riffed on the beard for about three minutes and actually made a few jokes that didn't sound like they were written 10 years ago. (At the least, Williams made Letterman belly-laugh, which isn't always easy to do.)

I can't imagine Letterman will keep the beard for long, because it just looks…odd. But the added hair did accentuate his extended blank-faced reactions, making them all the more inscrutable, and therefore funnier.

It'll be interesting too to see how Letterman's status as the writers' pal plays out in the weeks to come, because a lot of his shtick is based on rolling his eyes at the quality of what he's reading off the cue cards. It was obvious tonight that he held back a little from making those kind of jokes as often as he wanted to, given that he's trying to use the show's "written" status to advocate for the WGA's cause. Then again, Dave at his most awkward is often Dave at his best: It's his fragility that sets him apart, and has always made his talk show equal parts tiresome and compelling.

Meanwhile, as Letterman, Leno and Conan grabbed all the headlines for their return to late night comedy-cizing, The Late Late Show–which has reportedly been creeping up on Conan O'Brien in the ratings over the last year–also returned to the air, with less fanfare. The return of Craig Ferguson with writers is in some ways even less vital than the return of Letterman with writers, since Ferguson famously improvises his monologue every night, right down to each chummy gesture toward the camera lens. (Ferguson reaches out and pats the camera between jokes, as though clapping a friend on the shoulder during a cocktail party.)

I confess that I rarely watch Ferguson, though whenever I do, I generally appreciate his sort of casually jolly approach to the late night talk show. Not so much tonight though. Ferguson decided to honor the writers by doing a show with no guests–just scripted comedy bits. And those bits were laaaaaaaame. Craig bantered with a faux-clueless Tim Meadows about the strike. Craig pretended his show has been on the air for 50 years, and showed clips from the '50s, '60s and '70s (complete with funny hairstyles). Craig did impressions of Sean Connery and Michael Caine taking improv classes. Even given Ferguson's natural charm and sense of joy in performing, he couldn't make any of those routines funny.

But at least he made an effort; and damned if it wasn't nice to see some non-repeats on TV after prime time for a change. Easily the best moment of tonight's The Late Late Show came after Ferguson wound his way through a long off-the-cuff digression in the middle of one of those weak comedy pieces, then turned to the camera and said, "I know I'm rambling, but I haven't seen you in a while."

Grade: Letterman: B; Ferguson: C

Stray observations:

-While mentioning the impending performance of Lupe Fiasco, Paul Shaffer referred to the rapper as "the hippest band out there." Clearly Letterman wasn't the only one off his game a little tonight. As for Lupe, his performance of "Superstar" was strong and polished, though I miss the more boyish, playful Lupe Fiasco I've seen in the past.

-During a scripted bit that had Dave taking questions from "audience members"–actually actors–about the strike, I was happy to see him fall back into one of my favorite Letterman bits of business, grilling the characters at the microphone about their made-up personal lives, and trying to catch them concocting an improbable backstory.

-It was also great to see former Late Night/Late Show director Hal Gurnee again, bringing back his old "Network Time Wasters" segment in honor of the strike. Tonight's was a throwaway piece of vaudeville, enhanced as always by the addition of "hoop girl" and "grinder girl" on the edges of the stage.

-In a certain light, Robin Williams looks like Bono. In other light, he looks (and gestures) like George W. Bush. I predict that in another 20 years, those three men will be indistinguishable at a distance.

-Letterman, on what he learned during the hiatus: "Show or no show, I really like drinkin' in the morning."