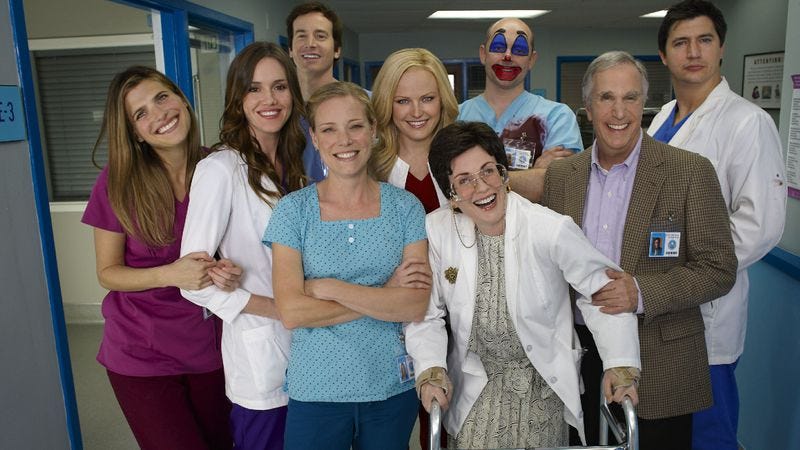 Here's what's up in the world of TV for Thursday, August 9. All times are Eastern.
TOP PICK
Childrens Hospital (Cartoon Network, 11:59 p.m.): Attention staff: After a fallow period where television has been precariously low on self-centered pediatric physicians and deadpan parodies of medical dramas, Childrens Hospital returns for its fourth season (the third to première on Adult Swim). There isn't a single funny person in the world today who hasn't been involved with this show in some way (not really, but it's a hell of a funny cast that receives frequent assists from funny people not on the hospital payroll), so join David Sims as he keeps working toward realizing the dreams of Arthur Childrens.
---
REGULAR COVERAGE
2012 Summer Olympics (NBC, 8 p.m.): Along with snowboarding in the Winter Olympics, BMX is one of the few areas where the programs of the Olympic Games overlaps with that of The X Games. And yet, somehow, we've had the damnedest time finding someone to cover tonight's primetime coverage from London. Expect one extreme-sports freak to step forward by the time the wheels start spinning.
Project Runway (Lifetime, 9 p.m.): John Teti's triumphant return to the Runway beat just so happens to coincide with what's promising to be the most bonkers episode of the season. You'll appreciate his withering color commentary all the more when one of the season's designers just up and quits.
Burn Notice (USA, 9 p.m.): Dear TV writers: Let's call a moratorium on the following character names: Michael, Jesse, and Pearce. Unless The A.V. Club's collective fantasy is coming true, and Scott Von Doviak gets to be the lucky so and so who reviews an episode where Michael Bluth stages a fake arrest (With help from the Hot Cops?) while Jesse Pinkman and Pierce Hawthorne change the spelling of Pierce's first name and cook up a scheme together.
Wilfred (FX, 10 p.m.): Wilfred sees his world crumbling around him—not just because Ryan asks Amanda to move in with him, but also because the world might be ending. Rowan Kaiser battens down the doomsday shelter.
Suits (USA, 10 p.m.): Flashback! Mike and Harvey assess the present by considering their past, a choice that will hopefully be echoed by a trip through the decades that puts the show's stars in a series of era-appropriate suits. Probably not, but Carrie Raisler can dream, can't she?
Louie (FX, 10:30 p.m.): Louis C.K. asks the big "How did I get here?" questions this week, too—though that'll happen to anyone who finds themselves in an IKEA. This is not Nathan Rabin's self-assembled bedroom set! This is not his beautiful plate of meatballs!
Awkward. (MTV, 10:30 p.m.): Kristoffer Polaha (Mad Men's philandering neighbor Carlton, also late of Life Unexpected) looks to ruin another TV marriage when he shows up to rekindle an old high-school romance with Jenna's mom. Myles McNutt thinks the guy could use a break, though—he did just come off a full season of Ringer, after all.
---
TV CLUB CLASSIC
Monty Python's Flying Circus (11 a.m.): Future readers would like to register a complaint, as "Full Frontal Nudity" features minimal nudity and maximal dead parrot. Zack Handlen says it's not a dead parrot—it's just resting.
The Thick Of It (1 p.m.): David Sims' coverage of The Thick Of It didn't end with last week's third-season finale review—because the show's coming back for a fourth season, and there's still In The Loop to consider. Watch as Malcolm trips into a parallel universe that may or may not be where Veep takes place.
---
WHAT ELSE IS ON?
Up To Speed (Hulu, all day): Richard Linklater reunites with his Live From Shiva's Dance Floor star Timothy "Speed" Levitch to offer a guide to the unseen points of interest of popular vacation destinations. Scott Von Doviak is your guide to Levtich's more oblique turns of phrase.
Virgin Diaries (Discovery Fitness And Health, 9 p.m.): Get your gawk on with this encore presentation of the special that launched the face-gnawing Kiss Heard 'Round The World.
Totally Biased With W. Kamau Bell (FX, 11 p.m.): After testing America's patience for quizzical wastrels clad in "rock 'n' roller" Halloween costumes, FX shakes up late night once more with this highly politicized chat show hosted by stand-up comedian W. Kamau Bell—and executive produced by no less a comedy luminary as Chris Rock.
NTSF: SD: SUV:: (Cartoon Network, 12:15 a.m.): Willed into existence by fake commercials aired during Childrens Hospital, Paul Scheer's ultra-violent series is to CSI and 24 what Childrens is to Grey's Anatomy and House. Tonight, it enters its second season of proving you can't spell "slaughter" without "laughter."
Samurai: Part I (TCM, 8 p.m.): Clear your entire evening to take in the whole of Hiroshi Inagaki's Samurai Trilogy, beginning with Toshiro Mifune's initial outing as Miyamoto Musashi, which won the Academy Award for Best Foreign Language Film in 1955.
It's Complicated (Bravo, 8:30 p.m.): "Say, what's the name of the movie where Meryl Streep and Alec Baldwin play exes who end up having an affair several years after their divorce?" "It's Complicated." "What could be so complicated about the title?" "No, the movie—It's Complicated." "Well, once Steve Martin enters the picture of course it's complicated." "That's the name of the picture!" "No—That is the first baseman!"
NFL Football: Exhibition: Packers at Chargers (ESPN, 8 p.m.): A 15-1 regular season wasn't enough to return 2010 Super Bowl champion Green Bay to the big game; its bid to avenge a shockingly early exit from the playoffs begins with this preseason matchup in San Diego.
---
IN CASE YOU MISSED IT
Dallas: If the current Dallas has even a shred of the original's DNA in its system, it ended its first season with a cliffhanger that will power pop-culture jokes for years to come. Phil Dyess-Nugent has the answer, once he proves once and for all that Kristin was framed in the shooting of J.R.