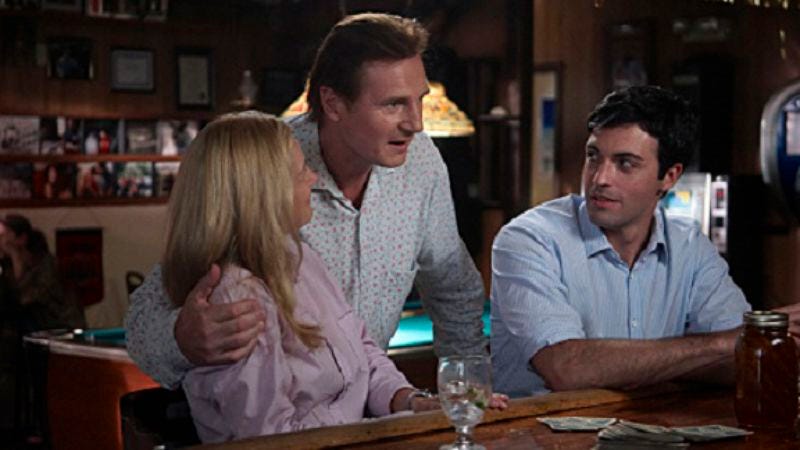 Tonight's episode was a strange one. The addition of Liam Neeson to the cast as a kooky Canadian bee sting holistic healer did nothing for me—either it's just too hard to see him as a goofball new-agey horndog wacko, or his part just wasn't very well-written. Meanwhile, while the shift in Cathy and Dr. Miller's (er, Todd) relationship didn't come as a surprise, it wasn't a very titillating development, maybe because Reid Scott's character as the blustery square young inexperienced doctor felt one-dimensional tonight too.
Yet I liked the episode more than you'd think these reservations would allow me. I'm still happy that Cathy and Paul's dynamic changed since she told him about her cancer, and the ending left me sadder than I expected.
In the episode, Cathy and Dr. Miller head up to Canada to investigate bee sting treatment, Paul makes up for lost time when it comes to being a good husband, and Adam explores his relationship with the girl he met at the bus stop, who isn't scared off, despite Cathy leaving an intense voicemail on her cell phone. Also, Sean drops by the episode to display his dirty feet and fear of library cards and to remind us that he exists.
Up in "Canada," Dr. Miller's all huffy about the unorthodox nature of the bee sting clinic and ends up killing one of the bees. He and Cathy head to a bar after her sting treatment where she declares that she's no longer afraid of bad news and asks for a tarot reading from the bartender. Then we learned that somebody close to her was allegedly going to die—quite subtle foreshadowing. Liam Neeson shows up at the bar and dances all crazy and grabs Cathy on the butt, which is when Dr. Miller cuts in, tells Cathy he doesn't want her to die, and kisses her. It's funny that he is so against unorthodox medical treatments since his entire doctor/patient relationship with Cathy is unorthodox.
Marlene, after telling Paul to give Cathy some space when dealing with her cancer issues, pulls a gun on Adam when she doesn't recognize him in her house, in one of her Alzheimer's moments. Once she realizes where she is in her life, she decides to take ending her life into her own hands.
The episode ended with a voiceover of Marlene's thank-you note to Cathy, expressing gratitude for her friendship and her hopes for the rest of her life. I liked the decision not to show Cathy learning about Marlene's death directly. Instead, we see her come home to her guys and see her get the news from outside the house. This show paints in broad strokes often when it comes to emotions, but I finally felt more compassion for Cathy and everyone around her when I could see the sadness of her loss mixed with her gratitude for Paul, Adam and Marlene.
Next week is the last episode of the season: At this point I'm not feeling particularly compelled to follow the show to a second season, but if Marlene killing herself was not a season finale moment, maybe there is something  seriously big and exciting in store.
Stray observations:
"Canadian bee humor. That's a new one."
This Saturday night I saw John Benjamin Hickey as a slimy politician on an episode of Law and Order: L.A.: I fell asleep before I found out what his character did, but he was more well-utilized in that time than in most episodes of The Big C.