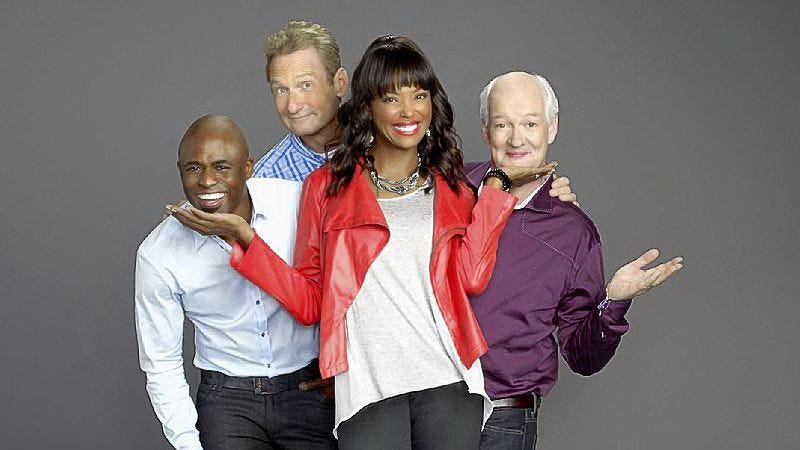 Here's what's up in the world of TV for Tuesday, July 16. All times are Eastern.
TOP PICK
Whose Line Is It Anyway? (The CW, 8 p.m.): And now it's time for "Inevitable, But Welcome, Reboot": This is a game for four players, so Ryan Stiles, Colin Mochrie, Wayne Brady, and Aisha Tyler, if you could please take your places on the familiar-looking stage and save The CW big bucks by bringing back the show where everything's made up (so no costly writing staff!) and the points don't matter (and no prizes to pay for, either!). In the grand spirit of improv, Ryan McGee will start writing his review when he hears the sound of the buzzer!
---
REGULAR COVERAGE
Pretty Little Liars (ABC Family, 8 p.m.): BACKDOOR PILOT ALERT: The upcoming Pretty Little Liars spin-off, Ravenswood, gets a full-episode tease here, as Spencer and Toby travel to a nearby 'burg that turns out to be "a very unusual town." Unusual enough to sustain a TV show of its own? Sonia Saraiya will let you know.
Suits (USA, 10:01 p.m.): There are plenty of new, exciting suits hanging in Suits' metaphorical suit closet—the merger, a promotion for Mike—but we're most excited about the suits that might be filled by the actors responsible for two of 2013's best TV performances: Game Of Thrones' Conleth Hill and Rectify's Abigail Spencer. Carrie Raisler wonders if Hill's suits will be fitted with extra-wide sleeves.
---
TV CLUB CLASSIC
The Shield (Classic) (11 a.m.): Rule No. 1 of pulling a major cash heist with your police-force cronies: Make sure the bills are unmarked. Rule No. 2 of pulling a major cash heist: Make sure Brandon Nowalk is notified and can offer his thoughts as things begin to snowball.
Six Feet Under (1 p.m.): Freed from the clutches of the American air-travel industry and its crippling fear of inclement weather, John Teti can finally offer up his opinions on "The Trap," in which Rainn Wilson tears open a hole in the TV Club Classic Show-Time Continuum as Fisher & Diaz intern Arthur Martin.
The Office (Classic) (3 p.m.): An unofficial two-parter kicks off the Michael-Jan romance, but all Erik Adams can think about is a Chili's Awesome Blossom. It is, as they say, "awesome."
---
WHAT ELSE IS ON
Covert Affairs (USA, 9 p.m.): The USA spy show that isn't Burn Notice begins its fourth season, in which every episode shares its name with a song by the Pixies (because why not?). Is it possible that the show's spies were plugged-in enough to get a "Bagboy" episode off the ground before that track emerged?
Perfect Score (The CW, 9 p.m.): A Dating Game update that tasks contestants with selecting the suitor deemed most compatible with them via personality quiz. We fed the show's vitals—Singled Out echoes, leftover Who Wants To Be A Millionaire set dressing—into the patented TV Club Matching Computer, which declared Dennis Perkins to be Perfect Score's perfect match.
Catering Wars (Lifetime, 10 p.m.): Dearest Martha: It has been little more than a week since our last correspondence, and yet the 115th Reality Competition Regiment is on the move once more, a new frontline set between the chafing dishes and oppressive humidity of Atlanta. Oh, that General Sherman could once more torch this wretched city and end these damnable Catering Wars, but it appears they shall rage for at least three weeks.
Ink Master (Spike, 10 p.m.): The most compulsively watchable competition series in the Spike stable (what? We can't help it that the network always seems to keep a ton of episodes available on demand…) fires up the ink guns for a third season of doing for tattoos what Top Chef does for haute cuisine. Of course, when Top Chef contestants fucks up, their diners don't end up wearing the terrible dish on their biceps for the rest of their lives.
True Grit (FX, 8 p.m.): The slow march toward Inside Llewyn Davis (Wide release in December? Come on!) continues, with FX being the latest cable player to tease your anticipation for the Coen Brothers' latest with a Coen Brothers' oldie. It's kind of like Marshal Cogburn and Mattie's search for Tom Chaney, except with fewer life-or-death stakes and more waiting for a new movie.
Beware Of Mr. Baker (Showtime, 8 p.m.): Ginger Baker secured the prestige to be the subject of a documentary film as soon as he finished the epic dream solo of Cream's "Toad," but it's his legendarily uncompromising nature and adventures outside the realms of AOR-playlist staples that make him the worthy center of this fascinating doc.
MLB All-Star Game: From New York (Fox, 7:30 p.m.): The starting lineups for the Midsummer Classic were still being shuffled a few days ago, so who knows who'll show up to represent the American League and the National League at Citi Field tonight. The way starting pitchers have been bowing out, the ghost of Cy Young just might take the mound for the NL.
---
IN CASE YOU MISSED IT
Regular Show: A doubleheader of new episodes gives Alasdair Wilkins the occasion to consider (more occasion than usual, at least) Benson, the glue that keeps Regular Show from devolving into a chaotic heap and television's second-best talking gumball machine.