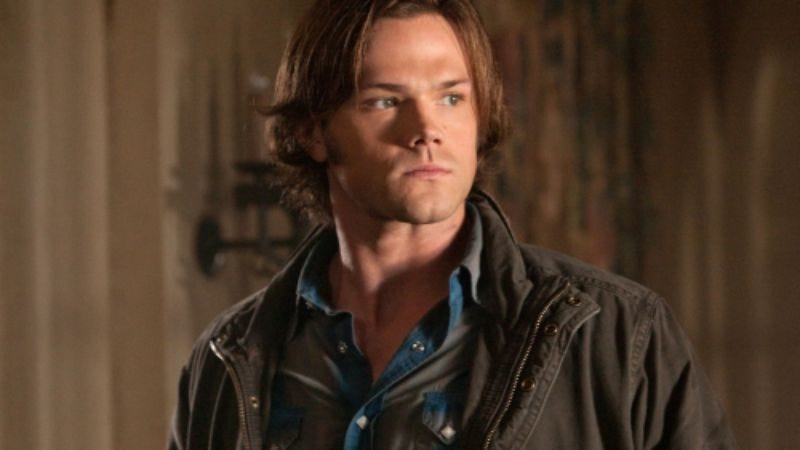 TV Reviews
All of our TV reviews in one convenient place.
Just in case anyone spent the break forgetting that Sam and Dean Winchester are officially the Unhappiest Sonsofbitches In The World, "Sam, Interrupted" makes the case one more time. Ever since Supernatural got past it's way too formulaic first season, my biggest problem with the show has been its insistence on providing with updates on the emotional states of the Winchesters. Sam is angst, Dean represses, Sam is rebelling, Dean is trying to live up to Dad's standards, etc. I appreciate the attempts at depth for both characters, and yes, there's no way the series would've lasted this long if our heroes didn't have complexity to them. But, and I've noticed it this season especially, there's a tendency from the writers to keep returning to angst as if that in and of itself was an adequate substitute for growth. Nearly every episode ends with Sam having some revelation, or Dean having a revelation, and generally speaking, those revelations never really go anywhere. Besides, I'd argue that Supernatural is at its worst when it takes itself completely seriously. This is, when it clicks (and it clicks a lot of the time, or else I wouldn't keep watching), a fun thrill-ride. It can have drama, but that drama is best served when it stops short of redundancy.

"Sam, Interrupted" is a standalone, or at least the season 5 equivalent of a standalone—there's talk about the Apocalypse and the past, but the structure is a straightforward monster hunt, with Sam and Dean checking themselves into a mental institution to track down a wraith that's been murdering patients. So, we get all the expected beats: the investigation, the death they fail to stop in time, the trip to the morgue, the lore, the red herring suspect, the final deduction, escalating stakes, and, in the end, a confrontation. There's nothing as inspired as what we got in "Changing Channels," and there's a certain been-there, done-that feel to the monster hunt (and wow, silver, huh? Never heard that before…), but there's a comfort to routine, especially when it's handled well.

I wasn't hugely impressed with Dean's relationship with Dr. Hottie, and the sudden twist that she didn't truly exist was an all right (if over-used) idea that didn't really have any impact. We're so used to seeing physically attractive women of a certain type (Maxim-light?) bop around on the show, having one turn out to be to not there is almost more a criticism of the series' weak track record on women characters than it is a shock. (Yes, I know I'm reaching a little.) And Sam's worry about attacking the wrong man didn't have any real feel of truth to it, either. Finding out that the wraith was basically just augmenting their already existing fears and anger justified these earlier developments, but it's also a concept that's been used so many times that it's almost a cheat. I mean, are there any monsters out there that don't make people crazier?

The execution wasn't terrible, though, once it got past the expected doses of Sam and Dean moping. Watching Sam wig out in the common room, swinging at attackers no one else could see, wasn't a bad scene, and Dean's struggles to confront the wraith in the midst of a stupor was the kind of sequence the character was made for, a mixture of hardcore bad-ass and goofiness. But then we had to end on the same conversation we always go out on, Sam talking about his "anger," Dean telling him to "suppress it." And I just don't care that much. I can appreciate that both characters are in an impossible situation, but I don't need to be continually reminded about it. Sam being mad all the time isn't expected, but it also isn't some huge revelation that throws the rest of the show into focus. I don't know about you, but I've had times in my life where I've thought I was always angry. I'm pretty sure Satan wasn't trying to jump my bones, either.

Anyway, good to have the boys back. "Interrupted" could've been better, and the mental institution setting wasn't exploited enough to be as effective as it might've been, but the first scene with the Winchesters, where they get themselves committed by telling a psychiatrist the complete and total truth, was brilliant. If we can't have great, I can live with occasionally perfect.

Stray Observations:


See, it's creepy when a male staffer hits on female patients, but it's hot when a female staffer hits on male patients. Jeez.
"I just got 'thraped.'"
"Dude. You cannot hit that."
"Do you really think this is gonna end well for you, kiddo?" ""No. But I'm crazy, so what the hell."
No Cass this week. Awww.
Sorry this was later than usual. I'm covering Burn Notice now too, so my schedule has to adjust.