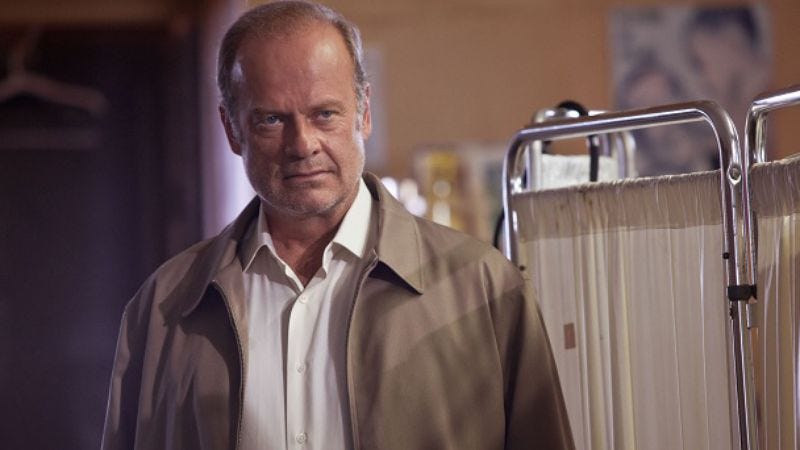 Here's what's up in the world of TV for Friday, November 25, and Saturday, November 26. All times are Eastern.
TOP PICK
Boss (Starz, 10 p.m., Friday): It doesn't make a damn bit of sense for Starz to schedule an episode of this beleaguered show on this night—particularly if the network's worried about ratings—but we can only assume that they're doing so because they had one reason in mind: They wanted to win What's On Tonight by default. Well, Starz, consider that mission accomplished. There's a new episode of Boss on tonight, and we're so surprised by that fact that Meredith Blake—who's traveling—will have to hand over recap duties to Kevin McFarland or possibly Phil Nugent or maybe even Todd VanDerWerff. What we do know: Somebody will be covering this, even if things here are in disarray. Disarray! Thanks, Starz. Thanks a lot.
---
WHAT ELSE IS ON
Hoops & Yo-Yo Ruin Christmas/The Elf On The Shelf (CBS, 8 p.m., Friday): We can't say we've been anxiously awaiting a Christmas special starring those weird little things on greeting cards, nor do we totally understand this Elf On The Shelf thing we keep seeing at Target. But here you go!
Shark Attack Experiment Live (National Geographic Wild, 9 p.m., Friday): If you're getting done shopping this evening and you want to see a shark possibly eat somebody, this is pretty much your only option. And we're guessing National Geographic Wild went out of its way to make things "safe." Boo!
25th Anniversary Rock And Roll Hall Of Fame Concert: Part 2 (VH1, 10 p.m., Friday): We don't entirely know why this concert special—filmed in 2009—is finally airing now. Nor do we know what happened to Part 1, which is probably hanging out with Leonard, Parts 1-5. But the lineup for this concert is great.
Tyler Perry's For Better Or Worse (TBS, 10 p.m., Friday): Joshua Alston checks out the debut of the latest Tyler Perry series on TBS. This time, Perry's come up with a half-hour dramedy based on his film Why Did I Get Married? because that's what you were crying out for, America.
Dear Santa (Lifetime, 8 p.m., Saturday): Set your Amy Acker sensors to "on," because the lovely and talented Ms. Acker—probably best known for being a part of Angel, but you already knew that, didn't you?—turns up in this sapfest. How far will your love of her carry you, fanboys? How far?
Storm Wars (SyFy, 9 p.m., Saturday): If you must watch one shitty made-for-TV movie this weekend, please make it this one. Where else are you going to see people attacking each other with the weather? Unless Starz has worked that into Boss somewhere and we just hadn't noticed.
Iron Man (Fox, 8 p.m., Friday): Thanksgiving weekend is one of the few times when the broadcast networks still show Hollywood movies. Unfortunately, the pickings this year are slim. If you don't watch this one, you've got Shrek The Third on ABC and the National Treasure sequel on NBC. Shudder.
Quentin Durward (TCM, 10 p.m., Friday): It's clear that TCM just doesn't give a shit about crazy-ass Thanksgiving weekend ratings stunts, because tonight's programming consists of a bunch of movies based on the works of Sir Walter Scott. Well then! Quentin Durward it is!
Dodsworth (TCM, 8 p.m., Saturday): On the other hand, this one, directed by William Wyler from the novel by Sinclair Lewis, is a fun movie from Hollywood's golden era more people should see. Walter Huston stars as the titular self-made man.
Never Let Me Go (HBO Signature, 9 p.m., Saturday): Speaking of movies based on great novels, here's Mark Romanek's take on Kazuo Ishiguro's masterpiece of a book. And while it's certainly not bad, it leaves something to be desired and will probably leave you horribly depressed. Happy Christmas!
College Football: Pittsburgh at West Virginia (ESPN, 7 p.m., Friday): It's the 104th Backyard Brawl, which is probably something you really care about if you're a Pittsburgh or West Virginia alum. If you're not, your drunken uncle will have this on for background noise today. Enjoy.
College Football: Florida State at Florida (ESPN2, 7 p.m., Saturday): The glory days of this rivalry are largely in the past for now—as evidenced by the fact that this game landed on ESPN2 instead of ESPN proper—but it's always a wacky time when these two teams get together for a smack-around.
---
IN CASE YOU MISSED IT
Tell Me You Love Me (2007): We're out of commission for the weekend, for the most part, so why don't you go digging in the TV Club archives? In fact, why don't you start with Keith Phipps' coverage of this one-season HBO show about a sex therapist vividly described as "like watching paint fuck." Indeed.