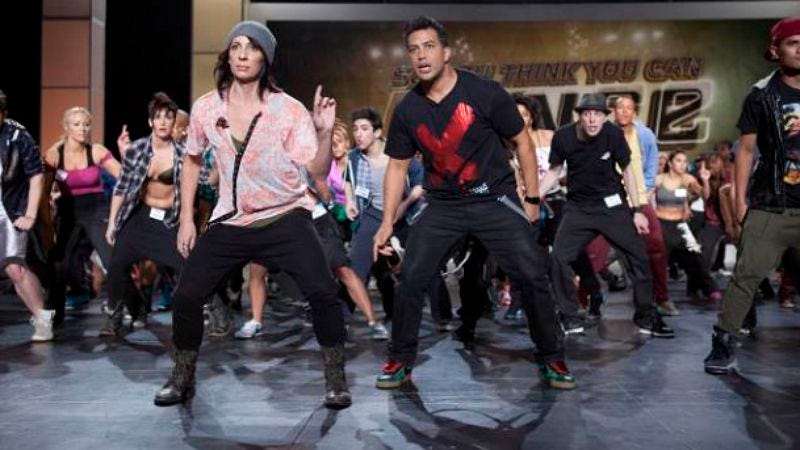 TV Reviews
All of our TV reviews in one convenient place.
Now this is more like it. The crucible of reality talent competitions! Mass culling! Sheep separated from goats! And all the stress that goes with it. Reality shows have long thrived on the amped-up emotions produced by sleep-deprivation and the constant threat of death — well, of elimination, which is TV death. The greater the number of people who can be put through this wringer, the more chance the cameras are going to catch some truly epic meltdowns. And with 160 dancers in this round, that stage is host to a monumental gaggle.
But Vegas (like its ilk on other competition shows) also serves as our introduction to the dancers we're going to be rooting for (or loving to hate) for the rest of the season. So with that in mind, and with complete acceptance of the cliche-ridden, conventional nature of this week's entertainment, let's reacquaint ourselves with the Seven People You Meet In Vegas.
The Diva: D.C. Chapman left the ill-fated final group for a half-hour bathroom rant during the overnight choreography marathon, an intermission he describes the next day as "taking a really long pee."
The Perennial Contender: We get third-time Vegas competitor Ivette's entire "naughty policewoman" routine, and man, those those legs!  Jeremiah, who got a "Dude, that is so uncool" from Mia last year got to humbly accept Debbie Allen's critique after Broadway. Then he gets paired up with another frequent flyer, Ariel from L.A., in contemporary. He survives; she gets cut, and has a hard time accepting the news.
The Scrapper: Poor traditionally-built Natalya gets paired with a spindly character who can't throw her around during the jive, and gets a second chance with "Professor Lock." She has everybody rooting for her and gives it her all. Her sister Sasha pushes through the contemporary round with a stylish performance.
The Beggar: "Artistic" Marlon thinks his hand-painted leotard shows courage, and requests that someone tell him to wear jeans and a t-shirt next time. Jessica, who is on her fifth trip to Vegas, pleads poverty and and requests to dance for her life after tanking Broadway. D.C. says that he can't go home after contemporary, and Debbie (taking yet another stray bird under her ample wing) promises to get him the lessons he needs to come back.
The Front Runner: Alexis, Jeanine's sister, looks like she's trying to remember the steps and stays off-balance throughout the jive; her dance for her life is technically lovely but less than arresting as a performance. I haven't learned much about her as a dancer, but I have learned that she has the entire color range of those particular tops with the multiple strappage.
The Fish Out Of Water: The Irish stepper, Penny Anne, and Hero all fall to hip-hop — at least one of those is probably a crushing disappointment to you.
The Casualty: Wadi the B-boy has the odds stacked against him in terms of style, but that infectious smile and witty performance style will surely take him far — unless he succumbs to leg cramps. Natalya gets the dizzies right before group performances (leading her group to histrionically insist that they wouldn't dance without her, since they're "a family"), then relapses and has to go to the hospital. Ryan is ordered to the hospital to get her tailbone x-rayed right before contemporary, then looks crushed when she doesn't have a fracture that would excuse her from dancing.
I don't think it was the relative lack of personality-based drama that made this a weak Vegas outing. It was too many dancers. People who impressed the heck out of us in auditions got a fleeting few seconds of airtime as they were cut, and only a tiny fraction of the eventual top 20 pool got enough attention from the cameras to let us know who they are. And with twenty going on to the next stage, we're going to lose several more while we try to catch up with who's who.
Stray observations:
Is it fair to let sisters Sasha and Natalia dance together during the solo round?
From the cuts we saw in the first round, it looked like half the dancers were being sent home … but it was more like a quarter (46, leaving 114).
On what basis were eight contestants given a second chance at hip-hop (with all of them making it)? If I were someone cut after that round, I'd be pissed.
Yes, Tyce is that guy who wears his hood up indoors with a jean jacket over it. "You are filling in with life. With life. Thank you."
Broadway wasn't a very good discriminator; only 14 people got cut. Take it out of Vegas next year. After jive, 74 are left for the group round. I'll bet the producers were tearing their hair out over group performances, which turned up a minimum of quitters and divas, and eliminated only nine dancers! Then the dreaded contemporary round, billed as the giant killer, results in 12 cuts. Folks, we've got to do better; when Cat says "only 55 dancers" are left on the final day for solos, that's too many!
Where did the Fossesque group get their matching outfits? Do they have the services of a costumer at this point?
It doesn't look like they're doing the ridiculous going-to-the-house thing this year. Thank got, because those flashbacks of Lil C going to Ryan's house to cut her were paaaainful.
"If you're going to throw up, turn around and face that way, darling."