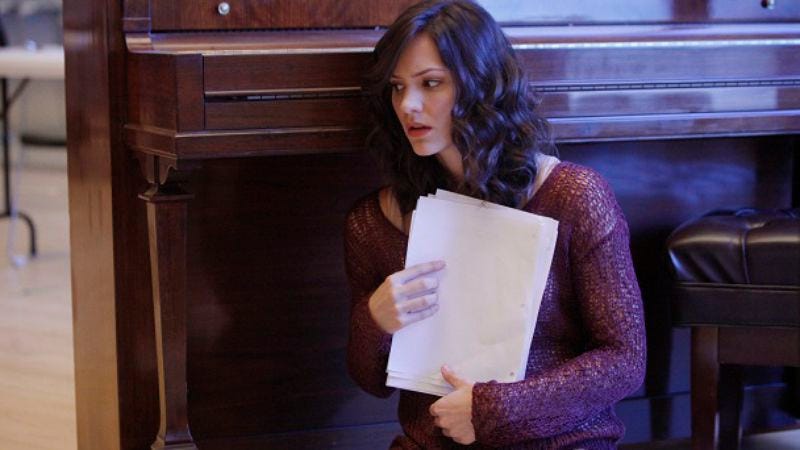 Here's what's up in the world of TV for Monday, March 12. All times are Eastern.
TOP PICK
Smash (NBC, 10 p.m.): It took a few weeks, but it seems like NBC's backstage musical drama has finally stabilized in the ratings, since last week's episode actually went up a bit. That said, doesn't it seem like this show wants us to have Ivy a lot more than we actually do? I mean… who really buys that Karen's the one who should have the part of Marilyn in Marilyn: The Musical? Also, shouldn't everybody come up with a better title for this show than Marilyn: The Musical? Tonight, Karen entertains at a Bar Mitzvah, and Noel Murray is just grateful he's not covering 2 Broke Girls.
---
REGULAR COVERAGE
The Voice (NBC, 8 p.m.): The various coaches the judges have brought in for the battle rounds read like a series of cautionary tales brought in by the producers to force the contestants to consider the industry they wish to join. Jewel? Babyface? Lionel Richie? Claire Zulkey only really likes Miranda Lambert here.
Alcatraz (Fox, 9 p.m.): "An innocent man from Alcatraz resurfaces to commit crimes," reads the summary for this one, which makes us think that this dude doesn't really understand how the whole guilty/innocent continuum works. Will Harris didn't once, but now he knows. He knows all too well.
Being Human (Syfy, 9 p.m.): Sally finds out more about the Reaper, and we hope she learns that she needn't fear him. Yeah, we're a little ashamed that we made that obvious of a joke, but at least we didn't go for the "More cowbell!" gag. Phil Dyess-Nugent loves Blue Oyster Cult more than anyone.
RuPaul's Drag Race (Logo, 9 p.m.): This week's episode takes the queens deep into the heart of country with a contest judged by none other than briefly popular mid-90s country chanteuse Pam Tillis. "Maybe It Was Memphis"? Maybe it was Genevieve Koski, filling in for Oliver Sava! Or Southern summer nights.
---
TV CLUB CLASSIC
Scrubs (11 a.m.): Myles McNutt takes a look at how reality functions within the world of the show, considering it's often a broad, wacky show full of crazy and fantastical stuff. Why's he asking? He works at a place called The A.V. Club, where everybody is required to have one fantasy cut-away per week.
Batman: The Animated Series (1 p.m.): Poison Ivy's left behind the life of crime to take up life with her new husband. Batman, naturally, is suspicious, because that's what he does. Oliver Sava would hate to have a friend like Batman. Always getting all up in his business and suspecting he's evil! Dumbass.
---
WHAT ELSE IS ON
The Bachelor (ABC, 8 p.m.): If the covers of the various magazines we see at the supermarket are any indication, this has been a hell of a season of The Bachelor. We've got a column coming up on the subject later today, but you can also watch as Emily Yoshida loses belief in true love during the finale.
The Experts (ESPNU, 9 p.m.): Want to know what's coming up in the NCAA basketball tournament this season, beyond the fact that South Dakota State University's Jackrabbits are almost certainly going to unexpectedly destroy everyone and win the whole thing? Well, here are some "experts" to tell you.
1,000 Ways To Die (Spike, 10 p.m.): Here, everyone! Let's make a list! Car accident. Shot. Cancer. Hit by a fountain pen aimed at just the right angle and dropped off the Empire State Building. Mauled by 10-15 housecats who haven't had anything to eat for a few days. De-atomized by some sort of ray gun.
Navajo Cops (National Geographic, 10 p.m.): Since neither AMC or FX has decided to get down to the business of turning the Vertigo comics series Scalped into a TV show, we guess it's a good thing that National Geographic has made a reality show about reservation police officers instead.
Braveheart (AMC, 8 p.m.): That whole period in the mid-90s there (back when everybody was obsessed with Pam Tillis) was kind of irritating to us because, yeah, while we guess there's some fun stuff in this movie, it mostly just sucks. And everybody kept quoting it! We're glad that mostly died down.
The L-Shaped Room (TCM, 10 p.m.): We've never seen this movie about a woman living through the early days of the 1960s sexual revolution, but we surely thank TCM for apparently deciding to put a bunch of vaguely Mad Men-ish movies on the air while we anxiously await the show's return.
MLS Soccer: Portland vs. Philadelphia (ESPN2, 9:30 p.m.): We're happy to highlight a sport other than basketball here—especially since tonight's primetime game once again features the Bulls, whom we like, but come on—but we know as little about the MLS as we do anything else. Go, soccer!
---
IN CASE YOU MISSED IT
Life's Too Short (Sunday): Erik Adams watches as Ricky Gervais and Stephen Merchant's latest goes through the Extras paces with celebrity cameos galore. But, he wonders, why does it all feel so hollow? If Johnny Depp makes an amusing cameo, why, then, does he not laugh? Things to ponder, Erik.