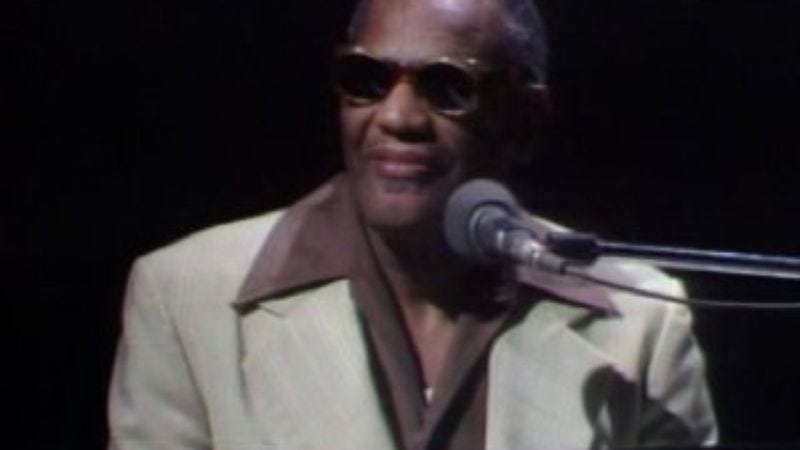 TV Reviews
All of our TV reviews in one convenient place.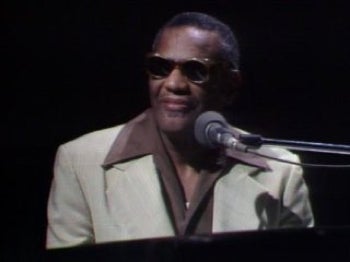 Would Saturday Night Live be able to crank out ninety minutes of gut-busting hilarity every episode if it weren't for that ingenious crutch known as the cue card? Cue cards are the training wheels that keep the show from flying off the rails, a sturdy cheat sheet for cast and hosts alike. In the coked-up seventies in particular I suspect that cue cards kept the show from devolving into an incoherent, amateurish mess.
Yet conventional cue cards probably wouldn't be of much use to the host and musical guest of today's episode of Saturday Night Live classic, the estimable Ray Charles, though it is entirely possible that he stashes away Braille cue cards somewhere in his piano to make the prospect of doing live television a little less risky.
As I've written before, early Saturday Night Live tended to take its cues from its hosts. The second episode of the first season, for example, was essentially a Paul Simon variety show with a few sketches thrown in. When game amateurs like Ralph Nader or Gerald Ford's press secretary popped in the cast understandably tended to do the comedic heavy lifting.
So it's not surprising that today's episode was half Ray Charles And Friends variety show, half raucous televised house party. The show's attitude towards its esteemed host mixed reverence with cheek: blind jokes dominated the episode but Charles always ended up getting the upper hand, beginning with an amusing opening monologue where Charles talks about he would only host the show on the condition that it be filmed at Carnegie Hall before conspiratorially confiding in the audience that the joke's on the show, since he's not the real Ray Charles; the real Charles is at Carnegie Hall, leaving an imposter in his place.
That gag is repeated to great comic effect when Michael O'Donoghue, resplendent in his trademark white suit comes on later in the show to announce that while they've all enjoyed a larf blindness is really no laughing matter and that NBC has generously decided to donate a Monet to Lighthouse of the Blind in Charles' honor. O'Donoghue then unveils the "Monet", which is actually just a board reading "Please Don't Tell Him". Again, Charles gets the last laugh when he informs the audience that he knows exactly what's going on and that at the wrap party "ten or twelve of the biggest black dudes (O'Donoghue) has ever seen in his life" are going to beat the crap out of him.
In the culture-wide afterglow that followed Obama's victory I found myself thinking a lot about Jimmy Carter and Dan Aykroyd's masterful impersonation of him on Saturday Night Live. Aykroyd's respectful take on Carter captures the widespread conviction among progressives that one of their own had finally rose to supreme power, that real, lasting, profound and positive social change now seemed possible, if not probable.
Where Chevy Chase portrayed Gerald Ford as a bumbling oaf, Aykroyd played Carter as a man who was, if anything, too smart. Aykroyd's Carter knew just about everything. In today's episode Carter issues a stern lecture to Americans about how he warned them about the dangers of being dependent on foreign oil but that they failed to heed his wisdom and now had only themselves to blame. Sound familiar? It's funny because it's true.
The sketch is followed by another virtuoso Aykroyd impersonation, this time of stumbling, bumbling Tom Snyder conducting a hilariously clueless interview with Charles about, among other things, the exact manner in which a fellow might contract the blues. Charles makes for a stellar straight man to Aykroyd's foot-in-mouth bunglage.
Ah, but I haven't talked much about the music. Said music is for the most part, awesome, with Charles backed by the Raylettes and plenty of old pros he's played with for ages. Here, he plays "I Can See Clearly Now", "What'd I Say", "I Believe In Soul", "Hit The Road Jack" and "Oh What A Beautiful Morning".
In my favorite sketch, Charles is introduced to a Pat Boone-like singing group called The Young Caucasians who perform a deliriously whitebread version of "What'd I Say" that adroitly parodies the homogenization and honky-fictation of black music throughout the fifties. But don't just take my word for it. Here's a clip.
I also enjoyed a sketch where Gilda Radner and Laraine Newman played the grieving widow and sister of the dead Howdy Doodie respectively. It was an awesomely dark bit where Radner is nearly reduced to tears every time someone inquires what time it is, a maddeningly frequent occurrence. Radner and Newman excel at replicating the creepy, herky-jerky movement of marionettes, as does Bill Murray as a wooden suitor.
In keeping with the variety-show element of this episode, Franklin Ajaye stops by for a punishingly unfunny extended riff on just how kooky Star Trek was. It's the kind of hacktastic routine that could be found in just about any Chuckle Hut of Laffatarium comedy club over the past forty years. It's also one of the whitest routines I've ever seen. If you ever wonder why Saturday Night Live doesn't showcase up and coming stand-up comedians any more (or up and comers of any variety), wonder no more. Not every hot young performer can be Andy Kaufman.
Some of my favorite moments in the episode consist of the cast just hanging out and singing with Charles. Belushi does a killer Ray Charles impersonation and the whole episode feels like a nice precursor to the Blues Brothers mania that would sweep the show and country a little while later.
Grade: A-