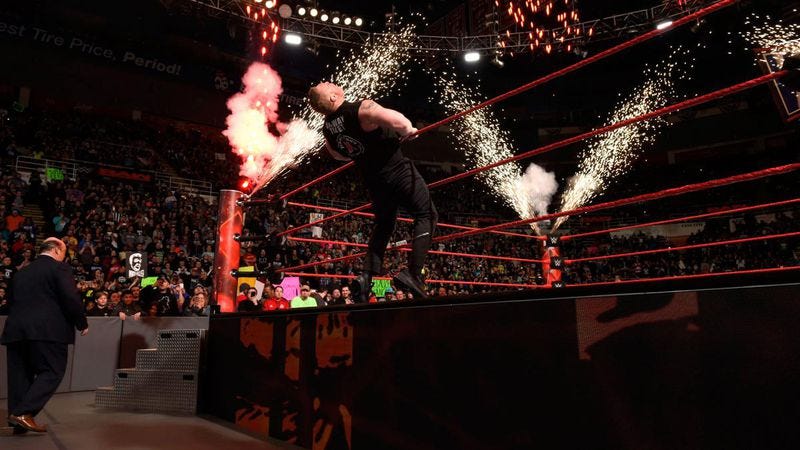 TV Reviews
All of our TV reviews in one convenient place.
Because The A.V. Club knows that TV shows keep going even if we're not writing at length about them, we're experimenting with discussion posts. For certain shows, one of our TV writers will publish some brief thoughts about the latest episode, and open the comments for readers to share theirs.
Brock Lesnar and Paul Heyman are here to start the show, and it's a damn fine kickoff. All the predictable problems still stand, like the fact that the opening promo is literally the only one devoted to the Wrestlemania main event because WWE is booking two old part-timers as the main draw, but that doesn't mean Heyman doesn't hit his mark. When Heyman has something to boast about, he's must-see. Here, he crafts a pointed, fiery promo about how prepared Brock Lesnar is now. This story comes at the benefit of the Survivor Series squash; now, Heyman can hit on the idea that Goldberg got lucky, and that it won't happen again.
As is often the case with Raw as of late, everything in between the opening and final segment is mediocre at best. Smackdown! Live is certainly having its own issues right now, but Raw has almost no momentum, outside of two important feuds, with Wrestlemania only three weeks away. That's not good.
I kind of dug the Dana turn on Charlotte. I won't call it a "face" turn just yet, but it was fun enough, even if it's rather meaningless in the grand scheme of things.
Speaking of meaningless, the Cruiserweights were on Raw again.
After Kevin Owens once again proves that he is an A+ mic talent, adding intensity and weight to the "MY title" line reading, he teams up with Samoa Joe against Sami Zayn and Chris Jericho. "Who needs best friends when you have a destroyer?" he emphatically states. The match never really gets going, but that's the point. Joe and Owens are a destructive, no nonsense team, and that certainly comes across here.
I can't even explain what is happening to New Day right now. In fact, the whole tag team division is a mess. New Day's floundering stands out though, coming mere weeks after their historic title reign.
Speaking of the terrible tag team division, Gallows and Anderson are now defending their titles in a Triple Threat match at Wrestlemania. On paper, the match is totally fine, but there's been zero build or storytelling. Gallows and Anderson as this dominant, interfering, angry tag team should have been the angle months ago, not three weeks out from the big show. Now, it just feels like WWE checking off boxes. It doesn't feel urgent or meaningful in any way, and that's disappointing considering the talent involved.
A really simple fix for Gallows and Anderson in tonight's segment: have them put both teams through tables, or maybe hit some dudes with a chair. Let them get mean, WWE.
So, can we all agree that this version of Roman Reigns is the one we've been waiting for? Don't get me wrong, there's plenty of time for WWE to backtrack and not really build the story around Reigns' disregard for The Undertaker, but tonight's segment with HBK is a massive step in the right direction. It's all about character. Reigns briefly mentions that it's cool to see HBK, but then immediately shifts to dismissing Undertaker as a threat. "Maybe people should be asking The Undertaker what it'll be like to be in the ring with me!" he says. It's a great line, and embodies everything this character needs to be: confident in his skills, and dismissive of WWE's legends. Now let's all try to avoid imagining how hot this storyline would be if The Streak was still intact, and if Reigns had laid out Shawn Michaels instead of getting jumped by Braun Strowman.
I like that Raw is starting to plant the seeds of a Sasha Banks heel turn. She's very slowly revealing her darker side, the one that will force her to turn against Bayley in order to win the big one. If WWE manages to draw this out until Wrestlemania, that'll add a compelling layer to what should already be a pretty great match.
Corey Graves, in regards to the Emma video package, is all of us: "Are we seriously doing this again?" And I say that as a huge fan of Evil Emma—okay, all versions of Emma.
That takes us to the final segment, which is, to use a totally overused, appropriated word, LIT. It starts with Stephanie McMahon bringing Mick Foley to the ring to reveal who he's decided to fire. Of course, Mick decides to fire Steph, reasoning that she's the one that's bringing Raw down and making sure the superstars aren't being used to their best ability. That brings out Triple H, and that's when things really pick up. The two really get back to their Attitude Era energy. It's the best Foley has been on Raw by far, his lines injected with real venom and personality. He's a pure babyface in this moment, and in turn that helps turn the crowd against Triple H, who, no matter what, always gets a pop when his entrance music hits. Triple H laying out Mick Foley would be enough to praise the final segment, but Raw goes further, as Seth Rollins comes out and, surprise, reveals that he's no longer injured. He limps down the ramp, only to then drop his crutch and storm the ring, laying a beating on Triple H and sending him out of the ring. Eventually Triple H gets the upperhand, and that leaves Rollins writhing in agony as the show comes to a close. It's such a simple segment—an injury angle, a dropped crutch, and a heel beatdown—but it's exactly what this feud calls for. There's real anger and fire behind these characters' motivations. Rollins has two bones to pick—Triple H discarded him after using him, and his goon Samoa Joe came close to costing him yet another Wrestlemania appearance—and you can feel it in the way Rollins carries himself. This is a babyface moment on par with Rollins returning from his injury to Pedigree Roman Reigns. Bring on the Wrestlemania match.