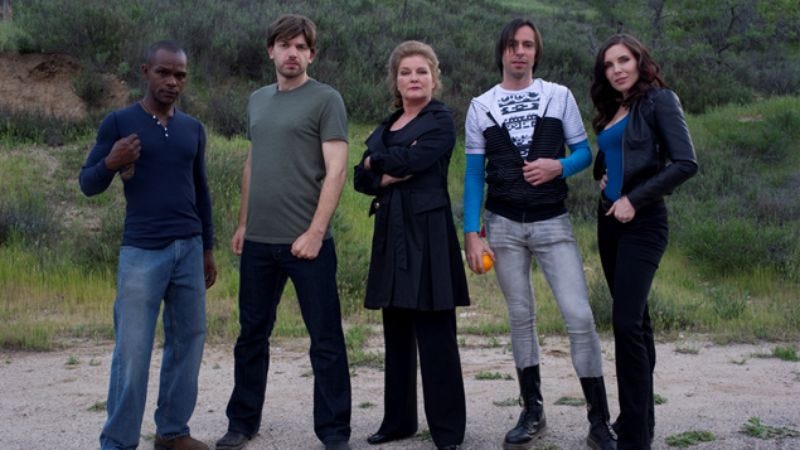 TV Reviews
All of our TV reviews in one convenient place.
First a fake interstitial commercial for Childrens Hospital, National Terrorism Strike Force: San Diego: Sport Utility Vehicle:: is now in its second season of spoofing David Caruso one-liners and expensive forensic procedurals. It's still bursting at the seams with great moments and one-liners, but it hasn't quite turned the corner in the way it's sister show did when it made the full transition from web series to Adult Swim programming. But that's perfectly fine, since it's still so consistently funny in the quarter-hour format that it renders world-building or social commentary completely unnecessary in the face of wall-to-wall jokes.
Paul Scheer is a comedic actor who's always willing to make himself look entirely ridiculous for the sake of a joke. He's comfortable being the eternal lowest rung on the ladder in The League, and even as the lead creative voice and central character Trent on NTSF, he's still not the totally revered star that Chris Monsanto is on Eagleheart. But the show is better for that, since watching Trent attempt to get by on his arrogance in the face of blunders is one of the things that make NTSF so reliably funny and a great timeslot companion to Childrens Hospital.
Last season, the series had a wheelchair-bound Adam Scott, Mark Hamill voicing the Hannibal Lecter of dolphins, and surprisingly funny guest spots from Jeff Goldblum, Chris O'Donnell, and Wilmer Valderrama. As for the second season premiere, the guests include Paul Rust (he of I Love You Beth Cooper fame), UCB's Jon Daly, and Steven Yuen (Glenn from The Walking Dead). Not exactly a high-profile guest list, but again, they're reliably funny in some well-written bit parts.
The hastily sketched out plot involves Trent and Piper going undercover at Nick Cannon High School—which is a fantastic choice for the name, Nick Cannon's hi-LARRY-ous—in order to investigate the string of rich kid kidnappings. Trent delivers a robotically prepared back-story when first introducing himself to another student, while Piper wants to have a more tortured, nerdy experience instead of how popular she was during her actual high school years—a nice reversal from the typical high school undercover plots.
There are some similarities between the episode and the Jonah Hill/Channing Tatum 21 Jump Street, and they go beyond the Rob Riggle connection. There's the undercover agent romancing a high schooler, though Piper's backslide into popular bitch is much funnier than Jonah Hill's awkward come-ons to Brie Larson. The way she goes from sitting on the bleachers to stealing the spotlight with her aloof, disaffected dialogue to lure in the hot football guy instantaneously is hilariously bitchy. June Diane Raphael really is the only other actress on NTSF who understands that the best comedy of the show comes from characters who recognize how ridiculous their world is and comment on it, but selectively block it out for comic effect.
When Trent goes looking for the one remaining undercover Hop Street officer in one of the bathrooms, he stumbles upon two nice nods to Cameron Crowe's Fast Times At Ridgemont High and Back To The Future. Even if this episode references 21 Jump Street in its title and uses a similar plot, it does acknowledge just how strange it is that "Back to high school… but different!" is a frequently employed device. I'm trying not to spoil too much of the material, but it is a little hard to talk about NTSF beyond the fact that it's a show that consistently makes me laugh with witty observations about its setting while at the same time mining a ridiculous trope I find endlessly hilarious. A lot of high school clichés come into play, from the school dance to student theatre cast list drama, but the writing is meticulously designed to deliver a high volume of laughs per minute in a short run time.
NTSF remains just a small step behind Childrens Hospital, which took the foundational style of a medical soap opera and continued to build off it to create a truly bizarre world. But the CSI, Without A Trace, and 24 elements left to mock are still plentiful, to the point where NTSF occupies its own place on the genre spoof spectrum, using those action and crime investigation standards as the building blocks for self-effacing comedy.
Stray observations:
Rebecca Romijn, Martin Starr, and Brandon Johnson aren't really in this episode at all, but next week's episode—which starts with Johnson reconnecting with his talking Alaskan Malamute former partner from NTSF:AK:CANOE—spreads the comedy a bit wider through the cast. It's also got some bigger guest stars, including Aubrey Plaza and Ray Liotta.
If you'd like to see regular coverage of NTSF, let us know in the comments. Right now we're only planning on covering Childrens Hospital on a weekly basis.
The Under the Sea Dance moment was probably the biggest laugh of the episode for me.
"Move aside Nirvana, because we're the ones who smell like teen… perfume."