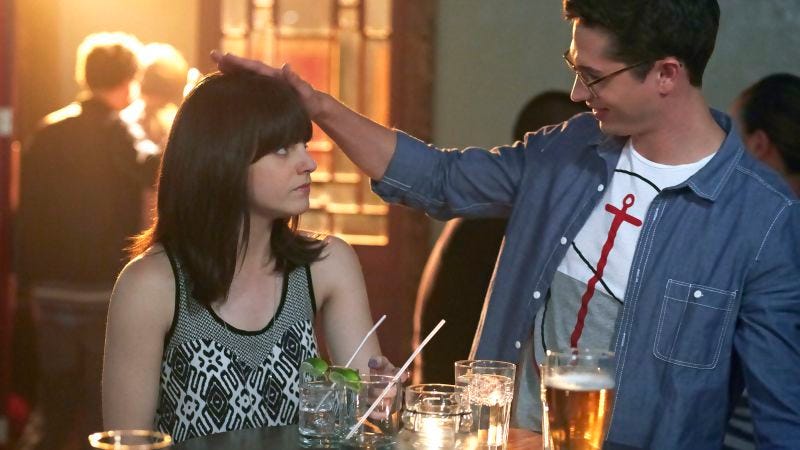 Here's what's up in the world of TV for Tuesday, August 7. All times are Eastern.
TOP PICK
The L.A. Complex (The CW, 9 p.m.): In the latest in a long string of indignities suffered by legitimately entertaining (if not widely watched), Canadian-made, CW-broadcast showbiz drama The L.A. Complex, the show's first week of regular TV Club coverage failed to make the What's On Tonight? roster. But we're making up for that now (and apologizing profusely to Phil Dyess-Nugent) by making the show tonight's top pick—because who doesn't want to spend an hour in a universe where Paul F. Tompkins has his own late-night talk show? (Besides a dispiritingly large chunk of the television audience.) Defy those jerks and help make Jewel Staite the big star she deserves to be!
---
REGULAR COVERAGE
The 2012 Summer Olympics (NBC, 8 p.m.): And so the curtain falls on Olympic gymnastics once more, with men competing in bars horizontal and parallel while women go for gold in the balance beam and floor exercise. Then, the gymnastics equivalent of carnies move in, pack up the beams, horses, and rings, and make an arduous four-year trek to the next Olympic town, while Erik Adams sheds a solitary tear.
---
TV CLUB CLASSIC
Dawson's Creek (11 a.m.): Nothing like the return of your old English teacher/secret lover to put a damper on your budding romance with the new girl in town. Brandon Nowalk is there for Pacey during a very trying time in a young man's life.
Six Feet Under (1 p.m.): When you're a up-and-coming photographer growing up around the deceased—like Claire Fisher is—some corpses are going to have their portraits taken. Unfortunately for Claire, it's against the law to take such photos. John Teti spells out the legal, thematic, and plot ramifications of this development. (Photography pun!)
Home Movies (3 p.m.): Emo Philips makes his debut as neighborhood bully Shannon, a real thorn in Brendon's side who turns out to be a stand-up guy. To which Erik Adams adds, "Of course he is, because he's voiced by Emo Philips!"
---
WHAT ELSE IS ON
Dragons: Riders Of Berk (Cartoon Network, 7:30 p.m.): The vikings and flying lizards of How To Train Your Dragon spill over into a weekly series, all while maintaining an impressive number of the original film's voice cast. Of course, if the show couldn't get T.J. Miller, it could've replaced him with Pete Holmes.
Shipping Wars (A&E, 9 p.m.): Another day, another oddly shaped, difficult-to-transport shipment for the colorful independent truckers of Shipping Wars. The A&E series sends its stars into their second season with a half-hour of halved statues and dissatisfied customers.
Hard Knocks (HBO, 10 p.m.): With no lockout scotching its plans to document an NFL franchise's training camp this year, the HBO documentary series returns to the gridiron to look at the once-mighty Miami Dolphins' preparations for the 2012 season. A lockout might be preferable to the Dolphins of the 21st century, though.
The Man With The 200-lb. Tumor (Discover Fitness And Health, 10 p.m.): Watch doctors attempt to separate a man from the human-sized mass that's kept him bedridden for six years in a documentary lying in the Venn diagram overlap between "exploitation" and "medical miracle." Watch this preview and separate yourself from your lunch.
Devil (MoMAX, 7:40 p.m.): This confined-space horror movie was only produced (rather than written and directed) by M. Night Shyamalan, so its "which one of these people trapped in an elevator is actually the devil?" story only has a few convoluted twists. Until it turns out that all of them are the devil, and the elevator is the devil—and you, yes you, could also be the devil as well!
To Sir, With Love (TCM, 10:15 p.m.): How do you thank someone who has taken you from crayons to perfume? Give To Sir, With Love Sidney Poitier star an entire night's showcase, including his turn as a teacher tasked with taming a wild classroom of kids in London's East End.
World Series of Poker (ESPN, 8 p.m.): The Texas hold 'em craze of the mid-'00s may be over, but in good news for people who continue to love watching people in hats and sunglasses move chips around a table, poker's still a primetime draw for ESPN.
---
IN CASE YOU MISSED IT
Web Therapy: Might multiple thematic ties to one of the most-revered premium-cable dramas of all time pique your interest in Showtime's sleeper comedy success? If Brandon Nowalk promises to compare future Lisa Kudrow exploits to Deadwood and The Wire, would you start watching Web Therapy?