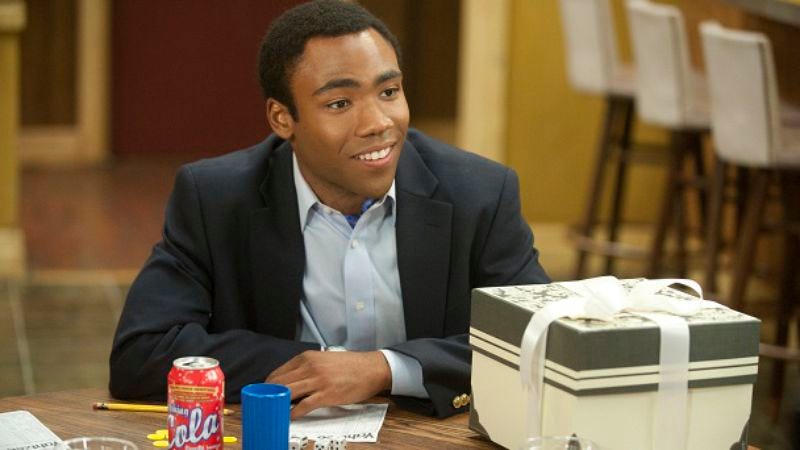 Here's what's up in the world of TV for Thursday, October 13, 2011. All times are Eastern.
TOP PICK
Community (NBC, 8 p.m.): There's been plenty of fear swirling around that Community has lost it this season, what with its seeming retreat from those concept-heavy episodes that so defined the second season. Without spoiling it, though, Todd VanDerWerff would like to let you know tonight's loopy, often moving episode will hopefully put those fears to rest.
---
REGULAR COVERAGE
The Big Bang Theory (CBS, 8 p.m.): Tonight, the characters will tackle math, science, history, in an attempt to be unraveling the mystery that all started with the Big Bang. (Bang!) Oliver Sava will chart their progress.
The Vampire Diaries (The CW, 8 p.m.): Are you watching this season? The ever-reliable Carrie Raisler says the show, which was already fairly crazy, is heating up in a big way this year, and you'd be remiss to not check it out.
The X Factor (Fox, 8 p.m.): Pesky baseball canceled last night's episode (not that any of you noticed), so Phil Nugent steps in for regular reviewer Emily Yoshida and attempts to make heads or tails of this whole "singing" phenomenon.
Parks And Recreation (NBC, 8:30 p.m.): Celebrate with Steve Heisler and the rest of us by singing along to the tune of The William Tell Overture: Leslie Knope, Leslie Knope, Leslie Knope Knope Knope, Leslie Knope, Leslie Knope, Leslie Knope Knope Knope.
The Office (NBC, 9 p.m.): Everybody goes to Schrute Farms for an Andy-hosted garden party in an episode boasting the guest starring talents of Dee Wallace, Stephen Collins, and, uh, Josh Groban? Closet Grobanaholic Myles McNutt dives right in.
Person Of Interest (CBS, 9 p.m.): Zack Handlen would like to remind you that there is a brand new series from J.J. Abrams and Jonathan Nolan airing every week, and even though it's not the best just yet, it could turn randomly awesome at any moment. Oh, probably not? Aw. Poor Zack.
Project Runway (Lifetime, 9 p.m.): It's almost time for the finale of Project Runway, and even John Teti seems a little bored with the current season. Suggestion for next season: Project Runway: The Deadliest Catch. That's must-see TV.
The Secret Circle (The CW, 9 p.m.): Just picked up for a full season, The Secret Circle constantly asks, "Which witch is which?" leading Katherine Miller to beat the hell out of it with sarcastic prose.
Whitney (NBC, 9:30 p.m.): In some other universe, you're obsessed with this show. In this one, Erik Adams quietly implores you to watch so he has someone to talk about it with. Not going to do it? He'll just walk away, head hung sadly, "Christmastime Is Here" playing.
It's Always Sunny In Philadelphia (FX, 10 p.m.): Tonight, Frank's brother arrives, and he's almost certainly some big car magnate who will ask Frank to help him design a new car and lose everything on it. Or so Emily Yoshida hopes.
Jersey Shore (MTV, 10 p.m.): The title of tonight's episode is "Situation Problems," which would have made no sense to you just three years ago, before you knew of a man who called himself The Situation. Marah Eakin explains.
Prime Suspect (NBC, 10 p.m.): NBC's police procedural has quietly been pulling itself together, with last week's episode being a particular highlight. Hayden Childs sees if the trend continues.
The League (FX, 10:30 p.m.): FX's fantasy football fanatics returned last week for another season of shenanigans, and although they don't have Seth Rogen to help them out this week, Margaret Eby will be there to call the plays. (Listen. You try doing a bunch of these without lapsing into unfortunate word play.)
---
TV CLUB CLASSIC
Star Trek: The Next Generation (11 a.m.): In one of today's two episodes, Data attempts to train his pet cat to the amusement and hilarity of all. Yeah, this show kinda fell apart in its last season, didn't it, Zack Handlen?
Seinfeld (1 p.m.): David Sims is approaching the end of the Larry David era, and here, he takes on Seinfeld's final one-hour episode under David, "The Bottle Deposit." Expect comedic situations that spiral out of control and dovetail in unexpected fashion.
---
WHAT ELSE IS ON?
Bay City Blues (ESPN Classic, 8 p.m.): ESPN Classic has started airing the famously lost Steven Bochco follow-up to Hill Street Blues for no apparent reason. Check it out while you still can, and revel in when Dennis Franz was young, as we all were once.
Bordertown: Laredo (A&E, 10 p.m.): Brandon Nowalk checks into this new series about DEA agents on the U.S.-Mexico border that, from its episode descriptions at least, almost sounds like a real-life Eagleheart. We're pretty sure that's not what A&E intended, but it's sure what it sounds like!
Harvest (History, 10 p.m.): Finally, those of you with a hardcore farm work fetish can watch a series all about nomadic workers who follow the harvest across the country, plying their trade wherever needy farmers will have them. Sounds like a Bruce Springsteen concept album, no?
The Mentalist (CBS, 10 p.m.): Jane believes that a man who's brought a gun to a political rally is bent on killing someone. Instead of, y'know, stopping this man, he just decides to prove his theory. Which means, what, exactly? Wait for him to kill, then nod smugly and say, "I was right"? Way to be a dick, Jane.
George Harrison: Living In The Material World (HBO Signature, 10 p.m.): If you missed the first broadcast of this new Martin Scorsese-directed documentary on the former Beatle, here's a chance to catch up with the whole thing.
Christine and Carrie (AMC, 8 p.m. and 10 p.m.): AMC gets ready for Halloween with two classic Stephen King adaptations about a killer car and a killer teenage girl. It's like they're reading our 15-year-old minds!
Southern California at California (ESPN, 9 p.m.): Yeah, USC isn't what it was back in the days when it was cheating to become the greatest program in America, but it's always nice to kick the weekend off with a little college football.
---
IN CASE YOU MISSED IT
Revenge (Wednesday): Listen, people: This show has constant, bloody revenge, attractive people of both genders, Madeline Stowe giving good camp, and an apparently ageless dog. What more do you want? That's all Carrie Raisler wants to know.