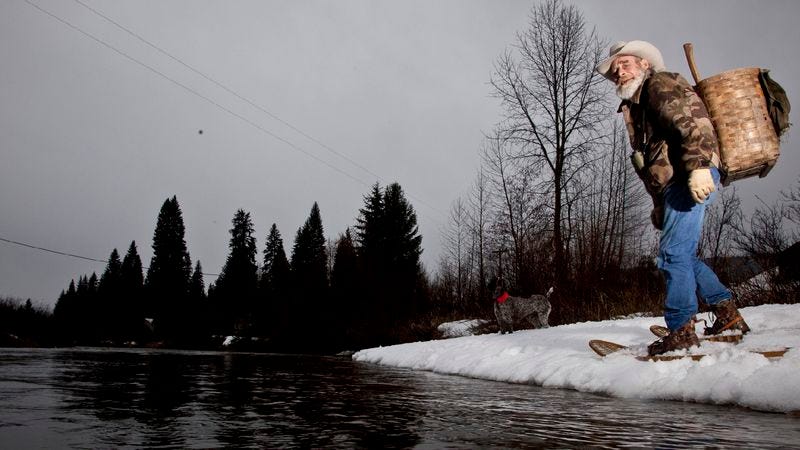 TV Reviews
All of our TV reviews in one convenient place.
In hopes that America's appetite for beard-oriented entertainment has not been sated by three successive nights of Hatfields & McCoys—and presumably having run out of swamp people willing to be followed day and night by camera crews—the History Channel takes to the mountains in order to document the exploits of three hirsute individuals who have chosen to live off the land. The result is a cautionary tale for us soft, citified types, who occasionally entertain fantasies of tossing our Gillette Mach 3 Turbos, heading for the hills, and living off the grid.
"I live for a living," quips Eustace Conway, who has been living in the Cherokee National Forest of North Carolina for 35 years. According to Eustace, those of us who don't know where our food comes or where our poop goes are living in a virtual reality. "There's a gut pile behind every hamburger," he announces, demonstrating exactly why he never ended up writing advertising copy for McDonald's. Eustace works so hard putting food on his table, he has to consume 5000 calories a day just to maintain his weight. Unfortunately, there are no drive-thrus in the area, so he spends his days hand-sowing kale seed in his garden and building deer stands in the woods.
In the Rocky Mountains of Montana, we meet Tom Oar, a former rodeo rider, who now traps animals and tans hides for a living. Mostly what we learn about Tom in the premiere episode "Winter Is Coming" (a nice try at drawing in the Game Of Thrones audience) is that he worries an awful lot about bears. It seems bears are always coming on his property, scratching at his door, bothering his livestock, scaring his dog, and getting in the way of his deer-hunting. Every third word out of Tom's mouth is "bear," to the point where I started to wonder if he might not be happier living in Florida or some other less bear-populated area.
Our third mountain man is Marty Meierotto, who lives the Sarah Palin lifestyle up in the Northern Alaskan Mountain Range. Marty's primary mode of transportation is a small bush plane, which he uses to fly out to his remote cabin and tend to his traps. Marty has bear concerns, too, but his biggest worry is the frigid weather that could leave him trapped under a beard of icicles if he isn't diligent about chopping enough wood for the winter.
Mountain Men is the kind of show that was absolutely made for HD television. The sweeping helicopter shots of eye-popping late fall foliage and snowcapped mountaintops are almost reason enough to watch. And that's a good thing, because at least in the first episode, the producers struggle to find dramatic moments, despite the fact that their subjects are leading some pretty dramatic lives. Not once, but twice, Mountain Men goes to commercial on the same "cliffhanger": Tom's dog Ellie has gone missing and may have been eaten by bears. (Spoiler alert: Ellie has not been eaten by bears. Not yet, anyway.) Another commercial break arrives as Marty is idly pondering whether a bear might have gotten into his cabin while he's been away. Nope! No bear in the cabin.
By its very nature, Mountain Men is also a little short on the sorts of personality conflicts that usually fuel reality shows of this type. These guys are generally loners, after all, and when they do spend time with people, it's usually with longtime loved ones they know and trust very well. The exception is Eustace, who does wilderness training on his property and sometimes has up to eight people living with him. "Winter Is Coming" tries to gin up some conflict between Eustace and young hothead Justin, but despite the dramatic music and ominous narration, there's not much of a spark there. (The previews indicate things may heat up between them next week.) At a certain point, I realized I was basically watching some hard-working guys do their chores for an hour. There's something admirable about that (and I know, despite my wilderness fantasies, I'd never last an hour in that world), but it's not exactly appointment viewing.

Stray observations:
Marty insists that he's the ugliest man on earth, but I've seen those swamp shows, and I'm pretty sure he's not even the ugliest man on the History Channel.
The episode ends with another cliffhanger. Ellie is safe, but Tom may have been eaten by a bear. I'm guessing not, though.