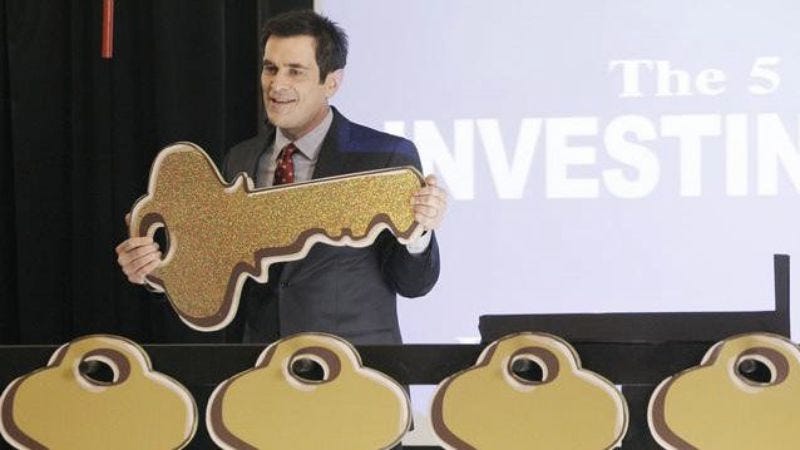 Here's what's up in the world of TV for Wednesday, Jan. 11. All times are Eastern.
TOP PICK
Modern Family (ABC, 9 p.m.): Donna Bowman's ABC affiliate is doing that weird thing where they make her stop watching TV on Wednesday nights in favor of watching SEC basketball, so Meredith Blake will be filling in for the next several weeks, starting with an episode entitled "Egg Drop." We hope the characters' final project takes the name of our friend Craig's seventh-grade science fair project, "Bombs Away, Egg," which sounds like the best short story William Faulkner never wrote.
---
REGULAR COVERAGE
The Middle (ABC, 8 p.m.): We have no idea if you guys watched this last week like we asked you to, because we're at TCA press tour, and our brains are seeping out of our ears, but Will Harris would very much appreciate you stopping by this week.
Suburgatory (ABC, 8:30 p.m.): Tonight's episode features Dan Byrd, which just makes us long even more for the day when Cougar Town will be back with us again. Well, Brandon Nowalk is going to sit there and quietly hope for an Easy A sequel.
Happy Endings (ABC, 9:30 p.m.): We're betting David Sims is super excited for an episode that features guest performances from Michael McKean and Megan Mullally, but we haven't checked with him to be sure yet. We know we would be excited.
Revenge (ABC, 10 p.m.): "Emily targets a renowned author," says the summary. Listen, Revenge, we don't like Todd VanDerWerff either, but we wouldn't say he's "renowned," and Carrie Raisler—grudgingly—would rather you didn't kill him.
Top Chef (Bravo, 10 p.m.): Oh, goodie! It's time for Restaurant Wars! When you think about it, it's sort of insane that Bravo never tried to make a Restaurant Wars spinoff, but Emily Withrow is probably just glad she doesn't have more to cover.
---
TV CLUB CLASSIC
Survivor (Classic) (11 a.m.): We're going to start making up plots that happened on this show a decade ago. "This week, everybody has to eat 50 bugs, or else they'll be eliminated." Meredith Blake tops out at 45 bugs, so she'll be sitting this one out.
Alias (3 p.m.): Has there ever been a more Alias­-y title than "The Cipher"? We're guessing not, but we're excited to keep following along with Ryan McGee's journey through this season, which is one of the best high-octane rides in TV history.
---
WHAT ELSE IS ON?
One Tree Hill (The CW, 8 p.m.): It's the start of the final season of this show, and we're going to always remember the time that one girl said, "Just stay out of it, Nick Lachey," and the time the dog ate that heart, and so many other wonderful things.
Are You There, Chelsea? (NBC, 8:30 p.m.): NBC must be very happy to have found a show that makes Whitney look genius by comparison. Todd VanDerWerff is just glad that all of the big four networks have absolutely awful sitcoms debuting.
Ghost Hunters (SyFy, 9 p.m.): The venerable, "Did you hear that sound that was vaguely like a building settling?" franchise returns for yet another season of sounds that sound like, well, building settling, if you listen to them really closely, at least.
The Challenge: Battle Of The Exes (MTV, 10 p.m.): Reading descriptions of MTV shows and realizing with creeping horror that they make no sense to us has been one of the most disquieting things about the fact that we just keep getting older.
Goodfellas (VH1, 6:30 p.m.): Get ready for the sure-to-be-amazing potential AMC series made of this movie by watching the original article tonight. Come for the mob violence; stay for the lyrical musical montages set to Derek and the Dominoes.
12 Monkeys (Momax, 6:45 p.m.): Terry Gilliam's weird time travel tale took us into a dystopian future and offered up a wild, mind-bending narrative, but most people just remember it as the movie where Brad Pitt did weird stuff with his hands.
NBA Basketball: Mavericks at Celtics (ESPN, 8 p.m.): The defending champs take on everybody's mother's favorite basketball team—even if she doesn't realize Larry Bird no longer plays—in a match-up that will surely determine something or other.
---
IN CASE YOU MISSED IT
Switched At Birth (Tuesday): We're damn happy Carrie Raisler is still covering this one for us, and we're hoping you've gotten all caught up. C'mon, people. There are only 12 episodes you need to watch. We know how much you love melodrama!