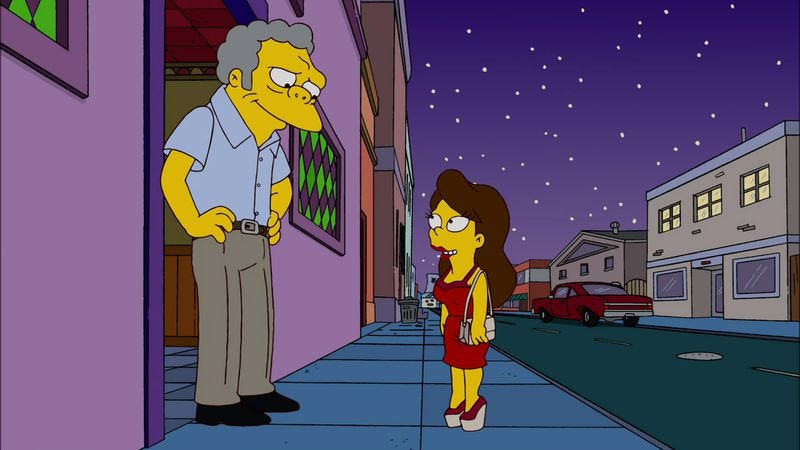 1. Moe Szyslak
The status quo of The Simpsons is rooted in the Simpsons themselves, a quintet that will never change, no matter how many times their personal backstories and prospective futures do. (And no one will ever mention "That '90s Show" again, under penalty of torture.) While the show's protagonists forego the aging-in-real-time routes taken by their live-action counterparts in sitcomland, that places the onus of character development on the rest of Springfield. Sometimes, this can lead to maddening inconsistencies (how old are the bullies of Springfield Elementary?); other times, as in the case of local bartender and occasional orca smuggler Moe Szyslak, 26 seasons of The Simpsons have molded uncannily realized figures out of one-note stock types. Time has rendered Moe a tragicomic figure beyond compare, beautifully (and hilariously) human, yet detested for his emotional and physical ugliness. The latter quality has been blamed on boxing gloves and a rogue elephant, but it's not beyond the type of salvage job that could deliver the humble barkeep to soap-opera stardom, as seen in season 11's "Pygmoelian." As his character arc has risen and dipped through an engagement ruined by dwarf jokes, "NO FUNERAL" suicide notes, and unrequited infatuation with "Midge" Simpson, Moe has taken on a recognizable collection of aches and desires. In effect, Moe Szyslak is Springfield, its sympathetic imperfections and ludicrous perversions accurately sculpted into a cauliflower ear, lizard lips, little rat eyes, a caveman brow, and a fish snout. [Erik Adams]

2. Waylon Smithers
More than just no longer being black (as an animation error rendered him in his first appearance), Waylon Smithers has seen significant growth on The Simpsons, despite remaining faithfully in Mr. Burns' shadow. Smithers' existence is centered entirely on Mr. Burns' happiness, and the routine of his "2,800 smaller jobs" gives him not only contentment but also purpose. Still, he's increasingly come out of his shell—if never officially "come out." The poorly kept secret of Smithers' proclivities has played a huge role in adding dimension to the character, expanding well beyond the fixation on his boss that led producers early on to insist he was just a "Burns-sexual." Over the years, Smithers has been seen partying at Fire Island-like resorts, frequenting Springfield's gay district, acting like a spurned lover toward John Waters in "Homer's Phobia," and more recently, helping Moe turn his bar into a gay club—all of which suggest he no longer feels the need to hide who he is. That self-confidence has even led to Smithers occasionally taking a stand against Mr. Burns, as when he leaked information about Sideshow Bob's election fraud (saying Bob's policies conflict with his "choice of lifestyle"), or when he refuses to go along with Burns' plans to block out the sun. Smithers may still be a lackey, but he's a lackey with a mind of his own. [Sean O'Neal]

3. Seymour Skinner
Even without that unfortunate Armin Tamzarian incident, Principal Seymour Skinner would be a much different person than the guy who introduced the Santa Clauses from around the world at the top of "Simpsons Roasting On An Open Fire." Then, he was a strict authority figure with no patience for monkey business, the ideal foil for all-monkey-business fourth grader Bart Simpson. But the focus of The Simpsons eventually shifted from Bart's antics, and that required some significant shifts from Skinner, whose relationship with Springfield Elementary's second most-wanted criminal ("after the mysterious 'El Barto'") has steadily grown less adversarial. (El Barto would remain at-large as late as 2006.) Today, Skinner is more likely to spar with the two hard-to-please authority figures who control his domestic and work lives, respectively: super-smothering mother Agnes Skinner and Superintendent Gary Chalmers. (Appropriately, the characters' catchphrases form their subordinate's full name: "Seymour!" "Skin-NER!") The Norma Bates to Seymour's Norman, Agnes' uncomfortably close relationship with her son caused considerable strain on Principal Skinner's longterm romance with the late Edna Krabappel, the honeymoon phase of which necessitated a cover-up orchestrated by their shared nemesis, a certain Bartholomew J. Simpson. Despite outward appearances, serving these multiple masters has essentially broken Seymour, as if he'd been held captive in a Vietnamese POW camp before toiling for years in a Chinese sweat shop. (But we don't speak of that…) [Erik Adams]

4. Kirk and Luann Van Houten
Compared to the Weeble-esque equilibrium of Homer and Marge's marriage (Homer and Marge fight, reconcile, repeat), the relationship between Kirk and Luann Van Houten is arguably the show's most richly defined—and the most tragic. The pair was first introduced as little more than an ancillary gag for the already-ancillary Milhouse, his parents rounding out his pitifulness by being every bit as nerdy, yet just as indifferent toward their son as the rest of Springfield. Aside from the reveal that Kirk hates that Luann hails from Shelbyville, it wasn't until "A Milhouse Divided" that the characters truly gained some depth. Black, inky depth, as a dinner party straight out of Who's Afraid Of Virginia Woolf? ended in revelations of long-abiding resentment and the Van Houtens splitting up. As Kirk entered a years-long low—living in a shabby bachelor's pad behind an Arby's, losing his big-wheel job at the cracker factory, and worst of all, pursuing a singing career—while Luann flourished in her newfound independence, they evolved into terribly flawed, terribly real people recognizable to anyone who's endured a divorce. That separation lasted for 11 seasons marked by bitter conflict and brief rapprochement, until at last the couple remarried in "Little Orphan Millie." Of course, their bliss lasted just long enough for them to become stranded (and presumed dead) on their honeymoon—a hint that the Van Houtens will continue to be as unlucky in love as they are in everything else. [Sean O'Neal]

5. Krusty The Clown
A beloved entertainer and the vessel for The Simpsons' sharpest showbiz digs, Herschel "Krusty The Clown" Krustofski will never tire of reaping superior profits from inferior merchandise. Exacerbated by a gambling problem so bad, he once bet against the Harlem Globetrotters, Krusty's greed is his defining characteristic. But this clown has a heart (a heart that only functions because of a pacemaker, but a heart nonetheless), as seen whenever he's in close proximity to his father, the late Rabbi Hyman Krustofski. Beginning with season three's "Like Father, Like Clown," the complete approval of his father was the one thing Krusty couldn't acquire, though the end of that episode at least found the clown and the rabbi reconciled. Krusty's struggle with Hyman's higher calling later formed the basis for season 15's "Today I Am A Clown," while the more recent "Clown In The Dumps" brought Herschel-Hyman tensions to a head, as the rabbi's death left his son wondering if his father ever found him funny. It's a classic comedian's quandary, and one that lent great poignancy to the character: He could make the entire world laugh, but the only chuckle that meant a damn would've come from his old man. [Erik Adams]

6. Apu Nahasapeemapetilon
Few Simpsons characters traveled a rougher road to acceptance than Springfield's dutiful Kwik-E-Mart employee, seen for years as a racist caricature of Indian-American convenience store owners. Perhaps as compensation for that, Apu has also enjoyed one of the richest character journeys of any Springfield resident. Season five's "Homer And Apu" painted him as a consummate company man but also a deeply loyal friend who could take any number of bullets for the right reason, and season seven's "Much Apu About Nothing" displayed a true love for his adopted country even in the face of its blind contempt for him. Speaking of true love, Apu is also noteworthy for being part of the longest-running romantic relationship introduced after the show started, marrying his childhood-betrothed Manjula in the ninth season, fathering eight children with her, and remaining married to this day (despite the occasional dalliance with the Squishee delivery lady). He's also dabbled in the music world, with a brief stint as member of a Grammy-winning barbershop quartet and a friendship with Paul and Linda McCartney. Husband, father, patriot, devout Hindu, brushes with two Beatles—not a bad life for a guy who could once be summed up in a catchphrase: "Thank you, come again!" [Les Chappell]

7. Patty and Selma Bouvier
In the early episodes of The Simpsons, Marge's twin sisters Patty and Selma Bouvier existed in perfect symbiosis, a pair their brother-in-law called "the gruesome twosome": united in chain-smoking rasps and contempt for Homer, interchangeable except for surface details like hair, jewelry, and wardrobe. Beginning with season two's "Principal Charming," however, the characters began to forge distinct personalities, driven by Marge's observation of what differentiated them: "Patty chose celibacy, but Selma simply had it thrust upon her." Desiring a life beyond MacGyver reruns and the DMV, Selma openly propositioned the men of Springfield to serve as her baby daddy, married the likes of Sideshow Bob and Troy McClure, and eventually adopted a baby from China. This type of character development didn't pass Patty by: After years of hinting with comments like "There goes the last lingering thread of my heterosexuality," her choice of celibacy turned out to be a cloak for something deeper when she came out of the closet in season sixteen's "There's Something About Marrying." Most remarkably, the two have even been allowed to show affection for Homer at times, their recognition of his love for their sister just enough to earn their shared, reluctant acceptance. [Les Chappell]

8. Carl Carlson

For the first few seasons of The Simpsons, Homer's co-workers Lenny and Carl were more or less background characters, only slightly more distinguishable from barflies Sam and Larry. They eventually emerged as more grounded, seemingly less beleaguered employees of the Springfield Nuclear Power Plant, figures with distinctive speaking voices and roles in prominent storylines. (As seen in "Homer The Great," they were Stonecutters long before Homer weaseled his way into Springfield's most powerful fraternal organization.) As the show continued, they also gained silly last names (Leonard and Carlson, respectively), the occasional retcon (as of season 13's "The Blunder Years," they've known Homer since they were kids), and jokes about how they're always seen together.
All in all, one of the show's long-game pleasures has been the slow, steady accumulation of details about seemingly minor characters like Lenny and Carl. But in terms of character depth, Carl pulled ahead of his constant companion with the season 24 episode "The Saga Of Carl." In one of the best recent episodes of the show, Homer, Lenny, Carl, and Moe share a $200,000 lottery prize, which Carl takes to what turns out to be his home country: Iceland. Carl wanted to use the money to buy an ancient page of text that would clear the Carlson family of long-presumed cowardice, which he'd never revealed to his supposedly close friends. The episode turns out to be about how longtime friends, especially men, can relate to each other, whether or not that involves sharing intimate details about each other. "The Saga Of Carl" doesn't lean too hard on its meta resonance—chiefly the idea that Lenny and Carl can be meaningful parts of Homer's life while living their own lives in supporting-character obscurity—but it's there nonetheless. [Jesse Hassenger]

9. Nelson Muntz
In the season-one episode "Bart The General," Nelson Muntz was introduced in a simple role: Springfield Elementary's leading bully. But as supporting bullies Jimbo, Dolph, and Kearney came into prominence, owing perhaps to their height advantage and proximity to driving age, Nelson's menace receded, and he became more of an unpredictable addition to Bart's circle of friends and acquaintances. ("Well-wishers" would be too strong, as Nelson does sometimes wish Bart specific harm.) By season seven's "Bart On The Road," Nelson was one of the chosen few (along with Milhouse and Martin) who got to accompany an improbably licensed Bart on his spring-break road trip; in season eight's "Lisa's Date With Density" he showed just enough sensitivity to become a crush object for the eldest Simpson daughter, who tried in vain to further change Nelson. The episode's details about the character's home life—key under the mat, generally left to his own devices, "Nuke the Whales" poster—provide note-perfect establishment of his lower-class lot in life, adding unforced poignancy to his role as bully and troublemaker. Nelson would continue to oscillate between ally and adversary over the years (notably in season 18's "The Haw-Hawed Couple"), but the details of "Density" reverberated in a series of later-season jokes about him having a neglectful, sleazy mother and an absent father. These running gags had the strange effect of both deepening the character and, increasingly, provoking cheap laughter at his expense—a strange development for a character known first and foremost as a bully. [Jesse Hassenger]

10. Troy McClure

Unlike many of the Simpsons characters on this list, washed-up '70s film star Troy McClure (who you might remember from such films as The President's Neck Is Missing and The Erotic Adventures Of Hercules) did all of his growth in a single episode: season seven's brilliant "A Fish Called Selma." Originally little more than a excuse to get Phil Hartman to rattle off increasingly ludicrous film and TV show titles, the character is broadened immensely in "A Fish Called Selma," which brings the viewer into Troy's sad life. Everything about him is a reminder of past glories: the faded posters on his walls, the DeLorean he drives, and his "ultra-modern" aquarium-equipped home. The writers do a great job with the material, but the episode belongs to Hartman, who vocally hints at the decades of bitter failure hidden under Troy's chipper persona, allowing the neediness of the actor's other Simpsons roles to rise to the surface. He's never better than in the episode's final scene, in which Troy tries to keep his persona intact while wracked with fear and self-loathing at the prospect of getting intimate with his blushing bride. It's a wonderful humanization of a character who was conceived as a joke machine, and a pretty neat trick for an episode that features more than its fair share of jokes about a man having sex with fish. [William Hughes]

11. Barney Gumble
Homer Simpson is a drunken buffoon. But even drunken buffoons need someone to look down at, and for that, the creators of The Simpsons provided Homer with the brain-dead slobs at Moe's Tavern. Homer might not be husband or father of the year, but at least he has a family, which is more than can be said for Sam, Larry, or the constantly belching and endlessly inebriated Barney Gumble. But while the first two names in that list remain background players, The Simpsons has never shied away from showing Barney as a sensitive soul drowning in an ocean of booze. The first hint of his true capabilities was in season four's "Mr. Plow," in which Barney successfully steals his best friend's business idea (with some musical assistance from Linda Ronstadt). The episode also shows Barney before his first taste of beer (provided, of course, by Homer), an idea that was revisited in the following season's "Deep Space Homer," when a forcedly sober Barney proves himself Homer's better at every test NASA can provide. Despite his perpetual buzz, Barney has revealed himself to have an artist's soul, winning acclaim for his fine Irish tenor and work as a filmmaker creating haunting shorts.
Eventually, though, the boozehound hit rock bottom and bounced back toward sobriety, getting himself clean in season 11's "Days Of Wine And D'oh'ses" (co-written by Barney's voice actor, Dan Castellaneta). But the episode's conclusion, one of the darkest the show has ever mustered, shows that the real cause of Barney's problems isn't Duff Beer, but his highly addictive personality, as Moe successfully hooks his most lucrative customer on coffee in place of booze. The show has gone back and forth in recent years on Barney's sobriety, depending on what serves that week's jokes, but the basic point stands: Despite his origin as pitiable joke fodder, Barney Gumble is a better man than Homer Simpson on every measurable level—intellectually, artistically, and morally—if not for the addictions constantly dragging him down. [William Hughes]

12. Comic Book Guy
A fourth-wall-busting release valve for Simpsons writers, Comic Book Guy reached a new level of character development by merely receiving a full name: Jeff Albertson, a banal moniker specifically chosen to enrage IRL Comic Book Guys. But judging by the frequency with which the character's most indelible line—"Worst. Episode. Ever."—is bandied about the Internet, Comic Book Guy is an insult that's been refashioned into a tribute. In turn, the show's take on the character has softened, and he's been allowed to venture outside of his personal Fortress Of Solitude while retaining his sardonic wit ("Oh, a sarcasm detector. That's a really useful invention"), avarice ("That is a rare photo of Sean Connery signed by Roger Moore. It is worth $150."), and unyielding opinions ("But Aquaman, you cannot marry a woman without gills. You're from two different worlds!"). Season 12's "Worst Episode Ever" sees the ousted owner of The Android's Dungeon & Baseball Card Shop unable to find any companionship outside of the similarly sour Agnes Skinner, though his courtship with manga artist Kumiko Nakamura—depicted in the season 25 episode "Married To The Blob"—proves that you can find love in the pages of a comic book. The couple's climactic wedding even repurposes Comic Book Guy's catchphrase, in the promise that he'll mark each and every day with Kumiko as the "Best. Day. Ever." [Erik Adams]