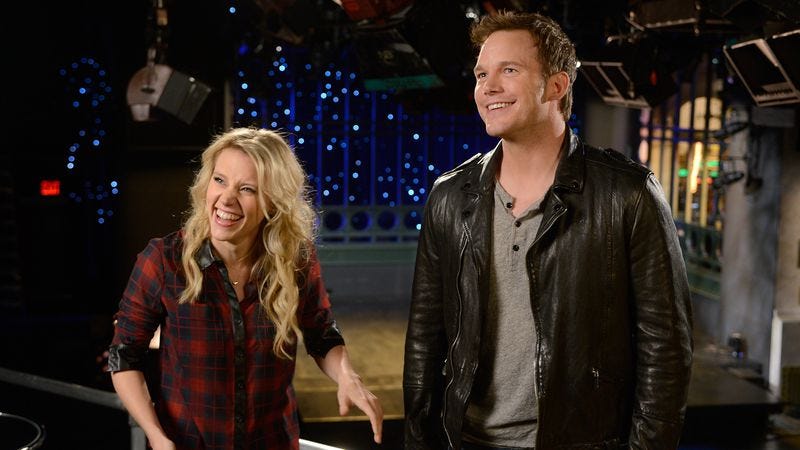 Here's what's up in the world of TV for Friday, September 26, and Saturday, September 27. All times are Eastern.
Top pick
Saturday Night Live (NBC, 11:30 p.m., Saturday): To celebrate the launch of its 40th season, Saturday Night Live is bringing in the big guns. Namely: Chris Pratt. Here's hoping the hosting debut of this perennial Internet favorite will be as delightful as that time he French braided an intern's hair. Or that other time he perfectly delivered Eminem's verse from "Forget About Dre." And with a human golden retriever as its host, it's only natural that SNL enlist human Bratz doll Arianna Grande as its musical guest. Returning alongside the show is TV Club reviewer Dennis Perkins. He'll report back on the debut of Michael Che on Weekend Update (taking over from Cecily Strong), the return/debut of Darrell Hammond as the show's announcer, and whatever tribute the show puts together for late announcer Don Pardo.
Also noted
Transparent (Amazon, 12 a.m., Friday): Although Amazon has three "pilot seasons" in the past year and change, it has yet to launch a massive hit like House Of Cards or Orange Is The New Black. Now the website's streaming service is hoping to leap firmly into the realm of prestige programming with Jeffrey Tambor's new show Transparent. Tambor plays a 70-year-old parent of three who is gender-transitioning from Mort to Maura Pfefferman. The pilot for the comedy-drama got a lot of notice when it premiered in February and the rest of the first season hits Amazon on Friday. Early reviews have been glowing so this is definitely one to binge watch; watch for Eric Thurm's reviews of episodes one and two on Monday afternoon.
Sweeney Todd In Concert (PBS, 9 p.m., Friday): Filmed live at Lincoln Center, Stephen Sondheim's iconic musical gets a brand new concert staging. Opera singer Bryn Terfel plays the titular role but we're more excited about Emma Thompson as Sweeney's scheming accomplice Mrs. Lovett. It's the kind of complex, funny, dark character Thompson was seemingly born to play (as rehearsal video can attest).
Outlander (Starz, 9 p.m., Saturday): After bursting onto the scene to great acclaim, the first half of Outlander's first season is finished quicker than Jamie on his wedding night. Kayla Kumari Upadhyaya doesn't know what she'll do without this show's focus on female sexual empowerment but be sure to check out her review of the fall finale for one last celebration, before the show returns next April.
Regular coverage
The Knick (Cinemax, 10 p.m., Friday)
Doctor Who (BBC America, 9 p.m., Saturday)
Elsewhere in TV Club
The A.V. Club staff share the fictional characters who sully their names in a new AVQ&A. Kyle Fowler offers a Primer on the wide world of World Wrestling Entertainment (aka WWE). Cameron Esposito shares her honest thoughts on street harassment. And John Teti's Block & Tackle examines the Fourth Down Bot and introduces his own Go For It Bot to help him preview the coming weekend of NFL football.
What else is on?
The Amazing Race (CBS, 8 p.m., Friday): The Amazing Race is back for an astonishing 25th season. Teams compete for a new element called "The Save" which they can use to rescue themselves from future elimination.
Shark Tank (ABC, 8 p.m., Friday): It's the sixth season premiere of this show that is sadly not a sitcom about sharks living in a tank but is instead a reality show about entrepreneurs pitching ideas to business sharks (who are not, in fact, real sharks).
Hawaii Five-0 (CBS, 9 p.m., Friday): Five-0 hunts a terrorist on O'ahu in the fifth season premiere of this show you forgot existed but that your mom loves.
CMT Crossroads (CMT, 10 p.m., Friday): Nope this isn't a county remake of the Britney Spears vehicle, Crossroads. It's a musical crossover concert featuring John Legend and Lee Ann Womack.
Midnight Masquerade (Hallmark, 9 p.m., Saturday): Midnight Masquerade! Paper faces on parade! Midnight Masquerade! Hide your face so the world will never find you!
48 Hours (CBS, 10 p.m., Saturday): The Amazing Race celebrating its 25th season would be a lot more impressive if this other CBS stalwart weren't about to start its 27th season on Saturday. The Amazing Race: always a bridesmaid, never a bride.
Scarface (TCM, 8p.m., Friday): Say hello to this 1932 gangster film from director Howard Hawks that would get an iconic remake in 1983 starring Al Pacino.
Hocus Pocus (Lifetime, 8 p.m., Friday): It's not even October yet and Halloween-fever is already sweeping the nation. This likely won't be the last time a What's On Tonight correspondent recommends this Bette Midler-helmed cult classic so prepare yourself.
Fast Five (Bravo, 8 p.m., Saturday): It's the Bravo premiere of the fifth entry in the Fast & Furious franchise starring Vin Diesel and the late Paul Walker. Or as we like to call it: 5 Fast 5 Furious.
MLS Soccer: Kansas City vs. New England (NBC Sports, 8 p.m., Friday): One small Midwestern city faces off against the entirety of New England? Hardly seems like a fair fight, if you ask us.
College Football: Missouri at South Carolina (ESPN, 7 p.m., Saturday): The Missouri Tigers take on the South Carolina Gamecocks. And while we know a gamecock is merely a type of rooster, that doesn't stop us from giggling like the immature school children we are.
In case you missed it
Scandal/How To Get Away With Murder: Joshua Alston and Kayla Kumari Upadhyaya kick off ABC's Shonda Rhimes-themed night with the return of Scandal and the debut of How To Get Away With Murder.