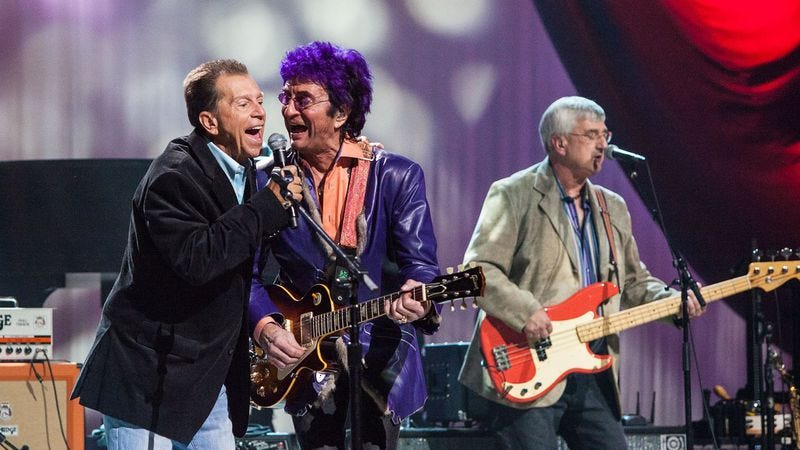 Here's what's up in the world of TV for Tuesday, August 30. All times are Eastern.
Top picks
Cornerstones Of Rock: A Soundstage Special (PBS, 8 p.m.): After last Tuesday's random flurry of premieres, the dog days of summer have reasserted themselves in a big way this week. With seemingly no one airing much of anything designed to make money tonight, let's turn to the good folks at our public television stations for some stuff to watch. First up, there's this 90-minute pledge event reuniting eight beloved garage bands from the '60s and '70s, including The Buckinghams, The Ides Of March, The American Breed, The Shadows Of Knight, The Standells, The Cryan' Shames, New Colony Six, and The McCoys. (Oh, and be sure to check your local listings, as we're not even 100 percent sure this is airing in all markets. Today really is peak August TV dead zone, everyone.)
The Land With Jerry Apps (PBS, 9:30 p.m.): Next up is this two-hour documentary, in which historian Jerry Apps "passes along lessons gleaned from listening to the land." Now, we're not exactly sure what that means. But this is PBS, so we're fairly confident it's classy and thoughtful as all-get-out.
WWE SmackDown Live (USA, 8 p.m.): Last week's episode was a damn near perfect two hours of wrestling-based storytelling, but the very best bit happened after the show went off the air, as Intercontinental Champion the Miz cut a promo for the ages on the WWE Network's post-show Talking Smack. It's anyone's guess just how tonight's episode is going to address all that, but LaToya Ferguson is on the scene to find out.
Premieres and finales
Facing (National Geographic, 9 p.m.): This new documentary series is designed to spotlight modern history's most larger-than-life characters, and what a lineup the show has in store for us. Tonight's premiere looks at Pablo Escobar, and then the show veers from the likes of Saddam Hussein and Vladimir Putin to Suge Knight and Arnold Schwarzenegger. Now that sounds like one hell of a five-person dinner party.
NASA's Unexplained Files (Science, 9 p.m.): Well, this sounds like a big old pile of bullshit, but we suppose it might be entertaining bullshit: "Evidence of alien technology around a distant star; photos of Pluto show that something may be moving across its surface; and Apollo astronauts see something they can't explain while approaching the moon."
Through The Wormhole With Morgan Freeman (Science, 10 p.m.): We remember Freeman coming on The Daily Show years ago to promote this show in which he dug into the universe's deepest mysteries. Tonight's season premiere shows just how much the show's brief has apparently expanded, as he's looking not at wormholes nor at potential ways through them, but instead at how terror networks operate and how they recruit people. Not what we expected this to be about, but certainly sounds like it's worth a watch.
Pretty Little Liars (Freeform, 8 p.m.): The show wraps up another summer season with what sounds like some combination of revenge killings being committed, secrets being uncovered, and someone going to Hades to speak with the blind prophet Tiresias (assuming this show rips off The Odyssey as much as we just naturally believe it does): "The ladies engage in an altercation against old foes that ends fatally. Meanwhile, one liar learns a secret about her past; and another gal makes a discovery about her future."
Dead Of Summer (Freeform, 9 p.m.): The first season wraps up as the surviving counsellors look to make it out of Camp Stillwater alive. We're not feeling great about their chances.
Regular coverage
Halt And Catch Fire (AMC, 10 p.m.)
Streaming pick
"Pie-lette," Pushing Daisies (CW Seed): After checking out this week's Halt And Catch Fire—not to mention Dennis Perkins' review of said episode—why not just keep the Lee Pace train rolling by revisiting his work on this much-loved, oh-so-whimsical series. It's either this or rewatching Guardians Of The Galaxy and debating who was most wasted under a pile of alien prosthetics: him, Christopher Eccleston in Thor: The Dark World, or Idris Elba in Star Trek Beyond. (For the record, it's absolutely Christopher Eccleston. But this is some seriously stiff competition.)