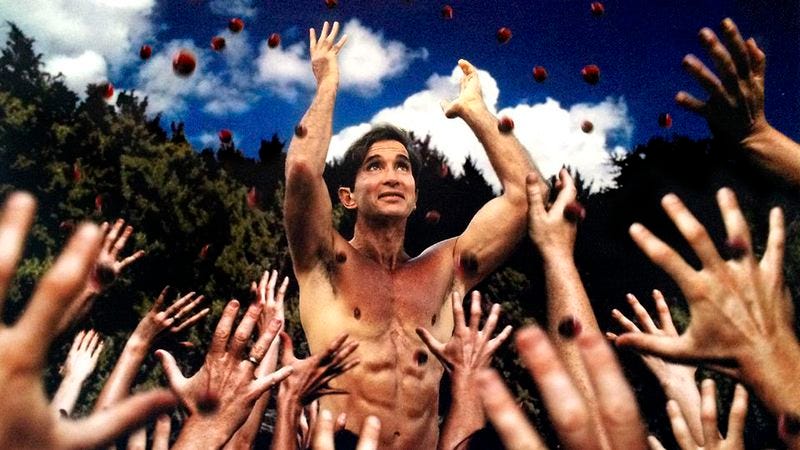 Here's what's up in the world of TV for Thursday, September 1. All times are Eastern.
Top picks
Steven Universe (Cartoon Network, 7 p.m.): In "Future Boy Zoltron," Steven becomes obsessed with a fortune-telling game at Funland. But when Zoltron—"the robot fortune teller from the future"—doesn't deliver the best predictions, Steven decides to take over the job himself. Funnily enough, "Future Boy Zoltron" was also Eric Thurm's nickname in college. But we won't tell you why.
RuPaul's Drag Race All Stars (Logo, 8 p.m.): Oliver Sava was already incredibly impressed with the way RuPaul's Drag Race All Stars retooled its format for the show's second season. Or as he puts it, "[The] changes make this season a different beast from what came before, but not in a way that detracts from the things fans love about the series." So follow along as he covers the redemption of Phi Phi O'Hara, the rediscovery of Tatiana, and the rise of Katya and Alaska.
Holy Hell (CNN, 9 p.m.): After spending 22 years in the Buddhafield cult, filmmaker Will Allen recounts his dramatic experiences in this new CNN documentary. Allen joined the group in 1985 at the age of 22 and wouldn't leave until 2007. During that time he worked closely with the cult's leader, "Michel," who is accused of sexually and psychologically abusing his followers, many of whom still reside alongside him in Hawaii. Holy Hell—which first debuted at Sundance where it was picked up by CNN—is composed largely of footage Allen shot while he was Buddhafield's official documentarian. And our own A.A. Dowd notes that the film has "an undeniable car-crash fascination."
Premieres and finales
BattleBots (ABC, 8 p.m.): The BattleBots revival wraps up with a two-hour finale that covers both the quarterfinals and the championship round. With a final shot at the "Giant Nut" on the line, those bots better be ready to leave every circuit on the floor.
Ground Zero Rising: Freedom Vs. Fear (CNBC, 10 p.m.): It's the 15th anniversary of 9/11 this year and CNBC kicks off what is sure to be a lot of memorial coverage with this special, which examines the rebirth of the World Trade Center.
Sex & Drugs & Rock & Roll (FX, 10 p.m.): It's time for the Sex & Drugs & Rock & Roll second-season finale. Johnny "tries a solo project" while Gigi "goes in a new direction." Does that mean she's going to reunite One Direction and join the group as their new lead singer? Alas, only in our fan fiction, Sex & Drugs & Larry Forever.
Fuck, That's Delicious (Viceland, 10 p.m.): "Infamous rapper" and classically trained chef Action Bronson returns for a second season of his culinary travel show, Fuck, That's Delicious. For those who don't remember, Bronson is the man who wrote a song called "Consensual Rape." But now he's more focused on "eating (and smoking) his way around the globe." Viceland bills the show as "a rare combination of rap, haute cuisine, fine wines and killer herb." In other words, it should effortlessly (and flavorfully) fill the void left by Sex & Drugs & Rock & Roll's season finale.
Jim & Chrissy (WE, 10 p.m.): Jim Jones (the rapper, not the deceased cult leader) and his wife Chrissy Lampkin kick off a new WE reality TV show with an episode centered on their wedding. But later "Jim gets caught at a strip club." Sounds like John Legend and Chrissy Teigen don't have to worry about getting knocked down the list of best J-and-Chrissy celebrity couples.
Streaming pick
Going Clear (HBO Go/HBO Now): As CNN brings cults back into the forefront with Holy Hell, now is the perfect time to revisit HBO's much-lauded documentary about Scientology. As Joshua Alston puts it in his review, "Going Clear is the most scorching, disturbing documentary in recent memory, not because [author Lawrence Wright and director Alex Gibney] smuggled agendas, but because the institutionalized cruelty and avarice alleged against the church of Scientology precludes pure objectivity." Sounds anything but "glib."