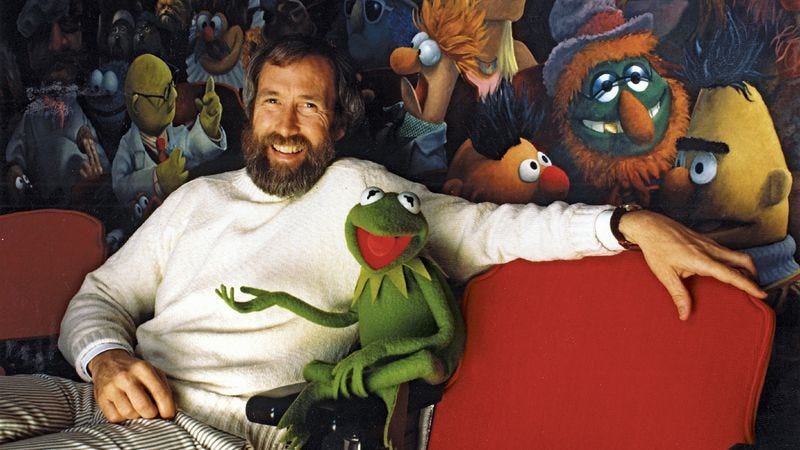 1. Shel Silverstein 
Our culture holds few things more sacred than the purity and innocence of children. Children's entertainers are consequently held to a much higher standard than performers who cater to adults. Much of the shock that greeted Paul Reubens' 1991 arrest for indecent exposure stemmed from the tragicomic gulf between the eminently presentable, clean-cut Pee-wee Herman beloved by children everywhere and the weird, creepy, all-too-fallible human being in the mug shot. But children's entertainers are just as human as everyone else, and some have embraced decidedly adult sidelines that contrast dramatically with their kiddie-approved oeuvre. Take Shel Silverstein, for example. Silverstein's whimsical books of poetry have proved a potent gateway to the art form for generations of children, but the same hands that drew the illustrations for timeless classics like The Giving Tree and Where The Sidewalk Ends also penned naughty Playboy cartoons, essays, and illustrated travelogues for decades. The penchant for rhyming verse that made Silverstein a kiddie icon also inspired irreverent country songs, for himself and others, that reflected the tenor of the times. And by "reflected the tenor of the times" we mean "are chockablock with pot references." With song titles like "The Smoke-Off" and "I Got Stoned And I Missed It," he wasn't exactly subtle with his drug innuendo, but Silverstein's primary contribution to country naughtiness was indirect: According to pop-culture legend, it was Silverstein, hero of children everywhere, who convinced buddy David Allen Coe that he should release his X-rated, "ironically" racist, and sexist outlaw songs on the underground market. And the world was much richer for it. 
2. Roald Dahl 
The great thing about writers like Roald Dahl is that they're on the shelf patiently waiting for readers at every stage of development. Kids can start around first grade with Dahl's youngest works, like The Twits and Esio Trot, or the kids' poetry books Revolting Rhymes and Dirty Beasts. Then they can eventually graduate up to slightly older fare, like Charlie And The Chocolate Factory, Matilda, and The Witches. For young teenagers, there are his accessible but slightly horrifying biographies, Going Solo and Boy; older teenagers will have a lot of fun with his extensive collection of sharp, smart, twist-ending short stories, collected in omnibuses like Tales Of The Unexpected. And whenever readers are ready, they can graduate up to his frank, ribald sexual comedies, like the novel-in-stories My Uncle Oswald or the collection Switch Bitch. The title story in the latter is about a carefully planned secret wife-swap, with two neighbors learning each other's sexual routines, then slipping into each other's beds for a night. That's par for the course in Dahl's adult fiction, which is playfully lurid, fairly sexually explicit, and just as cruelly funny as his material for kids.
3. J.K. Rowling
In the lead-up to the release of The Casual Vacancy, the first adult novel from Harry Potter mastermind J.K. Rowling, many pearls were clutched over the so-called "dirty bits" that spilled from the same pen responsible for the world's most beloved boy wizard. News outlets snickered and clucked over the reported presence of words like "nipple" and "shag"—not to mention the frank acknowledgement and semi-graphic depiction of sex—apparently unable, or unwilling, to process these elements outside of the all-ages context of Harry Potter. (Gawker went so far as to catalog every instance of said dirtiness, subbing in Harry Potter characters in the quotations from the book.) The reality of The Casual Vacancy is not half as bad as the gleefully scandalized reactions would indicate; the profanity is only exceptional when compared to Harry Potter—which The Casual Vacancy has precisely nothing in common with—and while the sexual bits are frank and awkward (and somewhat overwritten), they're about as titillating as the novel's prosaic plot, about the petty battle over a small-town local election. But since it's all but impossible to separate Rowling from her most famous creation, the moderate indecency of The Casual Vacancy is magnified—and ick-ified—through the distorting lens of Harry Potter.
4. Daniel Handler
Creativity can't always be divided into neat little categories. So it shouldn't be surprising that the qualities that distinguish the fare of beloved children's entertainers can also be found in their more adult-oriented projects. That's certainly true of a prodigiously talented renaissance man born Daniel Handler but better known to children everywhere as his pen name and alter ego, Lemony Snicket. The gothic dark humor and devastating wit that characterizes the bestsellers Handler writes as Snicket can also be found in outside projects like Watch Your Mouth, an adult novel he published under his own name, and Rick, a 2003 dark comedy of moral corruption starring Bill Pullman, who has always made for a better heel than hero and delivers one of his most memorable yet overlooked turns as a corporate schemer with a bank ledger for a soul and a black hole where his conscience should be. The strangely simpatico Watch Your Mouth and Rick are both heavily inspired by Handler's love of opera—Rick is loosely based on Rigoletto—and feature heavy intimations of incest that mark them as unmistakably adult fare, albeit adult fare filled with the malevolent wit of Handler's Lemony Snicket novels.
5. Jim Henson 
Jim Henson was already a legend of the children's entertainment field thanks to Sesame Street when a hip Canadian television producer named Lorne Michaels sought him out for a new, decidedly adult live sketch program he was creating. In its first season at least, Saturday Night Live had a distinct variety-show vibe: The show featured everything from stand-up to short films to musical performances and even magic and the occasional dance troupe. So there was a certain logic to including fantastical, albeit physically repulsive, puppets voiced and operated by Henson and his associates, in sketches set in the depressing fictional fantasy land "The Land Of Gorch." Alas, Jim Henson's puppets and the original incarnation of Saturday Night Live ended up being two great tastes that tasted dreadful together. Head writer Michael O'Donoghue famously refused to write for the Henson segments with his quip, "I don't write for felt," and the segment's dark humor and intentional grotesqueness was more off-putting and weird than transgressive or fun. The live audience for Saturday Night Live tolerated the segments at best; not surprisingly, Henson and SNL soon parted ways, and Henson went back to entertaining sweet, innocent, pure-hearted children instead of the belligerent stoners that were Saturday Night Live's original and most important audience.
6. Dr. Seuss
When Dr. Seuss signed on with Random House and legendary editor Bennett Cerff in the late 1930s, he insisted on being able to write an "adult" book before favoring the publishing house with his insanely lucrative children's books. Of course, the concept of "adult" is loose and flexible, especially in Seussian hands, and the resulting tome, The Seven Lady Godivas, earns the "adult" tag largely, if not exclusively, through the very public nudity of its seven title characters. The book is shot through with the whimsy and love of language endemic to Seuss' beloved children's books, but audiences were more confused than intrigued, and the book was one of the beloved  author's few flops, selling around a quarter of its modest first run. Seuss' oeuvre stands the test of time, but this mildly raunchy diversion has largely been forgotten.
7. Judy Blume
Like J.K Rowling, Judy Blume loomed large as one of the best known, most consistent, and popular brands in all of children's literature. So it caused a considerable stir in 1978 when Blume published Wifey, a novel whose cover heralds it as "an adult novel" above a mildly risqué image of a wedding ring hanging suggestively off the "y" in "Wifey." Blume's controversial foray into adult fiction concerns the marital and sexual woes of a frustrated and unfulfilled housewife who embarks on an affair with an old flame and comes to suspect her husband is cheating on her as well. On her website, Blume acknowledges the hubbub that erupted when she ventured into adult fare, conceding, "When Wifey was published some people thought I would never write another children's book, some thought I had written a real book at last, some were angry that I hadn't used a pseudonym, others that I even had such thoughts!" Such is the danger and the excitement when famed children's writers venture outside their comfort zone.
8. Steve Burns, Homicide: Life On The Street (1998) 
After spending 70-plus episodes playing second fiddle to a highly animated canine, Steve Burns stepped away from his long-running gig on Blue's Clues and into a recording career that earned a certain degree of notice as a result of its connections to The Flaming Lips. (Bassist Michael Ivins engineered Burns' debut album, Songs For Dustmites, which was produced by longtime Lips knob-twiddler David Fridmann.) Some time before solving his final puzzle with Blue, however, Burns had already begun working on his efforts to avoid future typecasting, quietly earning a guest role on Homicide: Life On The Street as David Tarnofski, an unpopular high-school student who extracts murderous revenge on a bullying basketball player. Aided immeasurably by his surreptitious decision to wear something other than a green rugby shirt to the audition, Burns managed to earn his role on the series without anyone putting two and two together about his day job, but as he revealed in an interview with Entertainment Weekly not long after the episode aired, "As soon as one person figured it out, it was crazy. I had to sign a lot of pictures." Although appearing on Homicide may have looked good on Burns' résumé, it did little to forward his efforts as a TV actor, as he hasn't appeared on another series since.
9. R.L. Stine
R.L. Stine has a media empire founded on giving kids the heebie-jeebies. Most famous for Goosebumps (which is the best-selling children's book series of all time), Stine also authored the Fear Street books, as well has a host of other novels about things that go bump in the night. Not content just to scare kids, Stine co-created the well-loved children's TV show Eureeka's Castle for Nickelodeon in 1989. But in the mid-'90s, Stine branched out into adult fare with Superstitious. The novel didn't reach the success of his books for children, but Stine has kept up his work aimed at older audiences, most recently with 2012's Red Rain. Stine's adult novels don't differ very much from typical entries in the Goosebumps series, though. Aside from a higher body count and more explicit gore, the only substantive difference between his work for kids and adults is page length.
10. Sid and Marty Krofft, Middle Age Crazy (1980)
After establishing a formidable back catalog of late-'60s and early-'70s Saturday morning favorites, producers Sid and Marty Krofft stepped away from creating such classics as H.R. Pufnstuf, Sigmund And The Sea Monsters, Lidsville, and Land Of The Lost and started easing their way into a different demographic. While all of their prime-time efforts weren't rapturously received—their variety showcases for Donny and Marie Osmond and Barbara Mandrell and the Mandrell Sisters found success, but The Brady Bunch Hour and Pink Lady And Jeff are awe-inspiringly bad—the brothers Krofft nonetheless decided to strike while the iron was at least still semi-hot and make their bid for big-screen success. Written by sitcom stalwart Carl Kleinschmitt (The Dick Van Dyke Show, M*A*S*H), Middle Age Crazy, which was inspired by a 1977 song by Jerry Lee Lewis, stars Bruce Dern as Bobby Lee Burnett, a man who turns 40 and mistakenly decides that fast cars and loose women are more likely to help him retain his youth than sticking with his pleasant but predictable life with his longtime wife, Sue Ann (Ann-Margret). Although its premise understandably resonated with fortysomethings, Middle Age Crazy earned only a lukewarm reception at the box office, sending the Kroffts back to small-screen family fare for the long haul.
11. Paul Reubens, post-Pee-wee 
It turns out there is an upside to being internationally humiliated for publicly masturbating in a porn theater after winning the hearts of millions of children as a rascally, bowtie-sporting child-man. When a gifted Groundlings veteran took his beloved character of Pee-wee Herman to film (Pee-wee's Big Adventure, Big Top Pee-wee) and television (Pee-wee's Playhouse), the character took over Reubens' life and career: He didn't play other roles or get interviewed out of character. Reubens understandably kept a low profile after his arrest in 1991, but eventually returned to playing the kind of unmistakably adult character-actor roles he might have played had the Pee-wee phenomenon never occurred. This was most notable in his role as a flamboyant hairdresser turned drug dealer in Ted Demme's ripped-from-the-headlines Goodfellas homage, Blow, and his role in the demented cop comedy Reno 911, which tapped into Reubens' improvisational roots by casting him as a leader in a Guardian Angels-like organization who has an inside track on crime because he commits so many of them himself. Acting in adult-oriented fare had to be liberating for Reubens, though less lucrative than the work that made him famous, which might explain why he has returned to Pee-wee in recent years for a well-loved Broadway show and special, as well as a pair of possible future film vehicles.