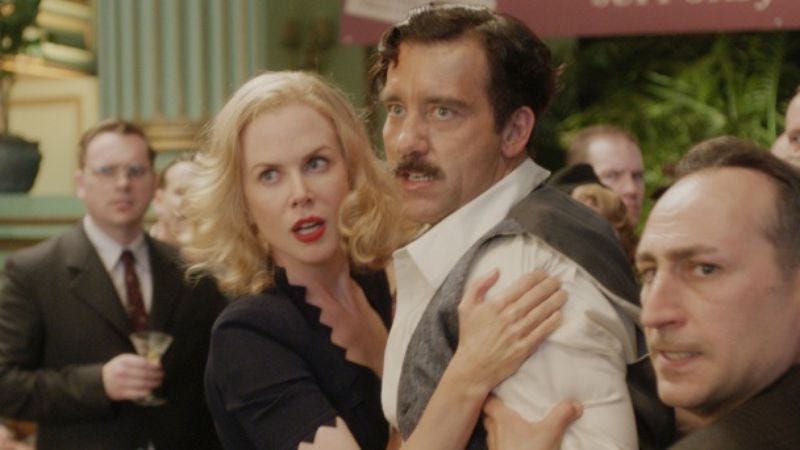 Here's what's up in the world of TV for Monday, May 28. All times are Eastern.
TOP PICK
Hemingway & Gellhorn (HBO, 9 p.m.): HBO looked at the made-for-TV movie and miniseries races at the Emmys, scratched its lengthy, flowing beard, and said, "Hey, we could probably do another one of those." Now, granted, this movie about Ernest Hemingway and his lover Martha Gellhorn starring Clive Owen and Nicole Kidman has been in the works for ages. But we prefer to imagine that the network gathered those two actors and director Phillip Kaufman over the course of a spare weekend or two, then set them up with a few sets it had laying around up in the Bay Area. Donna Bowman lets us know if it's any good.
---
REGULAR COVERAGE
Adventure Time (Cartoon Network, 7:30 p.m.): Who knows why Adventure Time took last week off, instead of this week, which is a national holiday? That crazy show moves by its own rules, and maybe Finn and Jake needed a day to mourn the passing of House. Oliver Sava sure did. Now, he's ready to go.
---
WHAT ELSE IS ON
Little House On The Prairie (Hallmark, 7 p.m.): Everybody's favorite cable channel to watch with their grandmother airs the seminal "The Lord Is My Shepherd" two-parter, in which Laura gets upset about the birth of a baby brother, kills it via divine intervention, then runs off to live with a mountain hermit.
Rags (Nickelodeon, 8 p.m.): A masked man performs at a party. A pop star uses his demo CD to find him, because somebody at Nickelodeon was, like, "How can we compete with HBO in the made-for-TV movie Emmy categories?" and somebody else snapped their fingers and said, "An update of Cinderella!"
Gene Simmons Family Jewels (A&E, 9 p.m.): The seventh—yes, seventh!—season of the show begins tonight, and while you're probably shocked that the show's been on that long, we're wondering what it's going to take to get the series to add a possessive apostrophe in its title. They're his jewels, A&E!
Hatfields & McCoys (History, 9 p.m.): Scott Von Doviak drops in on this new Western miniseries about the famously feuding families. It stars Kevin Costner and Bill Paxton, and if there's one thing those two guys are known for, it's always starring in projects that are quality product from top to bottom.
The Bridge On The River Kwai (TCM, 8 p.m.): This war movie classic isn't our favorite David Lean film, but if it's yours, we won't argue too strenuously. If you're an Alec Guinness fan but haven't seen him in the role that won him his Oscar, take tonight to watch the whole thing. You'll thank us for it tomorrow.
Swimfan (Lifetime Movie Network, 8 p.m.): Somehow, Erika Christensen was passed over for her amazing work as a… let's say… hyper-motivated stalker in this tale of high school romance and teenage psychopaths. This one doesn't get the love it deserves as a masterpiece of the terrible, terrible cinema.
NBA Eastern Conference Finals: Game 1: Boston at Miami (ESPN, 8:30 p.m.): The Spurs managed to hold the Thunder at bay in the first game of the Western Conference Finals, and now we get to see who will triumph between the aging Celtics and the much-hated Heat. Sigh. Too bad about the Bulls, huh?
---
IN CASE YOU MISSED IT
Veep (Sunday): It only seems appropriate on this national holiday to watch a show about the people who make our country run. Okay, it would make more sense to watch it on President's Day, granted, and even then, it's no Vice President's Day, but Meredith Blake would love your reads all the same.