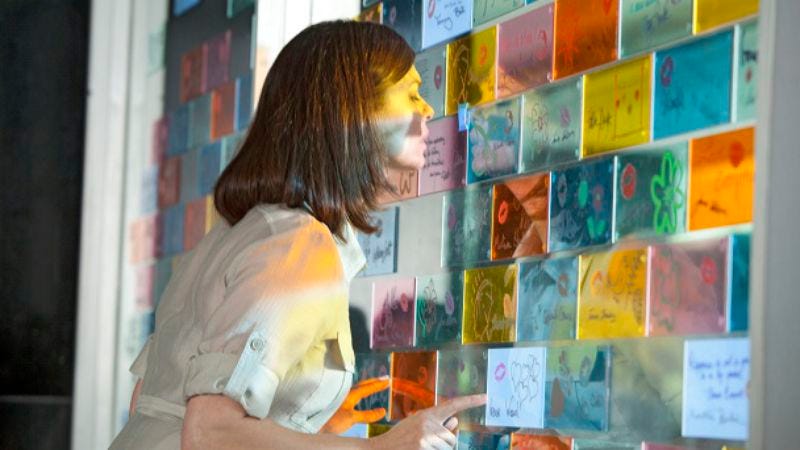 TV Reviews
All of our TV reviews in one convenient place.
"Charlotte"
The first of Five's bookend chapters is "Charlotte," about a day—July 20, 1969 to be specific—in the life of a little Southern girl whose relatives are being very hush-hush and won't let her into her mother's bedroom. Lifetime breaks out the good china for the opening, stuffing this house with so many familiar faces it's like the New Year's Eve trailer. There's Patricia Clarkson in All The Real Girls mode, Josh Holloway as sensitive as a Don Draper era dad can be, Jennifer Morrisson at her most likable (which is to say, her most upfront about how ugly her character can be), the list goes on. But the star is young Ava Acres, who is as masterful wandering around in her own world as she is having a heart-to-heart with her mother. And she brings the laughs with her spitfire side: "Come on, Bernice. I don't have all day," she childishly mumbles to her nanny, visiting from The Help, like the future ex-Disney Channel reality show contestant she is.
Demi Moore's dedication to shooting from young Pearl's perspective helps a little to lighten what could be a very melancholy, sentimental two hours. Not just the low shots that cut off all the grown-ups in the room but the way she wanders in and out of whispered conversations and catches only glimpses of disconcerting data, like the arrival of a priest. The problem is that perspective evaporates entirely with the intrusion of that cloying Lifetime piano that lets us know things are not all right, because we couldn't tell. If we're with the kid, and the kid's exploring her imagination, why not play with levity, score like it's not a Big Cancer Movie and is just another day, play with dramatic irony? I mean, they could land on the moon or something, and Pearl wouldn't notice.
"Charlotte" grade: C+
"Mia"
"Mia," on the other hand, is an exuberantly weird short. The timeline goes backward, with whimsically approximate chirons ("Like 11 months ago") so as to pull the rug out from under us with an ominously exact one at the end. The first few scenes are a reverse rom-com, only without a lot of com, between a commanding Patricia Clarkson and everyone's favorite Emmy winner Tony Shalhoub. Their meet-cute would only happen in movies, just like the Sherlock Holmes way with which she sums him up based solely on details of his appearance. But then we get to know them, and Jennifer Aniston's camera pushes in with precision, and once we're sucked in, on to the next scene, before she had ever met Shalhoub.
There's a fake funeral, good news at the doctor's office, and a divorce thrown in, too, and for the final shot, Aniston pushes from the wedding to the distant skyline of Los Angeles, holds for a time-lapse, pans to the night sky, and waits for a shooting star. It's so far past Thomas Kinkade that Lisa Frank just got the inspiration for a new line of Trapper Keepers. But it's so weird you can't help but love it: "Mia" may not depict reality, but it certainly contains it. Like so much, the fake funeral is an enormous eye-roll at first. Then Patricia Clarkson galvanizes it to make a reverse-amends the most compelling sequence of the night. That's when you notice the running thread of Five: It's all about the little things.
"Mia" grade: B
"Cheyanne"
You don't expect much from the director of Black Sheep and The Little Rascals, but if Jennifer Aniston can get that strange, who knows what to expect? If Penelope Spheeris' "Cheyanne" isn't especially remarkable, at least it takes an unusual approach, focusing primarily on a man, Taylor Kinney, the beefy young husband who finds a lump in his stripper wife's breast. It's a gambit, not least because Kinney has some quasi-subplot about making Steve from Sex And The City pay back his gambling debts or something, but in the leviathan that is Five, all the worried loved one plots find a sympathetic expression here.
That's not to ignore Lyndsy Fonseca, who, like Kinney, is exceptional at finding the scared kid underneath the angry, vain, and stubborn victim. Once we're past all the gambling metaphors—you've got to roll the dice on treatment, hit on this hand then stay, so you can go all-in and double down on life!—Kinney and Fonseca have some touching moments. Kinney's heartwarming surprise isn't so much a grand gesture as it is the least he could do, but that's what this is all about: the little, daily facts of life with cancer. And Fonseca's return volley is overwhelming, not least because I wasn't sure how far Lifetime would go. There may not be much to love here—a fair amount to like, though—but kudos for showing the effects of cancer.
"Cheyanne" grade: B-
"Lili"
I feel like there's a sports metaphor for this, but anyway, Five saved its best for fourth. "Lili" follows Rosario Dawson as a working woman whose family are all up in her business. After a smart reversal surprise by writer Jill Gordon, Lili's mother goes from 10 to 11: "I'm calling Michelle. She knows the big cancer doctor Oprah's been talking about." What's most impressive about "Lili" is how sensible the direction is, courtesy of Alicia Keys. Scenes tend to start in closeup and pull back, if you catch her drift. When conflict heats up, the camera gets a little anxious. Cliches are restrained, low angles exaggerate Lili's stress, cuts delicately interrupt expressions, and—whaddyaknow—humor, honest to goodness jokes fill out the life Rosario Dawson refuses to put on hold. Nothing's working harder in this entire anthology than the post-fight quip (and accompanying disgusted gesture) from Tracee Ellis Ross, "My husband has that fungus again."
Five is full of educational material, most explicitly in the consultation scenes but also in the general procedural moments illustrating what life with cancer is like for certain people, to which Lili adds Jeffrey Tambor as a male breast cancer patient. Jill Gordon saddles him with State the Theme dialogue, but she wisely doesn't let that magically resolve the issues, and by the end, we get the 50/50-style reunion we've been rooting for.
"Lili" grade: A-
"Pearl"
Finally, "Pearl" returns to that precious little brat from "Charlotte," now living in the host body of Jeanne Tripplehorn's doctor. Tripplehorn recurs throughout the other shorts as the doctor, but now it turns out she is the daughter of sister-wife Ginnifer Goodwin, from whom she inherited a breast cancer gene and a necklace she pried from the cold grasp of Jennifer Morrison. But this time, instead of a kid trying to connect with her mother, we have a mother trying to connect with her kid.
With momentary exceptions, "Pearl" is the least of the shorts. Incidentally, Patty Jenkins directed a great Arrested Development ("The One Where They Build A House"), a couple Entourages, and the pilot of The Killing, so add one more to the mixed bag. It opens with this voice-over identifying all the people outside the hospital that have cancer like some morbid version of Love, Actually. "Disease, actually, is all around." Thanks for the pick-me-up, Soderbergh. Meanwhile the Lifetime house band butts in. Oh, somber piano, you always know just how we're supposed to feel. But we close on the most memorable visual in the anthology, a colorful, optimistic expression that's staring at you over its glasses in case you're still thinking about postponing your mammogram.
"Pearl" grade: C+
Five grade: B-