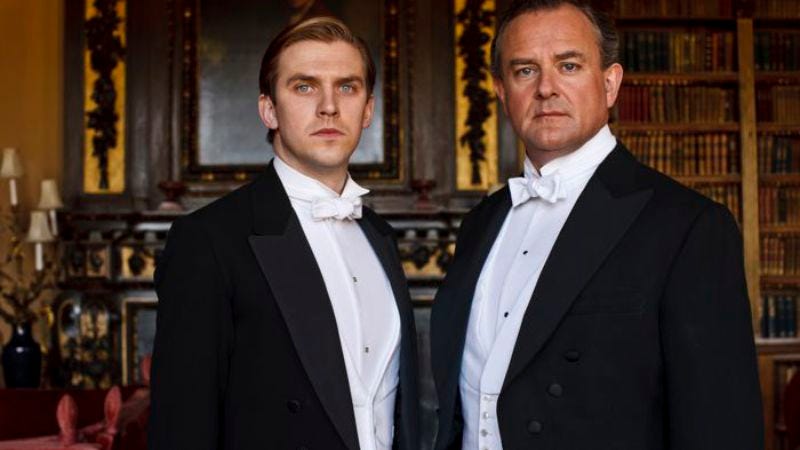 Here's what's up in the world of TV for Sunday, Jan. 8. All times are Eastern.
TOP PICK
Downton Abbey (PBS, 9 p.m.): All right, you bastards. You asked for it, and you got it. Meredith Blake is on her way with coverage of the second series of this smash hit British show about the lives and loves of both the upstairs and the downstairs folk in a big ol' house right around World War I (or thereabouts). There have been some, ahem, grumbles about this series (Christmas special aside) from those of you who've seen it, but let's try to keep those to a minimum, since there are some of us who have waited politely for PBS to air the damn thing. For a big night of TV debuts, this might be the biggest.
---
REGULAR COVERAGE
Once Upon A Time (ABC, 8 p.m.): Ah, a Rumplestiltskin fairyback! At the very least, this will give us the requisite amount of Robert Carlyle chewing on scenery, as recommended for us in our daily diet by the good doctor, Oliver Sava.
The Simpsons (Fox, 8 p.m.): The Simpsons occasionally does brilliant stuff when it tries political satire, and it occasionally does the most obvious things possible. This talk radio parody sounds like the latter. Hayden Childs reports; you decide.
Family Guy (Fox, 9 p.m.): Just the title of this one—"Quagmire And Meg"—is giving us the heebie-jeebies. We're hopeful that Kevin McFarland can watch the thing without having to scrub himself with steel wool afterward, but no guarantees.
The Good Wife (CBS, 9 p.m.): F. Murray Abraham pops up again in an episode where a divorced couple brings suit against the firm that oversaw their marriage's dissolution—Lockhart/Gardner, of course. David Sims alienates your affection.
Leverage (TNT, 9 p.m.): Every case-of-the-week show has to stage a fake hostage crisis at one point or another if it wants to be one of the cool kids, and Leverage offers what will hopefully be a fun twist on the scenario. Phil Nugent has doubts.
Shameless (Showtime, 9 p.m.): This dramedy had its bumpy patches in season one, but it returns strong in season two. Plus, it's now set in summer, instead of dreary winter, so escapism! Joshua Alston returns for another year of Gallagher fun.
American Dad (Fox, 9:30 p.m.): Have they really not done the "Steve tries to be a superhero to impress his dad" plot before this? If not, we're impressed they waited this long to do so. Rowan Kaiser is just happy to have his favorite Smiths back.
Angry Boys (HBO, 10 p.m.): The next two episodes of the Australian comedy air, and Claire Zulkey looks forward to meeting more of Chris Lilley's weird creations. Well, we assume she does, since she wanted to review this one. But we don't know.
Hell On Wheels (AMC, 10 p.m.): This one's called "Timshel," and that put us in mind of all of our favorite episodes named "Timshel" in TV history. Our favorite was probably the Sanford And Son episode of that name. Phil Nugent picks Family Ties.
House Of Lies (Showtime, 10 p.m.): Rowan Kaiser and Erik Adams drop in for this new Showtime series which… has its problems. But with a cast this good, won't all involved figure it out at some point? Oh, the creator also created Dirt? Yeesh.
Pan Am (ABC, 10 p.m.): Oh, this show is still on? Apparently so, if Erik Adams' already filed review of it is to be believed. But treasure this one, Pan Am fans. You've only got, like, two or three episodes left before everybody crashes and burns.
Californication (Showtime, 10:30 p.m.): We resisted adding this one, since we have a famously contentious relationship with the show. But you guys read our occasional reviews last year, and Kenny Herzog was game, so here you go.
---
TV CLUB CLASSIC
Doctor Who (Classic) (11 a.m.): Attention Who-heads: Chris Bahn is going to take you through his grand theory of the seven years Tom Baker spent on the show, including his thoughts on how the Baker period splits into three distinct eras.
The Critic (3 p.m.): Meanwhile, Nathan Rabin takes you through a show that has gags he says have stuck with him for decades, gags that are unique and weird and unlike anything he's seen since. Don't believe him? Well, you're dumb. He said so.
---
WHAT ELSE IS ON?
JIG (TLC, 8 p.m.): We know you've been waiting for this doc about the Irish Dancing World Championships. We know this because a.) we know you and b.) when you signed up to comment here, we got access to your DVR queue. Don't try anything.
The Firm (NBC, 9 p.m.): Todd VanDerWerff scratches his head at one of the most bizarre programming decisions in recent TV history, as NBC decides it's just the time for a sequel to a 19-year-old film that's set 10 years after the film… in 2012.
Absolutely Fabulous 20th Anniversary Special (BBC America, 10 p.m.): It's a good night for Meredith Blake and the British, as she'll also be covering the first installment of this reunion of Edina and Patsy, 20 years after their first adventures.
Cajun Pawn Stars (History, 10 p.m.): At some point, everybody in cable decided the best way to spin off their big reality hits was to make essentially the same show set in a different geographical location. To be fair, CBS has been doing this for years.
The King's Speech (Showtime, 7 p.m.): Oscar season is heating up, and what better way to celebrate than by reminding you that this thoroughly okay movie won Best Picture last year over several more deserving candidates. Never forget!
Capote (Flix, 8:05 p.m.): Perhaps thinking that there was no way anyone would click on the Capote listing at TVGuide.com, the site's listings contain what appears to be a message from 2006 from Matt Roush. We're serious! Here's a screencap!
NFL Playoffs: Falcons at Giants/Steelers at Broncos (Fox, 1 p.m./CBS, 4:30 p.m.): As we write this, the Texans have beaten the Bengals, and the Lions lead the Saints. Meanwhile, the Steelers have to travel to Denver because the NFL is dumb.
---
IN CASE YOU MISSED IT
The Increasingly Poor Decisions Of Todd Margaret (Friday): Simon Abrams checks out the second season debut of this comedy, and you can also see what David Cross says about how this is the last season in our Random Roles with him.