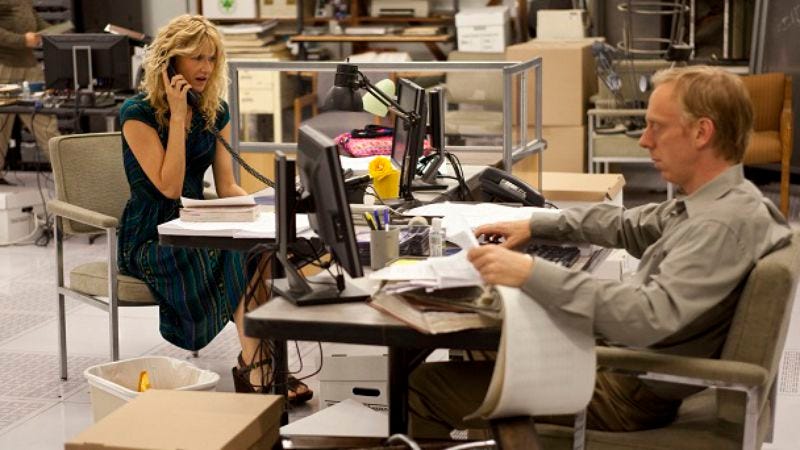 Here's what's up in the world of TV for Monday, Dec. 12. All times are Eastern.
TOP PICK
Enlightened (HBO, 9:30 p.m.): We really like this show, so we'd be making it the top pick for its season finale regardless, but, good God, is tonight's schedule light. We know the holidays are coming up and everything, but we've spent much of the last day hugging our TVs and weeping, saying, "Nooooo! TV! Don't go away from us!" TV doesn't say anything back, because it's a cruel taskmaster. Erik Adams is going to have to break up with his Zenith, and he's pretty sad about it.
---
REGULAR COVERAGE
2 Broke Girls (CBS, 8 p.m.): CBS gives the show a shot in the 8 p.m. timeslot, as How I Met Your Mother takes the week off, just to see if its ratings will hold up. Todd VanDerWerff's ratings will hold up regardless. If you know what we mean. (We mean he has balloons for sale.)
Terra Nova (Fox, 8 p.m.): This show's taking off after next week's two-hour (yes, two-hour!) finale, so here's the episode setting all of that up, as war comes to Terra Nova at long last. Rowan Kaiser is rooting for the dinosaurs to eat everybody.
---
TV CLUB CLASSIC
Scrubs (11 a.m.): Myles McNutt gets a stealth TV Club Advent Calendar entry, as he covers the show's first-season Christmas episode, which deals with the characters' various faiths. That's what A Very A.V. Club Christmas is about, too.
Justice League (1 p.m.): Here's an episode featuring Gorilla Grodd, which almost gets our Detective Chimp motors running but not quite. Oliver Sava promises to offer you at least 15,000 words on the inherent sadness of the Grodd.
---
TV CLUB ADVENT CALENDAR
Thirtysomething "The Mike Van Dyke Show" (Sunday): Todd VanDerWerff checks out an episode of the show that uses old sitcoms to examine the ways we feel about the holidays and about life itself. Sounds pretentious, but it's not!
---
WHAT ELSE IS ON?
Fear Factor (NBC, 8 p.m.): America wasn't exactly crying out for the return of this one, but NBC didn't know what else to do, so here are two full hours of the thing. Now, you can pretend it's 2002 when you're refusing to leave your apartment!
Battle Of The Nutcrackers (Ovation, 8 p.m.): We don't even know what "Ovation" is, but if it's airing a special about people taking nut shots at each other, we'll… oh… it's five straight days of The Nutcracker, performed by different groups? Never mind.
Two And A Half Men (CBS, 9 p.m.): Mimi Rogers turns up as Ashton Kutcher's mother, and Jon Cryer takes a shine to her. There are all sorts of creepy jokes we could make about this whole situation, but we think we'll just let you go right ahead.
Anthony Bourdain: No Reservations (Travel, 10 p.m.): The host spends the holidays in a New York City hotel, which sounds like something we'd enjoy doing. Bring us along next time, Anthony Bourdain! We'll leave everything for you!
A Christmas Carol (1951)/Oliver Twist (1948) (TCM, 8 p.m.): TCM offers two terrific Dickens adaptations in a row. The first is the best Scrooge committed to celluloid, played by Alastair Sim. The second is David Lean's take on the classic.
White Christmas (AMC, 8 p.m.): This one's not as good as its reputation would have you believe (Holiday Inn is better), but, hey, if you're looking for musical Christmas cheer tonight or are your own grandmother, you could do a lot worse.
Monday Night Football: Rams at Seahawks (ESPN, 8:30 p.m.): How many, "ESPN is getting pissed about how all of the games it airs are meaningless" jokes can we make? Well, how many weeks are left in the season? That many jokes. That many.
---
IN CASE YOU MISSED IT
The Simpsons (Sunday): Hayden Childs gave this flash-forward episode of The Simpsons—which came complete with some genuinely moving little moments—an A. Go check out his review, then tell him how he's wrong in comments.