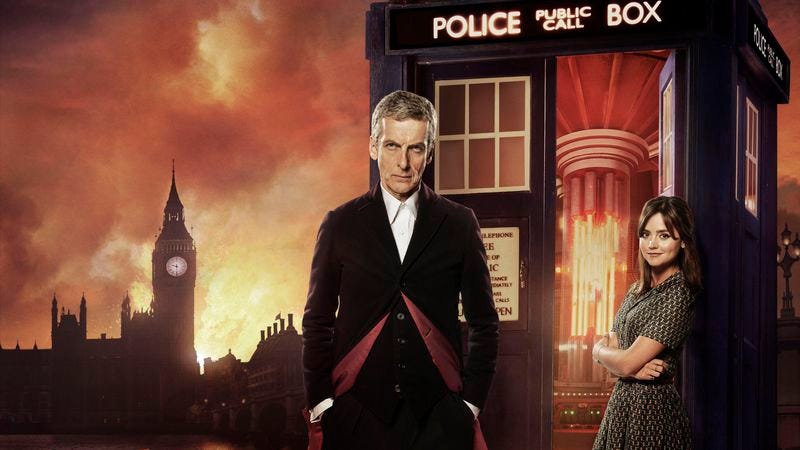 Here's what's up in the world of TV for Friday, August 22, and Saturday, August 23. All times are Eastern.
Top pick
Doctor Who (BBC America, 8:15 p.m., Saturday): It's been eight months since the world's favorite madman in a blue box graced TV screens. Now the Doctor is back with a new face and voice courtesy of Scottish thespian Peter Capaldi. After a few brief cameos, Capaldi's 12th Doctor gets his first full-time adventure in the eighth season premiere, "Deep Breath." A T-rex rampages Victorian London and the Doctor deals with his normal post-regeneration existential angst. As often happens when a new Doctor is introduced, showrunner Steven Moffat has promised a new direction for the series with the term "darker" being thrown around at every available opportunity. Alasdair Wilkins is less concerned about the show's tone and mostly just curious to see if Capaldi can pull off that nightgown he's sporting in much of the episode's trailer.
ALSO NOTED
BoJack Horsemen (Netflix, 12 a.m., Friday): Netflix tries to get a foothold in the world of adult animation with this new series featuring the voice talents of Will Arnett, Aaron Paul, Alison Brie, Paul F. Tompkins, and Amy Sedaris. In his TV Review, Erik Adams found the showbiz satire lacking in bite, despite that fact that its protagonists are human/animal hybrids.
Intruders (BBC America, 10 p.m., Saturday): This spooky new BBC America show is a twisty-turny mystery that's high on suspense and light on answers. Created by former X-Files writer Glen Morgan, Intruders is part body-snatcher horror/part detective drama. It's a riddle wrapped in a mystery, inside an enigma with a conundrum on top for good measure.
The Legend Of Korra (Nick.com, 12 p.m., Friday): Considering "penultimate" is one of The A.V. Club's favorite words, we would be remiss if we didn't mention that The Legend Of Korra's penultimate episode debuts on Nick.com this Friday. However, we would also be remiss if we didn't mention that the final episode debuts right alongside it! Oliver Sava can't believe this is his last chance to tell you how great this season is.

REGULAR COVERAGE
The Knick (Cinemax, 10 p.m., Friday)
Outlander (Starz, 9 p.m., Saturday)
TV CLUB CLASSIC
Babylon 5 (11 a.m., Friday): Never one to rest on his laurels, Rowan Kaiser looks at three episodes of Babylon 5's fifth season, plus the TV movie A Call To Arms. Get ready for some Drakh chat.
Blackadder (3 p.m., Friday): Last week we were so excited to read Kate Kulzick's thoughts on Blackadder's fourth season that we forgot all about the post-season three Christmas special! So this week Kate goes once more unto the breach as Blackadder tackles the Great War.
The Twilight Zone (1 p.m., Saturday): One of this week's Twilight Zone episodes started out as a French short film. Zack Handlen has his beret, brie, and haughty disdain at the ready.
ELSEWHERE IN TV CLUB
Rectify ended its second season last night and Erik Adams got a chance to chat with creator/producer Ray McKinnon. Asked about the show's ambiguity, McKinnon says: "I think one of the reasons that storytelling became part of the human experience is we're always trying to make sense of a world that sometimes doesn't make sense. And storytellers can do that for us—but there's also the idea that, as in real life, things don't always become completely known. And maybe that's a part of where we'll wind up with the story. I'm not sure yet."
Elsewhere: Our staff wraps up 1994 week with a new AVQ&A on the '94 pop culture events they want to experience for the first time; Gwen Ihnat examines Peter Bagge's comic book Hate; and Mike D'Angelo takes the Scenic Route with Peter Jackson's Heavenly Creatures. Plus on Saturday our weekly Staff Picks include a beloved Nickelodeon cartoon finally making its way to DVD.
WHAT ELSE IS ON?
Paw Patrol (Nick, 11:30 a.m., Friday): The celebrity puppies of this Nickelodeon cartoon save penguins and a baby dolphin in this second season premiere. That sounds all kinds of adorable.
Great Performances: Vienna Philharmonic Summer Concert (PBS, 9 p.m., Friday): Enjoy the ambiance of an open-air concert without the bugs, weather, and long bathroom lines of the real thing.
Please Like Me (Pivot, 10:30 p.m., Friday): It's surprisingly difficult to find episode descriptions for this show, but we can confirm that the third entry is called "Parmigana" and we can speculate that it involves Italian cuisine.
Airplane Repo (Discovery, 10 p.m., Friday): In this show's third season premiere a fighter jet gets repossessed. Hopefully there were no motherfucking snakes on that motherfucking plane.
Doctor Who Pre/Post Show (BBC America, 8/11 p.m., Saturday): Nerdist overlord/frequent talk show host Chris Hardwick offers both pre and post show thoughts on the return of Doctor Who. He'll likely be giving away "SONIC POINTS!" (which unfortunately don't work on wood).
#PopFan (Lifetime, 8 p.m., Saturday): A pop star is rescued/kidnapped by a crazed stalker who takes her to a secluded lighthouse. We're #Excited.
Shutter Island (Bravo, 8 p.m., Friday): Shutter Island? I hardly even know her island!
Roman Holiday (TCM, 8 p.m., Friday): Audrey Hepburn and Gregory Peck star in one of the best romantic comedies of all time. She's a princess playing hooky and he's an undercover reporter trying to get a scoop. Haircuts, vespa rides, and boat fights ensue.
Bridesmaids (USA, 7 p.m., Saturday): Watch this 2011 raunchy comedy on cable TV where it comes with 75% less raunch!
NFL Preseason: Raiders at Packers (CBS, 8 p.m., Friday): Pair this preseason Raiders/Packers matchup with pre-nachos and pre-beer.
NASCAR Racing: Sprint Cup (ABC, 7:30 p.m., Saturday): Drivers in the Bristol, Tennessee night race at the Motor Speedway cover 500 15-second laps at an average speed of 85 miles per hour. Fans consistently vote this the best event of the NASCAR Sprint Cup series, so if you only watch one car race this summer, make it this one.
IN CASE YOU MISSED IT
Rectify: Erik Adams rounds out his coverage of Rectify's second season with a finale that's slightly "Unhinged."