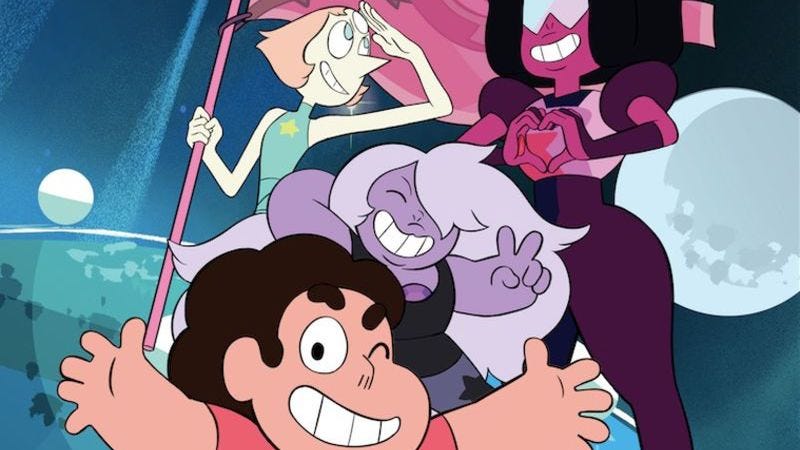 Here's what's up in the world of TV for Monday, January 4. All times are Eastern.
Top pick
Steven Universe (Cartoon Network, 5:30 p.m.): StevenBomb! That's right—Steven Universe is back, and it's back with another week of all new episodes (and all new reasons to cry over a "children's" show). Steven Universe is back in 2016, and first up is "The Answer," in which "Garnet reveals how she became a Crystal gem." And in case you want a reminder of how we last left things in the Steven Universe… universe, "The Answer" is followed by last October's A-grade "Too Far." Our resident Steven Universe reviewer Eric Thurm pointed out how "ridiculously well-defined" the Gems had become by that point in the series, so we're certain that "The Answer" is only going to build on that. And also make us cry.
Also noted
The Bachelor / Bachelor Live (ABC, 8 / 10 p.m.): The Bachelor is back for its 20th season, and this year's Bachelor—Ben Higgins, still not Chris O'Donnell—is allegedly "back by popular demand." In fact, in ABC's attempts to sell this guy as a catch, all we can hear is a sad trombone as we read the press release: "America was hooked the second Ben Higgins, the handsome and charming small-town guy from Warsaw, Indiana, stepped out of the limo to greet last season's Bachelorette Kaitlyn Bristowe. Now, as he tries to shed his self-described moniker of being 'unlovable' and put his heartbreak behind him, he is ready to give love a second chance with 28 beautiful women. Ben, the perfect '10,' hopes to find his soul mate, the woman who can share the love and support he felt growing up in a close-knit community, and make her his wife." Yeah, the "unlovable" perfect "10;" those apparently exist.
Superhuman (Fox, 8 p.m.): What is Superhuman? And why is Kal Penn hosting it? (With judges Mike Tyson, Mary Lynn Rajskub, and Dr. Rahul Jandial?) "This jaw-dropping special will test the abilities of 12 ordinary people to use their extraordinary skills to win a $100,000 grand prize. Each of the contestants possesses a distinct, nearly super-human ability in fields such as memory, hearing, taste, touch, smell and sight." We're not telling anyone how to live their lives, but $100,000 sounds cheap as heck for superhuman displays of ability. We're just saying. As for the Kal Penn thing, we can't answer that either. (Is Mary Lynn Rajskub considered the Mike Tyson of acting? Because that's what we get from that judge choice…)
Superstore (NBC, 8 p.m.): Superstore's fourth episode is titled "Mannequin," so prepare yourself for the shot-for-shot remake of the '80s cinematic nightmare known as Mannequin. It honestly writes itself: Ben Feldman is Andrew McCarthy; America Ferrera is Kim Cattrall; Colton Dunn is Hollywood. And simply based on who's left, we guess that Lauren Ash is the poor girlfriend who simply wants her boyfriend not to be sleeping with a mannequin and gets punished for that by having to sleep with the movie's obligatory '80s date rapist. Or is Lauren actually Kim Cattrall, thus making America is the "evil" girlfriend?
Telenovela (NBC, 8:30 p.m.): No mannequins, no dice. Sorry, Telenovela. Just kidding. For now. Like Superstore, this is the "official" premiere of Telenovela on NBC. "The cast members fear that a ghost is haunting the soundstage," which actually makes us think that maybe there is some sort of Mannequin action in Telenovela (because it couldn't possibly be an actual ghost). In that case, we're sorry that we doubted you, Telenovela.
The Biggest Loser (NBC, 9 p.m.): "THE BIGGEST LOSER RETURNS WITH A NEW HOST, THEME, GYM, LOGO, AND FORMAT, AND EIGHT COMPELLING CONTESTANT TEAMS OF TWO" That definitely requires all caps! Yes, the 17th season of The Biggest Loser is getting its "Temptation" on, and sadly, that doesn't mean this is a reboot of Temptation Island. (You know how Temptation Island fans love to talk about how much they loved Temptation Island.) But the season premiere is titled "Money Hungry," and based on the entire show and our knowledge of reality shows gained from Burning Love, we we'd say that sounds about right.
The Breaks (VH1, 9 p.m.): Hate 2016 already? Then why not travel back in time to 1990? New York City in 1990, more specifically, as that's where VH1's newest original movie The Breaks takes place. Based on Dan Charnas' hip hop history book The Big Payback, The Breaks is all about "three friends united by their love of hip-hop, as they work to make their big mark in the music industry. The film will travel viewers back to the summer of 1990 in New York City where the music industry's artists and hustlers intersect in the dance clubs and the street corners of the still crime-ridden city." Sounds like a light Monday night viewing to us.
Regular coverage
Supergirl (CBS, 8 p.m.)
WWE Monday Night RAW (USA, 8 p.m.)
Elsewhere in TV Club
In case you missed it, it is in fact a new year, which means shiny new things to latch on to. So of course we've gathered up an Inventory of our "most anticipated entertainments of 2016." Part one is up now.
Going back to the past for a bit, the latest Expert Witness has Gwen Ihnat talk with David Cook about "what it's like to win American Idol." We're going to guess it feels pretty, pretty good. Also, The Increasingly Poor Decisions Of Todd Margaret (now just Todd Margaret) is finally coming back from the dead-ish, and Danette Chavez has graced us all with a pre-air review of the new season.
What else is on?
Antiques Roadshow (PBS, 8 p.m.): And now to make that 20 seasons of Antiques Roadshow, taking it all the way to "Spokane." Antiques Roadshow is ready for the new year: "Celebrate our 20th anniversary with a new generation of treasures, plus a $200,000-$300,000 find!"

Chopped Junior / Kids Baking Championship (Food Network, 5 / 8 p.m.): The continuation of Chopped Junior season one and the season two premiere of Kids Baking Championship remind us of one important fact: Children should be neither seen nor heard, unless they're in the kitchen.
Love & Hip Hop (VH1, 8 p.m.): Yet again, no one is privy to the potentially mind-blowing plots of Love & Hip Hop. Take that, Bravo television!
Vanderpump Rules (Bravo, 9 p.m.): You tell us the episode title is "No Strings Attached" and that "Tom Schwartz makes plans to propose to Katie," so we're just going to assume that the first song played at Tom and Katie's (no, not the actually famous Tom and Katie) wedding is an NSYNC jam:
Scorpion (CBS, 9 p.m.): Television is back, and that includes Scorpion. "In order to save a United States Special Forces unit from certain death, Team Scorpion must brave the subzero temperatures of Antarctica." Congratulations, Team Scorpion! Something isn't your fault for once! "Also, when Happy becomes cut off from the team and lost in a blizzard, Toby risks his life to find her." Nevermind.

The Seven New Signs Of The Apocalypse (History Channel, 9 p.m.): Tune into the History Channel for "a study of possible apocalyptic events threatening the planet." That'll keep you sane on a Monday night.
NCIS: Los Angeles (CBS, 9:59 p.m.): While Scorpion is going subzero, NCIS: Los Angeles is going nuclear! "Kensi and Deeks go undercover at a decommissioned nuclear power plant as the team investigates the radiation poisoning of a Gunnery Sergeant moonlighting as a security guard there." That's just how CBS returns to its regularly scheduled programming—with the most intense of "team-building" situations.
Cartel Land (A&E, 10 p.m.): One thing we've noticed in a lot of these episode synopses is that Monday night television has no problem going hard. Cartel Land is the culmination of all of that: "A look at two vigilante groups and their mutual enemy, the Mexican drug cartels. The Arizona Border Recon is a paramilitary group that patrols a patch of desert known as Cocaine Alley and the Autodefensas are citizens battling a cartel known as the Knights Templar, which has created trouble in their region of Mexico. Filmmaker Matthew Heineman travels with the groups as they seek justice."
House Hunters / House Hunters International (HGTV, 10 / 10:30 p.m.): This week, House Hunters is the one with the very literal episode title. So while House Hunters International has "Roots On The Rhine," the former has "Nicholas And Tyler Debate Upgraded Vs. Vintage In Chicago." Your move, every other show in existence.
Teen Mom OG (MTV, 10 p.m.): The 13th season premiere of Teen Mom OG asks the question "Why Can't We Just Get Along"? Well, let's see. "In the Season 2 premiere, Tyler's dad gets out of jail and meets Nova for the first time; it dawns on Farrah that it's over between her and Simon; Amber seeks joint custody; and Maci asks Ryan to hang out." That could be why. Especially the part about hanging out.
Independent Lens (PBS, 10 p.m.): "See how the power of cinema ignited a revolution in 1980s Romania." Would you ever guess that this episode is titled "Chuck Norris Vs. Communism"? If you said "yes," you're a liar and it should be Chuck Norris versus you.
Super Into (TruTV, 10 / 10:30 p.m.): Say, were you aware that RZA is super into martial arts? Oh, you were? Literally everyone was aware of that? We see. Hopefully season two of Super Into will actually introduce its audiences to celebrities' surprising interests, as it promised to do in the first place. Until then, we have our penultimate episode—with RZA and martial arts—then our first season finale. The honor of the finale goes to funnyman Paul Scheer, who "has always been fascinated by espionage." Now we're just going to miss NTSF:SD:SUV:: all over again.
Watch What Happens Live (Bravo, 11 p.m.): Get Bravo-wasted on a Monday night with Vanderpump Rules' Katie Maloney and Tom Schwartz. And here, we have the perfect soundtrack:
Four Weddings And A Funeral (HBO Comedy West, 7:10 p.m.): Four Weddings And A Funeral being on gives us the perfect opportunity to link to our favorite Onion piece.

Is that movie My Teacher's Wife on again?
It's not. Wow.
Sports, sports, all type of sports
College Basketball: North Carolina at Florida State (ESPN, 7 p.m.)
College Basketball: West Virginia at TCU (ESPN2, 7 p.m.)
NBA Basketball: Magic at Pistons (FSN, 7:30 p.m.)
College Basketball: Oklahoma at Kansas (ESPN, 9 p.m.)
College Basketball: Virginia at Virginia Tech (ESPN2, 9 p.m.)
College Basketball: Alcorn State at Texas Southern (ESPNU, 9 p.m.)
NHL Hockey: Kings at Avalanche (NBC Sports, 9 p.m.)
In case you missed it
Galavant: According to Dan Caffrey's review of the season two premiere, Galavant "rubs" and "pulls out." Yes, we are 12 years old—but that doesn't make Galavant any less of a priority.