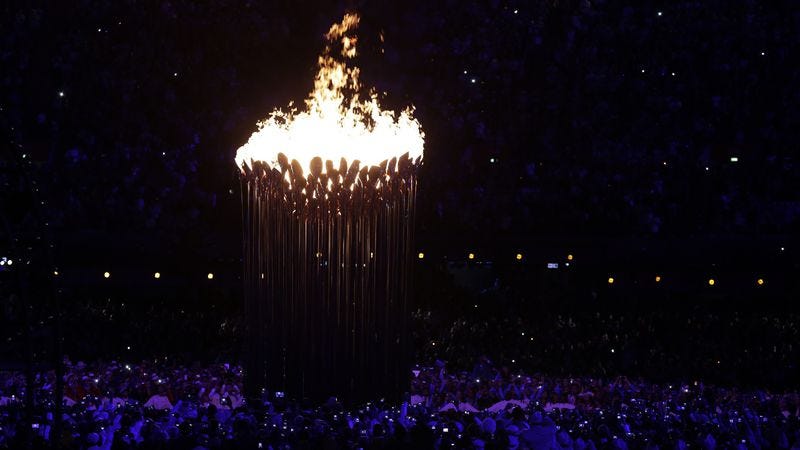 Here's what's up in the world of TV for Friday, August 3, and Saturday, August 4. All times are Eastern.
TOP PICK
The 2012 Summer Olympics (8 p.m., Friday/Saturday): The games reach their midpoint, as swimming wraps up and track and field takes off over the next two days. We're hoping that Usain Bolt will be just as impressive this year as he was in 2008, and we're also half suspecting that Michael Phelps is some sort of crazy swimming robot. That's ridiculous, of course, since if a robot got in a pool, it would probably just short out. But we're most excited that this weekend has the trampoline finals, because that means we get to run around and shout, "TRAMAMPOLINE! TRABAMPOLINE!" Alasdair Wilkins and Katherine Miller man the desk for our weekend coverage.
---
REGULAR COVERAGE
Lost Girl (Syfy, 10 p.m., Friday): The gang go undercover at a high school, posing as a counselor, teacher, and student. What we're wondering is why we've never been asked to go undercover at a high school. It certainly seems to happen often enough. Kevin McFarland will go undercover as a "with it" principal.
---
TV CLUB CLASSIC
Babylon 5 (11 a.m., Friday): In one of this week's episodes, somebody assembles a 1990s motorcycle, and it's a major plot point. We like to think that the show robbed this plot point from the late, lamented-by-us-at-least AMC show Rubicon, but Rowan Kaiser doubts that J. Michael Straczynski can time travel.
Firefly (1 p.m., Friday): Ohhhhh, it's time for "Out Of Gas." We still remember when we watched this episode—first run!—and realized that the show had just created something this good. We hope Noel Murray and Donna Bowman agree with us. Or we'll feed them to the sharks. Don't push us, guys!
Chappelle's Show (3 p.m., Friday): Dave Chappell presents "I Know Black People," which suggests that, well, look at the title. Ryan McGee is impressed with the sketch, but he also wonders if Dave Chappelle, like Bo Jackson before him, knows many different things, including croquet and synchronized swimming.
Animaniacs (11 a.m., Saturday): "Pavlov's Mice" is the name of one of this week's segments, and Genevieve Koski isn't sure if the show's attempts to string together three different vignettes with "Russia" as the throughline entirely works, but she's glad she got to see those mice. Call it a draw.
The X-Files/Millennium (1 p.m., Saturday): This week's Millennium is one of the damnedest things Todd VanDerWerff has ever seen, what with its plot appearing to be about, uh, Irish angels who live in a cave and resurrect a mobster, then push him on a swing. It really needs to be seen to be believed.
---
WHAT ELSE IS ON
Code 9 (Disney Channel, 7:30 p.m., Friday): The hidden camera show pulls a prank on a mom by making her think the car she just bought is a stolen vehicle. Doesn't she understand that she probably shouldn't be buying cars from guys she meets out behind the local Pick 'n' Save? That's just auto shopping 101!
The Barnes Collection (PBS, 9 p.m., Friday): PBS proudly invites you to get a little bit snooty, with this story of a doctor, whose art collection grew to include works by Picasso, Renoir, and Matisse, among others. The film also looks at the construction of the Philadelphia museum housing the collection.
Super Saver Showdown (OWN, 9 p.m., Friday): Budget-savvy shoppers are pitted against each other in a battle to the death to see who can plan the most cost-efficient Mexican fiesta and/or Southern barbecue. Here's our special tip: Use disposable plates and silverware. Save yourself some work!
Randy To The Rescue (TLC, 10 p.m., Friday): We don't know who Randy is or what this show is about beyond being yet another show about weddings, but we do know that tonight's episode involves Randy giving a bride in Boston a "steampunk makeover." We hope she ends up with a robot claw for a hand!
The Science Of Doctor Who (BBC America, 9 p.m., Saturday): This may come as a shock to most of you, but a time-traveling police box that is larger on the inside than it is on the outside is something that doesn't actually exist, no matter how much the British might try to fool you. Tricksy Brits.
The uneXplained (Biography, 10 p.m., Saturday): We haven't seen this yet, but we're preemptively annoyed at its weird capitalization. In tonight's two installments of the new show, a psychic assists in finding a body, and a woman asks a doctor why she keeps having mysterious seizures.
Tarzan The Ape Man (TCM, 8 p.m., Friday): Johnny Weissmuller was the man who defined the role of Tarzan, and you can see him as the magnificent man raised by apes in this loose adaptation of Edgar Rice Burroughs' tale. Maureen O'Sullivan plays Jane. We hope Tarzan clarifies their relationship via pronouns.
The Untouchables (AMC, 8 p.m., Friday): Sean Connery won the Oscar for this Brian de Palma adaptation of the old TV series. We mostly remember it now for the Battleship Potemkin-aping stairway scene, as well as the fact that Laurie quoted it frequently in that one Cougar Town episode.
Marley (VH1, 9 p.m., Saturday): This new biographical documentary about Bob Marley received solid reviews when it was in theaters, and now makes its TV debut just a few months after it left big screens. If you're a Bob Marley fan, we're pretty sure we know what you'll be doing with your Saturday night.
MLS Soccer: Houston vs. New York (NBC Sports, 8 p.m., Friday): New York leads its division with a record of 38-22. But Houston's right behind them, with a record of 37-22. We'd say this was the sporting highlight of the evening if any of us gave a good goddamn about Major League Soccer, but we don't.
Pro Football Hall Of Fame Induction: From Canton (ESPN, 7 p.m., Saturday): Jack Butler, Dermontti Dawson, Chris Doleman, Cortez, Kennedy, Curtis Martin, and Willie Roaf are inducted into the football shrine, as ESPN frantically attempts to remind you that the NFL is coming very soon and you should care.
---
IN CASE YOU MISSED IT
Wilfred (Thursday): We've been enjoying this season more than we enjoyed season one (which was already solid), so we guess we're boosters of this comedy now. Rowan Kaiser looks at an episode called "Avoidance," and we hope he didn't have to avert his eyes. Sorry. We're tired. These jokes are awful.