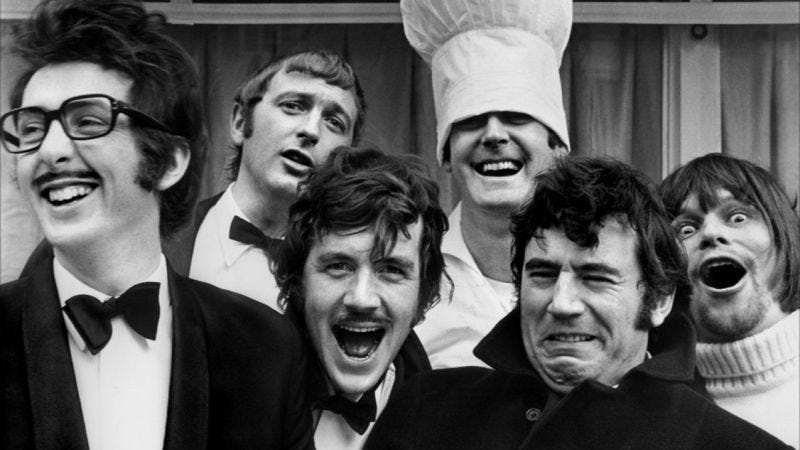 Here's what's up in the world of TV for Thursday, July 12. All times are Eastern.
TOP PICK
Monty Python's Flying Circus (11 a.m.): For more than three years, Zack Handlen has worked a Star Trek beat for TV Club Classic, boldly going where plenty on the Internet have gone before. (And are still willing to go, and for that, we thank you.) But when it came time to dole out TVC Classic assignments for this summer, we decided to give Zack a break from space opera in favor of an (intentionally) sillier show. So cue up "The Liberty Bell March" and brush off your copy of the funniest joke in the world—it's… time for the first episode of Monty Python's Flying Circus.
---
REGULAR COVERAGE
Burn Notice (USA, 9 p.m.): Bruce Campbell is kidnapped in the Everglades, which means some Floridians are about to learn that those who hold Campbell against his will quickly meet his boomstick. You can find Scott Von Doviak's review—with its walnut stock and cobalt blue steel barrels—in the sporting-good section.
Wilfred (FX, 10 p.m.): The ongoing war between dogs and babies comes to a head when Ryan's pregnant sister stops by for a visit. In this explosive conflict, Rowan Kaiser declares neutrality.
Suits (USA, 10 p.m.): With Suits quietly becoming TV's most enjoyable legal show, Carrie Raisler thought it was only fair to share the wealth—enter pinch hitter Pilot Viruet, who, much like the hero of Suits, didn't go to law school, but is great at pretending to be an attorney.
Louie (FX, 10:30 p.m.): Louis C.K. travels to the least-Louis C.K. locale this side of The Unfunny Person's Home For The Well-Adjusted And Non-Self-Loathing: Miami, Florida. Now that we mention it, Todd VanDerWerff wants to see Louie among the residents of that place we just made up.
Awkward. (MTV, 10:30 p.m.): Matty fights flirty tooth and clingy nail in an attempt to break out of being "just a friend" to Jenna. Myles McNutt has friends, and that's a fact—like Agnes, Agatha, Germaine, and Jacq.
---
TV CLUB CLASSIC
The Thick Of It (1 p.m.): With the inclusion of Monty Python's Flying Circus, Thursday unofficially becomes British Comedy Day at TV Club Classic. David Sims celebrates with an episode of The Thick Of It dealing with the particulars of a regime change in a parliamentary government. Cheers!
---
WHAT ELSE IS ON?
Big Brother (CBS, 9 p.m.): If CBS' recent legal kerfuffle with ABC occurred solely to remind the viewing public that Big Brother still exists, then mission accomplished. Tune in tonight for the 14th season première of that old reality show that is totally/not at all like that new reality show.
Natural Born Sellers (HGTV, 9 p.m.): This new series follows a family of real-estate agents—a fact that makes the cinematic allusion in its title kinda creepy. It should be good, clean fun, provided that Rodney Dangerfield and Juliette Lewis aren't part of the house-selling clan.
Property Wars (Discovery, 10 p.m.): Foreclosed homes are the new unclaimed suitcases, which were the new repossessed storage lockers. Presumably, we're mere weeks away from watching a colorful cast of kindergartners haggle over the contents of an unwanted sack lunch.
Polyamory: Married And Dating (Showtime, 10 p.m.): For those who feel like premium cable shed all its kinks in the rise of scripted programming (to which we say "Remember last fall when every new coupling on HBO or Showtime involved siblings?"), here's a Real Sex segment writ large. Sonia Saraiya swings in on the première.
Gentlemen Prefer Blondes (TCM, 8 p.m.): If, as this musical posits, gentlemen prefer blondes and diamonds are a girl's best friend, does it stand to reason that females with blonde hair control most of the world's diamonds? Talk to us, Harry Winston—tell us all about it.
Class Act (Fuse, 9 p.m.): Did Fuse buy a crate of Kid 'N Play VHS cassettes at a garage sale earlier this year? Enjoy this Mark Twain-indebted departure from the House Party oeuvre—but whatever you do, don't go looking for current-day photos of Christopher "Kid" Reid and Christopher "Play" Martin. You've been warned.
Basketball: Exhibition: Dominican Republic at U.S. (ESPN, 9 p.m.): On its way to London, the U.S. Men's team stops in Las Vegas, giving odds makers one last chance to decide if a squad boasting Carmelo Anthony, Kevin Durant, LeBron James, and other NBA all-stars stands any chance of not medalling—or if it's more likely that dinosaurs will converge upon the 2012 Olympics and take the gold in men's basketball themselves.
---
IN CASE YOU MISSED IT
Beverly Hills Nannies: On the "Entertainment with the words 'Beverly Hills' in the title" food chain, does Beverly Hills Nannies rank above its producers' previous hit, The Real Housewives Of Beverly Hills? Is it as funny as Beverly Hills Cop or Beverly Hills Ninja? (Or Beverly Hills, 90210?) Are the words "Beverly Hills" uttered as often as they are in Weezer's "Beverly Hills"? "Beverly" Will Harris has the call.