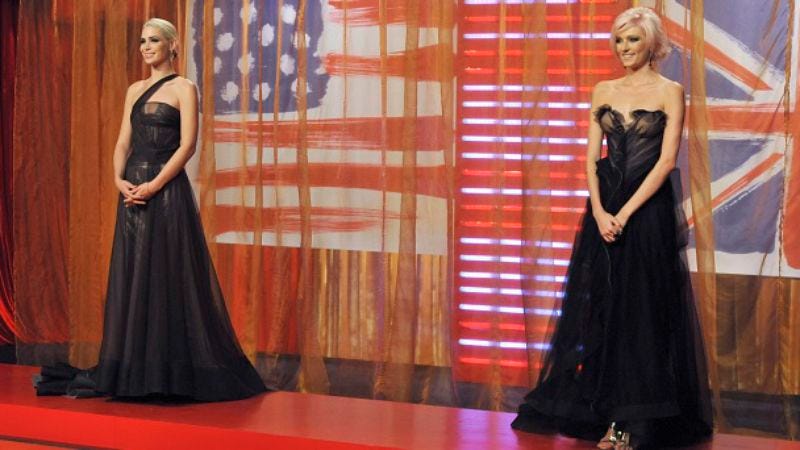 Here's what's up in the world of TV for Wednesday, May 30. All times are Eastern.
TOP PICK
America's Next Top Model (The CW, 9 p.m.): We're not entirely sure just why The CW decided to air the finale of its storied reality franchise outside of sweeps, but we assume it has something to do with how the show's fallen on hard times. With only one more "cycle" ordered and the show's ratings significantly down, will this be the next-to-last time we ever get to watch young, pretty girls attempt to "make it" by appeasing the ever-changing whims of Tyra Banks? Margaret Eby's been watching the whole season, and only she can tell you that it was all about British models facing off with American models. Just like in the Revolutionary War!
---
REGULAR COVERAGE
So You Think You Can Dance (Fox, 8 p.m.): Everybody heads to Los Angeles for a round of auditions. If there's one place where no one will ever find any good dancers, it's Los Angeles. Except for that silver-painted robot guy who's sometimes in Santa Monica. Oliver Sava wishes he had silver body paint.
America's Best Dance Crew (MTV, 10 p.m.): Tonight's "superstar challenge" involves LMFAO, which apparently has a member named Redfoo. Did you know this? Rowan Kaiser did not, but now he can't forget that simple fact, thanks to the episode description. Wiggle wiggle wiggle wiggle wiggle wiggle.
---
TV CLUB CLASSIC
The Sopranos (1 p.m.): You remember those famed Sopranos actors Lauren Bacall and Ben Kingsley? Of course you do! Everybody remembers when they were in that one season six episode about Chris' movie career that was obviously just there to kill time. Todd VanDerWerff relives all the great memories.
Sports Night (3 p.m.): Our second Summer TV Club Classic debut of the week comes from Donna Bowman, who's ready to take on Casey, Dan, Dana, Natalie, Jeremy, and Isaac, as she makes her way through Sports Night. You're watching Sports Night on Summer TV Club Classic, so stick around.
---
WHAT ELSE IS ON
Dogs In The City (CBS, 8 p.m.): Wait? Dogs are moving to the city now? Don't they know that urban real estate continues to be overpriced, relative to the supply on the market? Sure, it's cheap in some cities, but New York? Forget about it! Scott Von Doviak criticizes these dogs' choices in his review.
Melissa & Joey (ABC Family, 8 p.m.): One of you has been anxiously awaiting the return of this Melissa Joan Hart/Joey Lawrence vehicle that attempts to recreate the wondrous days of Who's The Boss. Now, which of you is it? Because season two starts tonight, and you don't need to be shy about your ardor.
The Soup (E!, 10 p.m.): We were amazed by just how little is on TV tonight. We know it's the summer and all, but when trying to fill out this section, we really had to scrape the bottom of the barrel. Thank God for the greatness of The Soup, even if it being on Wednesdays still makes our Fridays incomplete.
Total Blackout (Syfy, 10 p.m.): See above in re: the bottom of the barrel. If you really need something to watch, you can check out the season finale of this Jaleel White-hosted game show where people feel objects in the dark, then try to identify what they are. Like a Kiwanis Club-sponsored haunted house!
Ride The High Country (TCM, 8 p.m.): That bottom-of-the-barrel problem extends even to tonight's movie offerings. Thank God, then, for TCM, which brings us this Sam Peckinpah-directed classic where Joel McCrea and Randolph Scott face off while transporting gold through dangerous territory.
The Rookie (CMT, 8 p.m.): See? Bottom! That said, this Dennis Quaid baseball movie isn't so bad. There are better movies out there, but John Lee Hancock's direction makes everything look beautiful, and there are fun supporting turns from Rachel Griffiths and Brian Cox in what could be thankless roles.
Stanley Cup Finals: Game 1: Kings at Devils (NBC, 8 p.m.): We're sure there are Devils fans out there who are really excited at the prospect of a Los-Angeles-vs.-New-Jersey Stanley Cup finals, but we can't believe we waded through 18 years of playoffs to get LA vs. NJ, instead of LA vs. NY. Sigh.
---
IN CASE YOU MISSED IT
Six Feet Under (Tuesday): Summer TV Club Classic launched for yet another year with John Teti's look at the first episode of this show's second season. Among other things, he wishes that Gabe would just go away, but he's probably not going to be so lucky in that regard, now is he?