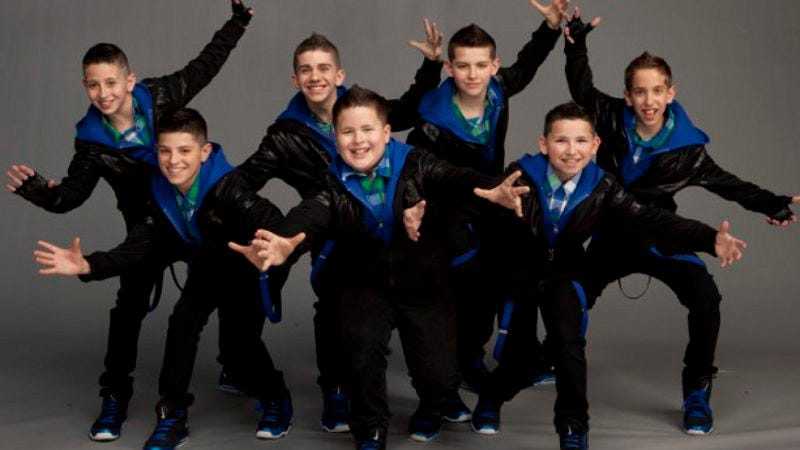 TV Reviews
All of our TV reviews in one convenient place.
The remarkable thing about this season of America's Best Dance Crew is how high-quality it has been, with nine of the 10 crews being competitive and fun to watch. But the remarkable and more notable thing about tonight's finale was that it was such a simple decision, illustrative of the problems of reality game shows on TV.
One of the options was a crew that had been one of the best and most entertaining from the start of the season. Every time I aM mE performed, they did something incredibly entertaining, and every time they performed, they went out of their choreographed comfort zone and did something incredibly athletic. But it wasn't just talent, it was also brains; they're probably the smartest crew that I've ever seen on the show. When they're given a song or challenge, they interpret it to fit their abilities and ideas. When they were given the challenge to incorporate a playground game into a dance, they didn't just incorporate one, they turned the entire dance into a series of half a dozen playground games, without losing anything from the dance itself. They've been amazing, possibly the best and most consistent I've seen on the show.
On the other hand, there were cute kids.
Okay, the other crew in the finale, ICONic Boyz, are more than cute kids. They're really good dancers and choreographers. But are they brilliant, amazing, or transcendent? Consistently really good is a really good thing to be, of course, but when competing with a crew that's been consistently brilliant and sometimes even better than that, there's no competition. In the last two weeks, when ICONic Boyz were put directly against I aM mE (or third place crew Phunk Phenomenon), it was clear that they weren't in the same league. Or at least it should have been. The votes had kept ICONic Boyz safe every week of the season, so they had to be the favorite.

Happily, once it was a one-on-one battle, the cute kids voters finally were overwhelmed. I aM mE really were deserving champions. I'm not sure what champions means compared to runners-up for their careers moving forward, other than the $100,000 prize which seems kind of small, given that the show is one of MTV's highest-rated (though I wouldn't say no to it!). Still, it's the just result, and I think that's good for everyone, even the runners-up, who will have plenty of time to make their name and money.
The thing that has always struck me most about America's Best Dance Crew is how unfair it is. It's unfair to base everything around weekly vote that's easily weighted toward sexy girls or toward cute kids. It's unfair that a crew might be really good but a quirk of bad luck or bizarre voting can send them home and let lesser crews through. Perhaps what's most unfair to me is that once they've competed on a season, a crew can't come back again, so a dominant, marvelous group like season three's Beat Freaks, who would have torn through season two or especially the weak season four, ended up in second place because they ran up against the equivalently good Quest Crew in the third season.
But of course, part my worries about that unfairness is that ABDC is that I feel like it's unfair because I watch it, unlike most reality/game shows. I could probably say the same thing about American Idol or any other show that involves eliminations. And it's not like I think other competitions are fair, either. The NCAA tournament might be even less effective for picking the best basketball team in the country, and the less I say about our institutionalized competitive method of cover letters and resumes for picking employees, the better. Still, even though I wish it wasn't so brutal at getting rid of its crews, I find it compelling. The drama is manufactured, yes, and the eliminations are horribly manipulative, but it works. This show is compulsively watchable, both structurally as well as on a performance level, and I can't really say that it would work so well if it didn't slice off a crew every week.
The voting system is so weighted towards consistent bloc voting that it can lead to mild travesties like ICONic Boyz. I mean, I like ICONic Boyz, and I think they've been really fun to have on the show this season. Somewhere in the third-to-fifth place range would have been perfect. But they were totally exposed in the Kanye West challenge when, despite being safe thanks to the voters, they produced a perfectly solid, B+ routine… and then were followed by an A+ performance from Phunk Phenomenon and an A++ performance from I aM mE. I don't know who could have watched those three performances and said that ICONic Boyz were the best of those three groups. I can only hope that the voting public will happen to see it my way, because I can't help but think that I'm not entirely ABDC's target audience.
This constant slicing of good crews has been one of the dominant aspects of this sixth season of ABDC. I missed season five, but none of the seasons I have seen have been so evenly-matched and excellent. With the exception of the pole-dancing crew eliminated at the first hurdle (who really shouldn't have been on the show in the first place: total stylistic mismatch), every single crew showed enough potential to win. I couldn't even complain too much about the Exquisite Gentlemen, crushingly eliminated in the first episode despite being really good and reminding me of a not-quite-so-brilliant version since they could easily have been the worst of the five. This means good dancing, yes, but every week has been a disappointment, albeit a tense and entertaining one.
ABDC's decision to go with a "Season of the Superstar" was also a good one. Picking a single artist helped to put more emphasis on the music and leveled the playing field. Too often in the past, a good crew would get saddled with a terrible song and challenge for them. That didn't seem to happen this season, which always seemed to fit. I could quibble with some of the choices. Nicki Minaj is a motherfucking monster and some actual hip-hop was most welcome after weeks of pop, but she doesn't really have the career to stand with the others. Or, being born before 1993, I'd like to see some music that's not brand new, like a Michael Jackson week or a Missy Elliot week (the latter had one of my favorite episodes from season two).
The show's inherent strengths remain, as well. I like having larger crews who can create more intricate patterns than one- or two-person dances. I like Mario Lopez, his dimples, his terrible puns, and making fun of him and his terrible puns. But ABDC's greatest structural strength is judge J.C. Chasez, formerly of N'Sync. He's always insightful, usually funny, and consistently able to give constructive criticism, whether he loves or hates the routine (compare this to the one time I tried to watch So You Think You Can Dance, when their judge and producer Nigel Lythgoe turned into a rank homophobe over seeing a male-male ballroom couple). Lil Mama is also usually entertaining if sometimes nonsensical. New judge D-Trix, from season three champions Quest Crew, has done a generally good job of being entertaining and intelligent, but too often, he's struggled between loving almost every performance or occasionally hating them. Middle grounds do exist, and I think by the end of the season, he'd started to find them.
Still, for all of my structural complaints that are pretty much part of the form regardless, I've been very happy with this season. Having nine of the 10 crews be really good, and probably five or six of them as legitimate contenders, means that there have been a constant stream of entertaining dances. And I aM mE has played the role of the favorite from the beginning, setting a standard of excellence for others to follow. It's really been the best of all worlds for the show and performances, especially when the right crew wins the title in the end.

Best Performance: I aM mE's "Spiderman" routine during Rihanna week. My favorite crew's favorite performance of the season by far, and that's nothing against the competition, just how amazing they are.
Best Dancing Moment: Street Kingdom putting a fucking Mortal Kombat fatality into a performance of a Justin Bieber song. Yes, this was as awesome as it sounds. Possibly even more so. As a reward? They got dropped into the bottom two and eliminated the next week. Bullshit.
Best Judging Moment: D-Trix using his hips to explain how B-Boys sexy dance on the judges' table had to be seen to be believed.
Worst Judging Moment: Lil Mama responding to the initial appearance of ICONic Boyz by doing a Godfather voice. Awkward on so many (J.C.-approved) levels.
Least Effective Voting Bloc: The Kiwis did Request Dance Crew no favors, putting them into the bottom two despite being generally excellent. I don't think they were the best, but they could have been.
Most Improved: Street Kingdom. I thought the judges were fawning over this crew too much early on, as I just saw too many people trying to do too much. But later on, when they actually started breaking out of their krumping groove a bit, I saw it.
Best/Worst Lil Mama Costume: Gotta go with her Cleopatra getup from the second week, including a gigantic golden arrow pointing at her cleavage.
Stray Observations:
I can't help but think that Shane Sparks would not have let the ICONic Boyz slide so easily, but then, I'm not sure that he'd be the best judge for a crew of young kids.
Like J.C., I love everything about I aM mE, with one caveat: their name.
As I mentioned, I skipped the fifth season after a disappointing fourth one. Was it better?
My favorite ABDC performance here, starting at the 5:00 mark. What's yours?
Dear lord that 90-minute finale was bloated. Liked seeing the old champions, though, especially and somewhat surprisingly, Super Cr3w. Was that guy jumping with his back? How…?
Y'all should make some noise in the comments and pageviews to cover this show more often. It's so much better than So You Think You Can Dance. So, so, so much better!