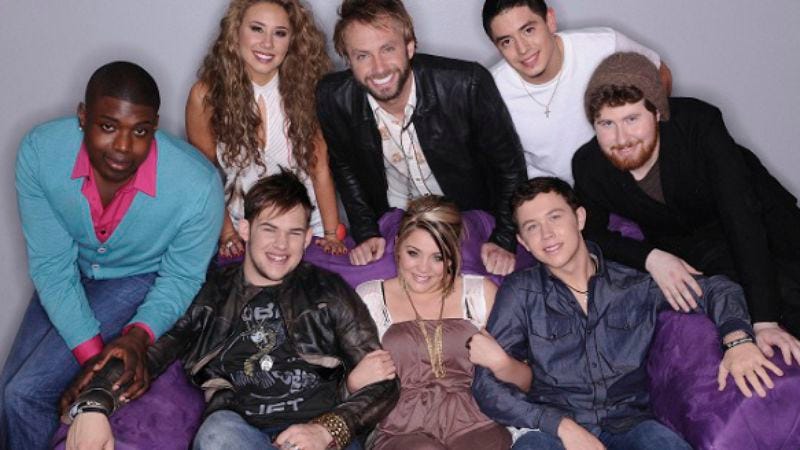 TV Reviews
All of our TV reviews in one convenient place.
I get that this season is all about cultivating individual artists who do their own thing, but thanks to boringly nonspecific themes (movie night) and the judges' reluctance to provide specific feedback, I think some of the contestants have been stalling. After all, what's your impetus to do anything new if Randy Jackson keeps saying, "If it ain't broke, don't fix it?" Tonight, I think some contestants made a conscious effort to try and improve or further define who they are as singers, whereas some just stayed the same.
Let's start with the boring same-o's:
I might have liked Paul's performance more if he was just dressed differently. "Old Time Rock n' Roll" can be such a corny song, but I thought Paul looked and sounded pretty good during rehearsals (with Will.I.Am as a guest mentor. Again. They didn't even bother introducing him this time) in his plaid button-down shirt, looking down-home and comfortable. But for the performance, he wore another sparkly embroidered suit, this time with a shiny red ascot, and danced around like a little stick man, banging a tambourine against his chest and jamming next to his sexy saxophone soloist. (She came off much cooler in the song than he did. I think he should have played guitar.) Singing-wise, he's been better and worse, but it was so silly, it didn't make me proud to be a Paul fan. The judges, of course, loved it. I'm so done with them.
Did Lauren sing "The Climb" just fine? Yeah, I think so, but I'm happy to say I'm not familiar enough with the Miley Cyrus version to know whether she did it better than the original. But to my ears, Lauren didn't sound any better than in most of her other performances. (I happen to find it a boring song in general. Sorry, last week Will.I.Am got dumped on, and this week it's Miley.) Beyond Jennifer saying she wanted Lauren to go "further," the judges had no criticism for her. Steven even said that she moved him beyond tears. I'm especially disappointed in him. He was so fun during auditions, and now, he's just full of this nonsensical positive bullshit all the time. He's like Paula Abdul, only sober.
Like with Lauren, I have nothing bad to say about Scotty's take on "I Cross My Heart," but I think we've seen Scotty do this before. He sings country well. We all know that. We all also know that based on the way he holds his microphone, he has strangely chunky fingers for a lanky guy. Scotty and the judges said he was going back to his roots tonight, but has he ever left them?
I kind of knew that Haley wouldn't be great tonight because here's the secret about Blondie's "Call Me": It's not a very good song. It's repetitive as shit and has a lot of flabby parts despite having such a powerful opening. Haley looked adorable in her sparkly frock ("Here's to looking up your old address," Steven said) and knee-high boots, but even she couldn't liven up the many dead parts of the song. It was the first performance of the evening the judges weren't very happy with, even though Jennifer said she was reluctant to criticize the girls since she wants them to stay in the competition.
I think if Jacob survives tonight, he has Jimmy Iovine to thank for it. Jimmy basically ordered Jacob to sing "Bridge Over Troubled Water," which was a slam-dunk choice. I don't like Jacob's voice most of the time (he sounds like a man trying to impersonate a lady with a fluttery voice), but the song just pulls you in in spite of yourself. I also liked Jacob's shirt/suit combo but not his glittery cufflinks or lips. He seemed almost contrite during the performance and pretty restrained, for him. I wish we'd seen Pia tonight instead of him, though.
Now, for those who did something a little different:
Stefano's still not my favorite, but I will say that I agree with Randy that he had his best night to date tonight. He took on "End of the Road," which is hard for me to listen to without thinking of my eighth grade graduation. He did a much better job than I expected. He sang more strongly and had more energy than before. If he could just control his eyebrows, I might almost be a fan. It was cute the way you could tell he did a good job at the end, especially with his dad spinning around in excitement and whistling. None other than the most beautiful woman in America told him that it was the shit. I don't think Stefano believes yet that he can win it (I don't think he'd believe it until he was in the finale), but it was a good comeback from last week.
I really wish Casey didn't have the affectations of snarling and glowering at the camera when he sings, because it inhibits my ability to really like him. Against Jimmy's advice, Casey sang "Nature Boy," playing the upright bass in an ascot, trimmed-back beard and gelled curls. "America isn't going to get this," I thought to myself as he sang along to his bass solo, but I preferred it to a Miley Cyrus song, and the last few bars of the song were just beautiful—when Casey sheds the schtick and just sings, it's great. The judges heartily approved of Casey sticking by what he knows and loves best but seemed to agree there might be a risk involved when it comes to the country voting on that performance.
All the grandmas in America are going to vote for that nice boy Casey Abrams tonight because they no longer like that loud James Durbin. Despite Jimmy's strong opinion otherwise, James took on Sammy Hagar's "Heavy Metal" from the movie Heavy Metal, asking America to "Give metal a chance." I think I'm giving in to James—he just loves performing so much and wants to be a rock star so bad. The thing is, for someone who tries so hard, he's not a wanna-be. I think he can actually do it. I don't know if Idol really knows what to do with a heavy metal performance, though, beyond some kee-razy camera zooms to Zakk Wylde on guitar. (there are a lot more instrumental solos this season: How do we feel about that?) On what was such an otherwise boring night, the judges and I were glad James stuck by his guns and did what he really wanted to, just to mix things up.
So how will America vote? Toward the people who mixed things up or who didn't take big risks? Or will it continue systematically down the path of making Idol one big sausage party?
Stray observations:
Will.I.Am was actually kind of funny tonight, with his "She gonna bring the house down. With a Miley Cyrus song. Whut-whut." And "You sing that shit you sing that shit good." Maybe for a week he should be a judge and Steven should be the mentor. But what was his armband for?
I like how Ryan wasn't afraid to make fun of Lauren's mom's hair from afar but didn't have shit to say to Zakk Wylde about his styling tendencies when he was standing right next to him.
You know what really saved this episode? No fat chicks.  
The Most Beautiful Woman's dress would have been so much cuter without that random pouf on the front. Also, I think Steven was wearing a lady's blouse.
Jimmy was quite the crabapple tonight, and I liked it. He called Scotty out for calling him "dude," chided Jacob for preaching to America last week, and raised an eyebrow at James for saying that nobody can hear a hit on a piano in the studio. Oh, and he basically said Miley Cyrus is a crap singer.