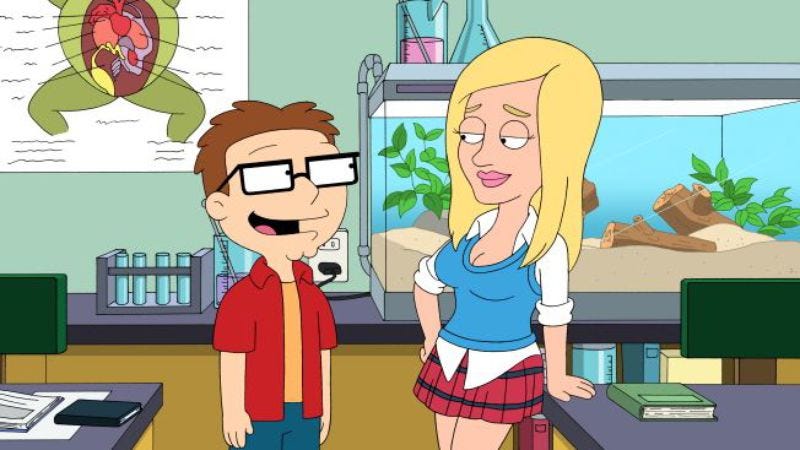 Here's what's up in the world of TV for Sunday, November 20. All times are Eastern.
TOP PICK
American Dad (Fox, 9:30 p.m.): This will either be one of the best episodes of television tonight or a horrifying failure of bad taste. There's really no middle ground. Stan, concerned about how he failed to bond with his son, attempts to get closer to him by controlling a robotic avatar teenage girl voiced by Sarah Michelle Gellar. Alyson Hannigan also pops up in a guest voice, which means that this episode will be both horrifying and a Joss Whedon reunion for the ages. Rowan Kaiser will either shudder in revulsion or cackle with glee.
---
REGULAR COVERAGE
The Amazing Race (CBS, 8 p.m.): This one's called "It's Speedo Time," and if there's anything more you need to know to convince you to watch, then you obviously watch television for different reasons than we do. Scott Von Doviak checks out the greased-up, stripped-down contestants and applauds.
The Simpsons (Fox, 8 p.m.): Neil Gaiman and Andy Garcia guest voice in an episode where Homer attempts to cash in on the Twilight craze by hiring a team to group-write a teen romance novel. This sounds too complicated by half, but maybe Hayden Childs can make sense of it.
Boardwalk Empire (HBO, 9 p.m.): Noel Murray has been waiting for some fightin' Jack Dempsey action, and it's entirely possible that in "Battle Of The Century," he'll get it. Or he'll get people staring mournfully into the middle distance as period-appropriate music plays.
Dexter (Showtime, 9 p.m.): Remember how Mos Def was one of the best things to happen to this show this season, then the show just kind of randomly killed him off? Doesn't it seem like pretty much every story development this year has happened at random? Joshua Alston looks for patterns in the chaos.
Family Guy (Fox, 9 p.m.): Family Guy made good with last week's return to the show's pilot, and we're hoping it takes on another strong premise—everybody gets together for Thanksgiving and a surprise guest shows up—and makes another strong episode. Kevin McFarland will have some yams.
The Good Wife (CBS, 9 p.m.): Alicia and Will argue a case before a military judge, and Diane starts issuing ultimatums to protect the firm. If this episode doesn't end with Julianna Margulies and Josh Charles staring out at the rain as Rachael Yamagata's "Elephants" plays, David Sims is suing.
The Walking Dead (AMC, 9 p.m.): What do we predict for this week? Zombies! Also, pointless attempts to get us to invest in characters who are barely stereotypes to begin with, Scott Wilson drawling slowly while staring at the horizon, and Zack Handlen getting frustrated. But zombies!
Hell On Wheels (AMC, 10 p.m.): Cullen's after that sergeant he wants to kill, but this is only episode three, so we feel pretty safe in saying he won't get around to it just yet. He'll probably get distracted by heading down to the Pick-n-Save or something. Phil Nugent needs some fresh cream.
Homeland (Showtime, 10 p.m.): Last week's episode had the sorts of shocking revelations usually saved for a season finale, so we're pretty sure tonight's episode will cool it down, at least a little bit. Or maybe it'll all get that much crazier and Todd VanDerWerff will lose his mind.
Hung (HBO, 10 p.m.): Tonight's episode summary says, "Ray worries he's lost his magic touch with women." So… Ray's worried that he's lost his giant penis? Wouldn't he have, y'know, noticed if that had happened? We're hoping Will Harris can explain exactly what this means to us.
How To Make It In America (HBO, 10:30 p.m.): It's time for the season finale? Already? That seems sort of sudden, even if HBO only picked the show up for another eight episodes this year. Kenny Herzog chronicles the last exploits (for now) of everybody's favorite (or second favorite) New Yorkers.
---
TV CLUB CLASSIC
Doctor Who (Classic) (11 a.m.): "The War Games" marks a lot of "lasts" in Doctor Who history. The 10-part serial is both the last appearance by Patrick Troughton in the title role and the last serial filmed in black-and-white. Christopher Bahn looks at the first five parts this week.
The Critic (3 p.m.): Nathan Rabin's review of the third episode of this series contains the phrase "Bill Cosby's reign of whimsy and delight." Have we sufficiently whetted your appetites for this particular article? We hope so, because if we haven't, Nathan will demand sacrifices, and no one wants that.
---
WHAT ELSE IS ON
2011 American Music Awards (ABC, 8 p.m.): We were going to say, "Aren't these the music awards that suck?" But then we realized that all music awards suck, and the only reason anyone has music awards is to get various acts to perform at them. So here's hoping for a weird Lady GaGa performance, we guess.
American Masters: Woody Allen (PBS, 9 p.m.): Noel Murray checks out this two-part, four-hour documentary about one of America's foremost living directors, a film Allen granted unprecedented access to. On PBS, this qualifies as a super-hot sweeps month program. God bless you, PBS.
JFK: The Lost Bullet (National Geographic, 9 p.m.): It's late November, which means that every cable channel worth its salt is pulling out any documentary it can find about the Pilgrims and any documentary it can find about JFK conspiracy theories (or lack thereof). Let us know who really killed JFK in comments.
All-American Muslim (TLC, 10 p.m.): We reviewed this last week, and we won't be dropping in again, but we thought we'd at least highlight it again, to remind you to check out one of the more intriguing and fascinating reality shows of the last few years, weirdly relevant in its utter banality.
Zodiac (IFC, 5:15 p.m.): You know, they never caught the Zodiac killer, but if you're pretty sure you know who the guy is and you go and stare at him for a long time in a hardware store, that's almost as good as catching the killer, if you think about it. (Also, this movie is awesome and should be viewed repeatedly.)
Plymouth Adventure (TCM, 8 p.m.): We're glad TCM's dug up this star-studded recreation of the voyage of the Mayflower, but at the same time, it sounds absolutely awful. We hope they know what they're doing because we don't know if we can handle Spencer Tracy and Gene Tierney as Pilgrims.
Sunday Night Football: Eagles at Giants (NBC, 8:15 p.m.): Stop trying to make the Eagles happen, sports media! I thought we all agreed that this was one of those things we should never speak of again! Although if they win, it's always fun to watch a Manning look disappointed about things.
---
IN CASE YOU MISSED IT
Grimm (Friday): Kevin McFarland offers some thoughts on just why he thinks this fairy-tale series is better than the other one—Once Upon A Time (which is sitting out tonight for the AMAs)—even as he thinks this one has a long way to go before becoming consistently good.