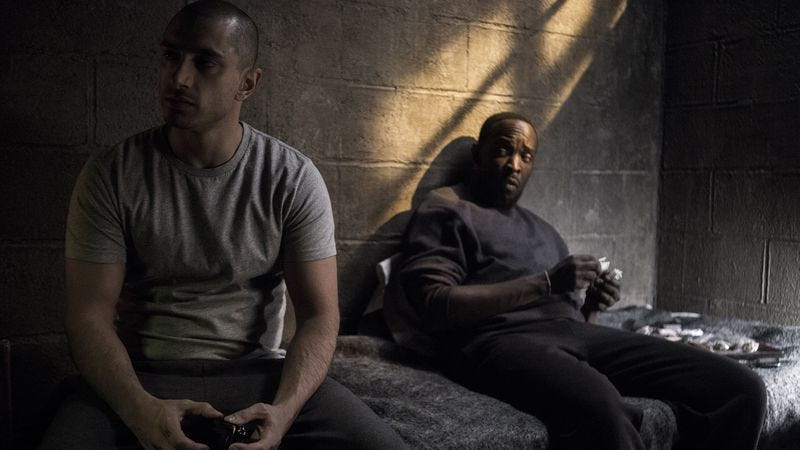 Here's what's up in the world of TV for Sunday, August 28. All times are Eastern.
Top picks
The Night Of (HBO, 9 p.m.): The trial of Naz Khan potentially comes to an end tonight in the series finale, where his attorney Stone finds himself wrapped up in his own controversy. With tonight's episode called "The Call Of The Wild," Alasdair Wilkins wouldn't be surprised if Naz winds up calling a wolf as a witness for the defense. Actually, anything would surprise him at this point, given the way the trial's going after last week: "…the justice system requires neither side to offer anything so specific, and indeed they aren't incentivized to try. All the prosecution and defense are there to do is paint an overall picture of guilt or innocence—or, more accurately, non-guilt—and a whole lot of vague gesturing and insinuating is all just fine in pursuit of the chosen goal." It may all come down to some kind of dermatology though, given that's where the show seems distressingly comfortable.
The Strain (FX, 10 p.m.): A third season of torment falls on the citizens of New York as the strigoi invasion of The Strain returns tonight. One person to escape this torment is our own Kyle Fowle, as we've dropped regular coverage of the series due to low readership and the show's frustrating inability to either stay on the rails or be entertaining when it goes off them. As Kyle said of the finale: "There's still no attention paid to character, no consistency to their actions and dialogue, and the supposed empathy and pathos… are completely unearned." Plus, tonight's premiere looks to focus on Zach's abduction as a central point, and we all know that Zach is the worst. Short of turning him into a strigoi juice box within the first five minutes of the episode, this arc looks like it'll be a real slog.
Roadies (Showtime, 10 p.m.): In the mix of renewals handed out to Showtime series during the Television Critics Association summer press tour, Showtime boss David Nevins was coy about the future of Roadies, stating that any decisions wouldn't come until the end of its run. Given the lackluster reception of Cameron Crowe's return to the music business by both critics and actual roadies, there's even money that tonight's finale with "a star-studded lineup coming together for a rock legend's memorial" could be the final episode. Get your lighters or lighter-related smartphone apps up in the air for tribute.
Premieres and finales
I Miss Downton Abbey! (PBS, 8 p.m.): PBS clearly wishes it still had its flagship drama around, so much so that it's putting out a retrospective eight months after the final episode aired. Personally, your What's On Tonight correspondent thinks that it wore out its welcome at least two seasons prior to the ending, though perhaps people have been really missing those terrifying Grantham children pictured in the final promotional images.
The Great Food Truck Race (Food Network, 9 p.m.): Remember the days when we had to come up with something witty to say every week about this show? Well, it's time for a blast from the past as season seven premieres tonight. This season it's a family affair with all six teams based on family units, one of which is headed up by Vinny Guadagnino of Jersey Shore. No word if their truck will follow the format of The Show With Vinny and only cater to famous people who are happy to stop by Vinny's house for an authentic Italian meal with his family. (Given that only lasted one season, there obviously weren't too many of those.)
2016 MTV Video Music Awards (MTV, 9 p.m.): Awards are given out to all of the music you kids are listening to these days. Highlights at the 33rd annual VMAs include Rihanna receiving the Michael Jackson Video Vanguard Award, Adele and Beyoncé facing off against each other in no fewer than seven categories, and Britney Spears returning to perform at the show for the first time since her disastrous 2007 appearance.
Robin Williams: Behind Closed Doors (Reelz, 9 p.m.): Two years after his death, this documentary provides "an intimate look at his life from his childhood in the suburbs of Chicago to small comedy clubs in Los Angeles, his breakthrough role on the TV show Happy Days as Mork from Ork and his big screen triumphs." No jokes because we really miss Robin Williams.

Return To Amish (TLC, 9 p.m.): We did some research and discovered that while this is the third season finale of Return To Amish, it's also technically the fifth season finale of Breaking Amish, which we find completely confusing. In any case, we're hoping that Kai Proctor or Rebecca Bowman makes an appearance tonight.
Ballers (HBO, 10:45 p.m.): Not so much a premiere, but a reminder that The Night Of finale will run 96 minutes tonight and HBO's comedies are time-shifting as a result. Tonight, "Joe (Rob Corddry) discovers the skeletons in his partner's closet." Said skeletons include a distressing amount of color-coded research boards linked with string, Carrie Mathison-style, as Dwayne Johnson formulates an answer to just who is the one true candy-ass of the Fast 8 bunch.

Vice Principals (HBO, 11:15 p.m.): Also time-shifting is Vice Principals, which Kyle Fowle has been far more kindly disposed toward in its first half-season than he was in two full seasons of The Strain. Last week's episode saw the show continue to focus the workplace political battle being waged between Gamby, Russell, and Brown, making "this twisted family of characters… a little more complicated, and a lot more entertaining." And with both Brown's ex-husband and teacher workday arriving tonight, odds are good the bonds will be tightening even further.

Regular coverage
Fear The Walking Dead (AMC, 9 p.m.)
Power (Starz, 9 p.m.)
Streaming pick
You're The Worst, "There Is Not Currently A Problem" (Hulu Plus): The Strain returns tonight, but the FX third season premiere we're more excited for is You're The Worst on Wednesday. Check out the series' best episode in preparation, powered by Aya Cash delivering the best TV performance of 2015.