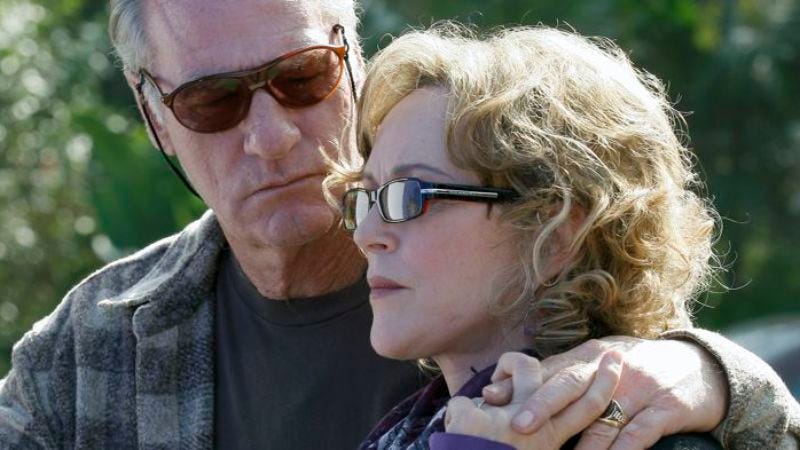 Here's what's up in the world of TV for Tuesday, Jan. 10. All times are Eastern.
TOP PICK
Parenthood (NBC, 10 p.m.): After last week's superb, largely standalone hour, it's time for the show to get back into the big storylines of the season, which include Sarah's relationship with Mark, Adam and Crosby's new recording studio, and Joel and Julia's attempts to adopt a new child. All of this sounds like the opposite of drama, we realize, but you should know that's just how this show rolls. Todd VanDerWerff is out unleashing his id, so Genevieve Koski fills in for the week.
---
REGULAR COVERAGE
Switched At Birth (ABC Family, 8 p.m.): This might be the only show on television where a character's skill at American Sign Language is a major plot point, and we love it for that. Carrie Raisler's also excited for Daphne making some new friends.
---
TV CLUB CLASSIC
FLCL (11 a.m.): "Confounding and delightful," said one commenter of the show in last week's review, and that seems to be the common theme when it comes to episodes of this short-lived anime. Hayden Childs guides you through episode two.
The Muppet Show (1 p.m.): Phyllis Diller and Vincent Price? Seems like we're getting into the heart of some pretty classic, Muppetational episodes here. Stick with Erik Adams, and he'll guide you past vampire Kermit with aplomb.
The Larry Sanders Show (3 p.m.): We just read the title for this episode—"Broadcast Nudes"—and got very excited, thinking, "Oh, what could that mean?" before remembering it's just a pun. Kyle Ryan can't believe our memories are shot.
---
WHAT ELSE IS ON?
American Experience: Billy The Kid (PBS, 9 p.m.): American Experience might be our favorite show about American history. Is it the only one? Probably. This documentary about the gunslinger kicks the ass of anything on the History Channel.
Shipping Wars (A&E, 9 p.m.): Renowned Storage Wars enthusiast Erik Adams just couldn't wait to check out the latest in the "XXXXing Wars" franchise, which involves teams competing to ship strange, delicate objects across the country. All right then.
The Game/Let's Stay Together (BET, 10 p.m.): BET's comedies are often among the top-rated shows on cable, and they're back for new seasons. Never seen them before? Well, they're pretty good, and tonight's a good time to check them out.
Tabatha Takes Over (Bravo, 10 p.m.): This is by far the greatest "salon revamp" show on the air, unless you're counting CSI: Miami. We all know that that show has seen better days in terms of "useful information I can use to improve my own salon."
My Favorite Year (TCM, 8:15 p.m.): Peter O'Toole is fun in this Oscar-nominated performance as a former matinee idol who's appearing on a live show in the early days of TV. Mark-Linn Baker (yes, that one) is the man keeping him sober.
Mars Needs Moms (Starz, 9 p.m.): Somebody was telling us this was good, so despite our doubts on that level, we figured we'd recommend it to you anyway. We don't remember who it was, however, so you'll just have to take our word for it.
College Basketball: Georgia at Florida (ESPN, 7 p.m.): That's right, it's time to pretend you care about basketball again. At least Kentavious Caldwell-Pope and Bradley Beal should make this one fun to watch. We assume, at least.
---
IN CASE YOU MISSED IT
Misfits (Monday): What if they threw a "superheroes travel back in time to kill Hitler" episode and it wasn't as awesome as that premise would immediately suggest? That's the question Rowan Kaiser ponders in his review of this episode.