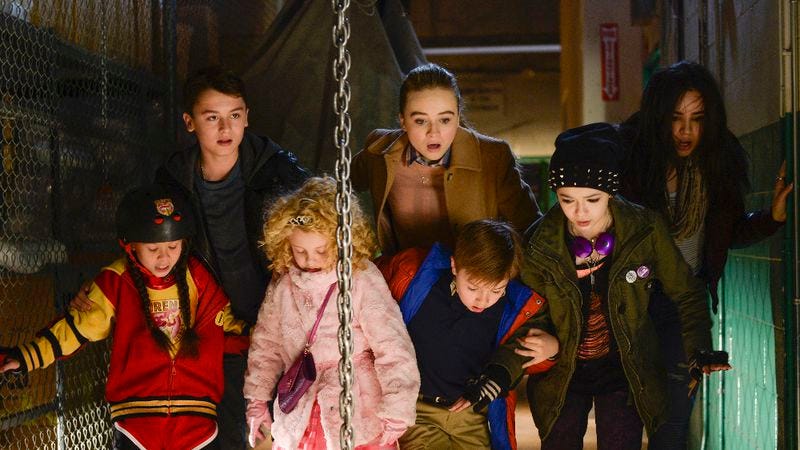 Here's what's up in the world of TV for Friday, June 24, and Saturday, June 25. All times are Eastern.
Top picks
Adventures In Babysitting (Disney, 8 p.m., Friday): Moppets! Moppets everywhere in this Disney remake of the already pretty-squeaky, sort-of-beloved comedy from almost 30 years ago. Starring moppets. For moppets. Sadly, but perhaps understandably, Vincent D'Onofrio does not appear to be involved.
Center Stage: On Pointe (Lifetime, 8 p.m., Saturday): The second sequel to that ballet movie comes to Lifetime. A young woman would like to become a ballerina. Some people doubt her ability to become a ballerina. Peter Gallagher, as the ballet impresario, waggles his magnificent eyebrows to indicate her success or failure throughout.

2016 Trailblazer Honors (Logo, 8 p.m., Saturday): Logo's annual celebration of pioneers in the LGBT community honors, among others, Harvey Fierstein and The Advocate, who have, it can't be denied, been blazing trails for a long time.
Deon Cole: Cole Blooded Seminar (Comedy Central, 11:59 p.m., Saturday): He's written for Conan, stolen scenes in Black-ish and Angie Tribeca, and now Deon Cole's out front with his own hour-long standup special. Dennis Perkins is on hand to review, wondering if Cole will deliver his jokes as he's gradually pulled across the stage for the entire hour.
No balls, no pucks—just sport
The Ranch: Home Of An American Sports Dynasty (NBC, 8 p.m., Friday)
U.S. Women's Gymnastics Championships (NBC, 9 p.m., Friday)
U.S. Olympic Trials: Diving (NBC, 8 p.m., Saturday)
Showtime Boxing On CBS: Porter Vs. Thurman (CBS, 9 p.m., Saturday)
U.S. Olympic Trials: Men's Gymnastics (NBC, 9 p.m., Saturday)

Premieres and finales
Say Yes To The Dress (TLC, 9 p.m., Friday): In the two-hour finale of the 14th (?!) season, a host stands in a dimly lit interrogation room next to his partner, a wedding dress on a mannequin. The week's guest suspect sits nervously, glancing between the host and the dress. "Say yes to the dress!" the host screams, suddenly. "No… I…" the suspect stammers. "You will say yes to this dress by the time these two hours are up or—by all that is holy and good in this world—you will never walk out of these TLC studios alive," the host growls, leaning in menacingly and adding, almost as an afterthought, "We used to show educational programming, you know." "All right! All right!" The guest breaks down, sobbing. "Yes! I will say yes to the dress! Are you happy now? Yes!" "That's what all thought," says the host, turning to leave. "That guest… is all yours, dress." [Puts on sunglasses.] (Having never seen this show, we're pretty sure that's how each episode ends.)

Wynonna Earp (Syfy, 10 p.m., Friday): The first-season finale of this agreeably loopy supernatural Western series finds Melanie Scrofano's Earp (yes, her great-grandfather was that Earp—just be cool about it) heading for a final showdown against the spirits of all the baddies her famous lawman ancestor gunned down. In the clip below, there are some goo-go eyes between Earp and some sort of handsome Western viking, a bad reaction to some consecrated ground, a stolen gun—the whole deal.
Regular coverage
Orange Is The New Black (Netflix)
Comedy Bang! Bang! (IFC, 11 and 11:30 p.m., Friday)
Outlander (Starz, 9 p.m., Saturday)
Outcast (Cinemax, 10 p.m., Friday)
Streaming pick
"Keaton," New Girl (Netflix): Okay, yes, Zooey Deschanel looks significantly less like Michael Keaton-era Batman than Adventures In Babysitting-era Vincent D'Onofrio once did Marvel's Thor. But at least this episode does feature another example of a person ineptly impersonating a superhero who, nonetheless, does succeed in sort-of saving the day. See, Schmidt's mom and Jake Johnson's Nick have been corresponding with Max Greenfield's Schmidt for years, pretending to be Michael Keaton, in order to give him confidence. But then Schmidt needs to meet his hero, and there's a Jess-sized Batman costume and it's all very funny and adorable.