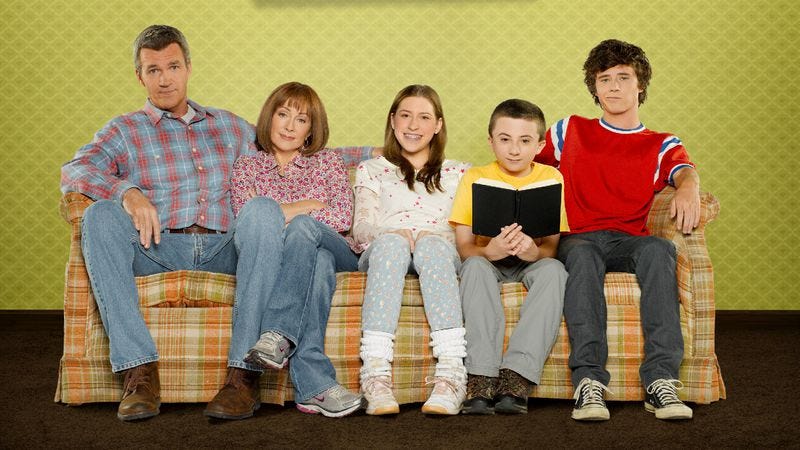 Here's what's up in the world of TV for Wednesday, October 23. All times are Eastern.
TOP PICK
The Middle (ABC, 8 p.m.): The Middle reaches its 100th episode and crosses the traditional barrier to syndication (which is somewhat meaningless here, given that the show is already airing in reruns on ABC Family). The Hecks aren't looking forward to driving a float in Orson's 100th anniversary parade, but Will Harris is pretty sure the family is excited to finally be eligible for coverage in The A.V. Club's 100 Episodes feature. 
---
REGULAR COVERAGE
Arrow (The CW, 8 p.m.): In an episode called "Broken Dolls" a criminal tortures and kills women, and Felicity offers herself as bait. Alasdair Wilkins wonders if Arrow will somehow manages to use all that violence against women effectively or if the show will fall into disappointingly clichéd tropes.
Revolution (NBC, 8 p.m.): Les Chappell has been enjoying this season of Revolution, in no small part because of Aaron's sudden ability to set people on fire with his mind. But can that good will extend to Charlie's emotional reunion with her family? Probably not.
Survivor (CBS, 8 p.m.): It's a "Survivor shake-up" this week as new tribes are formed. Coincidentally, Carrie Raisler's favorite drink is called a "Survivor Shake-Up," but she's not sharing her secret family recipe.
Modern Family (ABC, 9 p.m.): Gloria hires a male nanny, which was also the plot of a Friends episode from 2002. Luckily Joe Reid has experience covering both shows and will be able to compare Adam DeVine's performance to Freddie Prinze Jr.'s stunning guest turn on Friends. 
American Horror Story (FX, 10 p.m.): This week's episode is called "The Replacements," and Todd VanDerWerff hopes it features at least one scene of Keanu Reeves and a ragtag bunch of ex-football players coming together as a make-shift family.
It's Always Sunny In Philadelphia (FXX, 10 p.m.): Game Of Thrones writers D.B. Weiss and David Benioff penned this episode of It's Always Sunny. If it doesn't feature at least one beheading, one direwolf, and one "sexposition" scene, Dennis Perkins is going to be really disappointed.
South Park (Comedy Central, 10 p.m.): A power outage left the creative team unable to finish this episode in time to air it last week. Ryan McGee is a little concerned that the once topical goth-kid-gets-reformed plot will feel dated a whole seven days later.
Top Chef (Bravo, 10 p.m.): The judges learn about Vietnamese culture and cuisine before cooking a Vietnamese meal. Sonia Saraiya bets it will take no more than 10 minutes before someone makes an awkward "Good morning, Vietnam" joke.
Key And Peele (Comedy Central, 10:30 p.m.): Insult comics cross the line in one of this week's sketches. Good thing Brandon Nowalk has never heard a "Yo Momma" joke he didn't like.
The League (FXX, 10:30 p.m.): Pilot Viruet borrowed a copy of Flowers For Algernon from her local library to make sure she gets all of the references in tonight's episode, "Flowers For Taco."
---
TV CLUB CLASSIC
Freaks And Geeks (1 p.m.): Daniel is forced to join the Audio/Visual Club after he's caught pulling a fire alarm. That's actually the same way Todd VanDerWerff got his job at The A.V. Club, which brings things full circle for his review of the final episode of the series.
---
WHAT ELSE IS ON?
CSI (CBS 10 p.m.): CSI smiles politely at The Middle, hiding the pain it feels that no one remembered to get it a cake for its 300th episode. "Just wait until your friends start dying off," CSI thinks mournfully as it pats The Middle on the back.
Duck Dynasty (A&E 10 p.m.): The fourth season finale of Duck Dynasty is entitled "Quack O'Lanterns," which officially wins the "Best Duck-Pun Title" award of the year.
Restaurant Impossible (Food Network 10 p.m.): In this seventh season premiere, Chef Robert Irvine fixes a St. Louis restaurant suffering from "theft and trust issues," which are the building blocks of any good family business.
Count It Down (TVGN, 10 p.m.): TVGN counts down the "Greatest Movie Villains." The list includes Hannibal Lector, Lord Voldemort, and Joan Crawford, who should totally have their own sitcom called "Avada Kedavra Wire Hangers, Clarice!"
Harry Potter And The Deathly Hallows: Part 1 (ABC Family, 7:30 p.m.): Part one of the two-part finale of a seven-part series is stretched across three and a half hours for this ABC Family airing. Those who like their stories about boy wizards really, really drawn out should be sure to tune in.
Halloween Five: The Revenge Of Michael Myers (AMC, 8 p.m.): "Groovy, baby." Mike Myers is back in his fifth Halloween romp! "Oh behave!" he shouts as he chases his victim down a dark alley with a butcher's knife. (There's a slight chance we're mixing up our Halloween villains and our Hollywood actors again….)
World Series Game One: Cardinals at Red Sox (Fox, 7:30 p.m.): The Red Birds face the Red Sox in the first game of the World Series. Although both teams were 97-65 in the regular season, the Red Sox are slightly favored to win the World Series. The real winners, however, are the companies who sell red clothes.
---
IN CASE YOU MISSED IT
Awkward.: Awkward. awkwardly stumbled a bit in the first half of its third season. Myles McNutt is happy to report the midseason premiere gets things back on track by focusing on Jenna's flaws.